The Centre for Film and Ethics facilitates interdisciplinary work involving ethics in the context of moving image research. The centre operates as an international hub for exploring the interaction between film and ethics, in light of both traditional questions of moral philosophy and the complexities of the contemporary ethical landscape.
Coming attractions:
Film Cultures & Centre for Film and Ethics
Creative Industries Masterclass
Wed 13th March, 2019
4:30 - 7PM
David Sizer Lecture Theatre, Queen Mary University London,
Mile End
Join us for an exciting masterclass and panel discussion with renowned creative industry experts Edi Smockum (Director of thinkBigger!) and Asif Hasan (Commissioner/Producer/Filmmaker with BBC, Channel 4, ITV).
Documentaries have the power to challenge the way the public see the world, to shine a light on issues, and in so doing bring about change. In a world of 'fake news', and 'half truths' the ethics of how we produce and tell factual stories has never been more important. With a greater amount of content now being produced and made available outside the highly regulated television Industry, there is a greater responsibility on factual content producers to maintain their own ethical standards.
To book free tickets: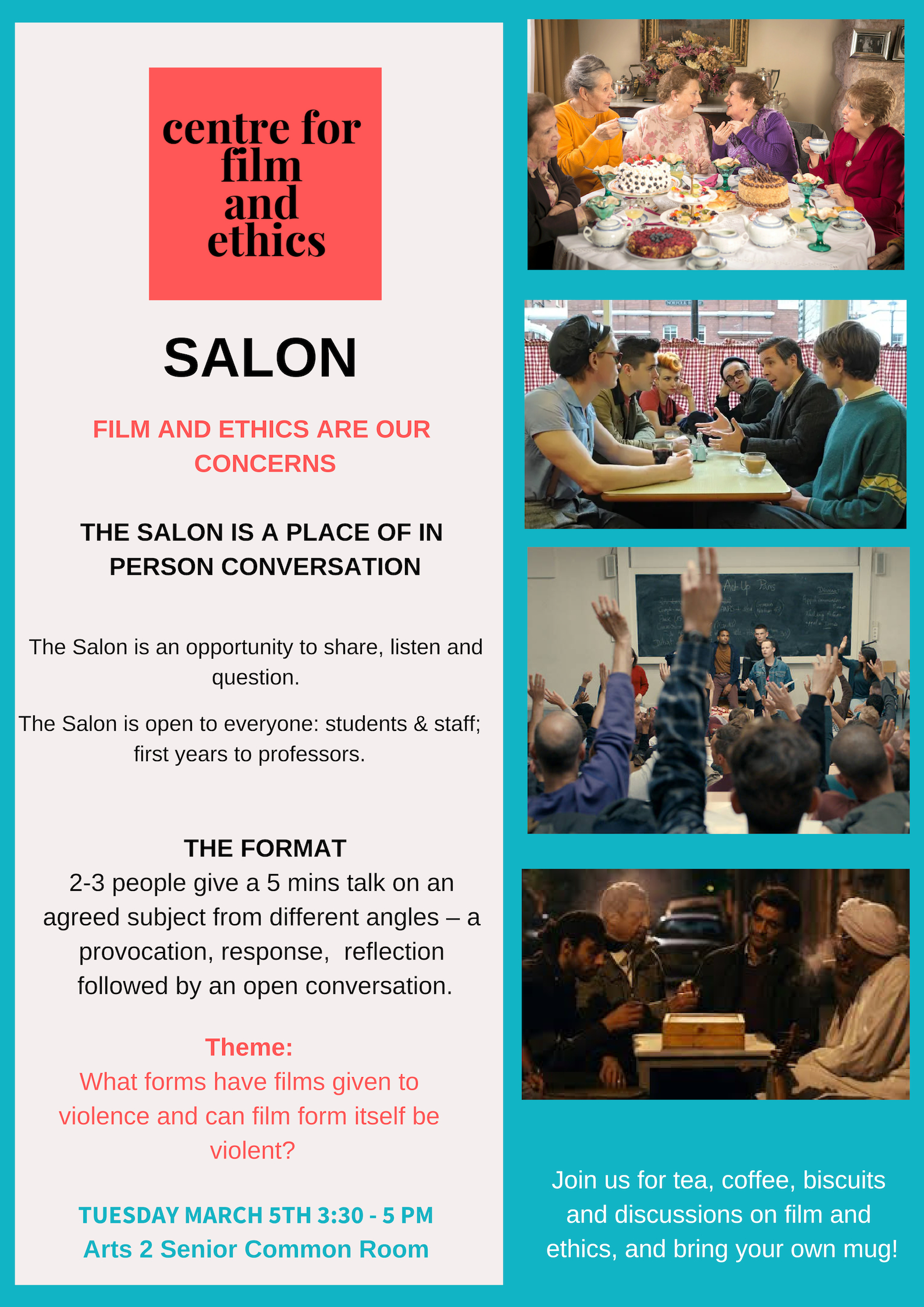 Tuesday March 5th, 2019
Centre for Film and Ethics Salon

3:30 - 4:30 PM, Sentior Common Room, Arts 2

You are warmly invited to the second salon of the Centre for Film and Ethics, on Tuesday 5 March at 3.30pm in the Arts Two Senior Common Room. The subject this time will be violence and form, in anticipation of the Centre's annual lecture later that day by Eugenie Brinkema, who will join the salon. There will be several brief presentations followed by open discussion.
Centre for Film and Ethics Annual Lecture
Tuesday March 5th, 2019
6-8pm, followed by reception.
The Violence of Fascination: on Martyrs, Torture and Form By Eugenie Brinkema
Eugenie Brinkema is Associate Professor of Contemporary Literature and Media at the Masssachusetts Institute of Technology
David Sizer Lecture Theatre, Bancroft Building
Queen Mary University of London
Mile End Road, London, E14NS
To book a ticket: http://tinyurl.com/y8ltkalk
Past events
Film Screening of A Northern Soul (2018)
Followed by discussion with filmmakers Sean McAllister
Tuesday 26 Februrary
6:30 - 8:30 PM, Hitchcock Cinema, Arts 1, Queen Mary University, Mile End
BAFTA nominated, Sundance winning documentarian Sean McAllister (Liberace of Baghdad; A Syrian Love Story) returns to his hometown, Hull, as curator of its' UK City of Culture opening. Back living with his 90-year-old parents and reflecting on changes to a city hit by cuts in public spending and divided by Brexit, Sean is drawn to the fringes of town where he encounters Steve – a struggling warehouse worker with a dream.Join us for a discussion on film, working class representations and censorship in the UK today.
Thursday 7th February: Film Screening & discussion
Film Screening of Please Don't Beat Me, Sir!
followed by discussion with filmmakers Kerim Friedman and Shashwati Talukdar
6-8 PM, Hitchcock Cinema, Arts 1, Queen Mary University, Mile End
Over sixty million Indians belong to communities imprisoned by the British as "criminals by birth." The Chhara of Ahmedabad, in Western India, are one of 198 such "Criminal Tribes." Declaring that they are "born actors," not "born criminals," a group of Chhara youth have turned to street theater in their fight against police brutality, corruption, and the stigma of criminality — a stigma internalized by their own grandparents.

Please Don't Beat Me, Sir!

follows the lives of these young actors and their families as they take their struggle to the streets, hoping their plays will spark a revolution.
Centre for Film & Ethics Salon
FILM AND ETHICS ARE OUR CONCERNS
THE SALON IS A PLACE FOR IN PERSON CONVERSATION
The Salon is an opportunity to share, learn & question.
The Salon is open to everyone: students & staff; first years to professors.
THE FORMAT
2-3 people give a 5 mins talk on an agreed subject from different angles – a provocation, response, or reflection followed by an open conversation.
Theme: What do film ethics mean to you?
Details here: salon poster pdf [PDF 2,226KB]
Saturday 5th May Tate Exchange Residency: Ashvin Devasundarum is involved in Refugee Arts - a collaborative project with the School of Geography, School of Business and Management, Phakama - a participatory theatre company based at QM, and partners in Athens. As part of the QMUL cross-department Tate Exchange residency, Ashvin coordinated a documentary screening of Bag Mohajer - about Athens-based Afghan migrants - and a post-screening discussion with director Adrian Oeser.
Saturday 4th

November – Monday 6th

November 2017 Toxic Cinema: Guy Westwell and Anat Pick host filmmaker John Gianvito, with the screening of Gianvito's complete diptych For Example, the Philippines at Close-Up Cinema ( https://www.closeupfilmcentre.com/), followed by a masterclass with John Gianvito (1:00-3:00pm), and John Gianvito in conversation: Political Cinema in an Age of Toxicity (5:00-7:00pm). Please sign up for these events using Eventbrite: Masterclass, https://www.eventbrite.co.uk/e/john-gianvito-masterclass-tickets-37062891105, In Conversation, https://www.eventbrite.co.uk/e/john-gianvito-in-conversation-tickets-37063321392 For full details please see

here.
Tuesday October 31st

2017 Ethics of the Face: The Centre has its first major international event when Libby Saxton, Lucy Bolton, Janet Harbord, Anat Pick and Steven Eastwood present a colloquium on 'Contemporary Ethics and the Face' at the On the Image Conference, Venice,

http://ontheimage.com/2017-conference
Thursday October 12th

2017 Ethics and Iris Murdoch: Lucy Bolton talks about Iris Murdoch, ethics and visual culture at the National Portrait Gallery. Details: https://www.npg.org.uk/whatson/late-shift-1/in-conversation-12102017
Thursday October 12th

2017 Armenians and World War I: Athena Mandis's documentary film, 'Testimonies of WAr', created as part of the UK Armenians & WW1 project, is screening at the Wiener library on October 12th. It features testimonies and stories about the Armenian community's experience of the First World War and will be followed by a discussion and accompanied by a pop-up exhibition. Details: https://www.wienerlibrary.co.uk/?unique_name=Whats-On&item=343
Saturday 7th

October UK premiere of

Island

at the London Film festival: Steven Eastwood's film

Island

premieres at the LFF LINK and the accompanying multiscreen video installation 'The Interval and the Instant' at the Fabrica Gallery, Brighton, 7th

October – 26th

November 2017. Details: https://www.fabrica.org.uk/the-interval-and-the-instant and http://bit.ly/2y3TlgN
To find out more about the Centre's work please contact Dr Libby Saxton or Dr Yasmin Fredda
Iconic Images of Political Violence: The IIPV Research Group explores iconic photographs of political violence and their after-lives on film. The research produced by the group seeks to situate iconic images in their originating national contexts and trace their migration into wider transnational/cosmopolitan/global spaces.
Autism through Cinema: Autism through Cinema promotes an understanding of autism as a condition with benefits, seeking to deepen knowledge of neurodiverse experience through the optic of body language, its historical crafting in medical and commercial film, and its recreation in film form.