Dialectics of Sex: Past, Present and Future
Published: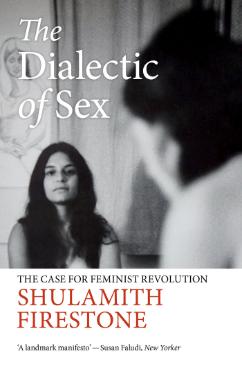 Saturday 16th May, 10 am-6pm
ArtsOne, Queen Mary, Mile End Campus
Free to attend.
Eventbrite booking page: https://www.eventbrite.co.uk/e/dialectics-of-sex-past-present-and-future-tickets-16502644855
Shulamith Firestone's The Dialectic of Sex was published in 1970 and is considered by many to be a feminist classic. Yet, it was out of print for decades, is infrequently taught, and has received relatively little scholarly attention. Recently, Mandy Merck and Stella Sandford published the edited collection Further Adventures of the Dialectic of Sex (Palgrave Macmillan, 2010), which offered new readings of the text, its reception, and its potential futures and in 2015, Verso launched a reprint of The Dialectic of Sex.
Drawing on this seemingly renewed interest in Firestone's work, this event seeks to further these "adventures" in Firestone's text, its historical context, and contemporary feminist politics. Eschewing a traditional conference format in favour of producing a more open and participatory event, the day will be include: film screenings (including Agnès Varda's Women Reply [1975] and Les Prostituées de Lyon Parlent [Vidéo Out, 1975]), a workshop run by the Sex Worker Open University, an academic panel, and a break-out reading group session. Engaging with (among other things) Firestone's materialist view of history, feminist labour politics, the links she makes between production and reproduction, and her feminist cybernetics, we hope to produce critical conversations about the work of Firestone, its historical significance, our (pleasurable or troubled) encounters with it in the present, and its potential futures.
Invited speakers:
Professor Lisa Downing [University of Birmingham]
Professor Sarah Franklin [University of Cambridge]
Dr Catherine Grant [Goldsmiths]
The Sex Worker Open University
The event is being organized by Dr Sophie Mayer, Dr Sam McBean, Dr Ros Murray, and Dr Elsa Richardson (all Queen Mary University of London).
Facebook event page: https://www.facebook.com/events/375659495970606/
The conference is a follow-up to Verso and Club des Femmes' Dialectic of Sex event at the Horse Hospital on 1 May: https://www.facebook.com/events/1630799597153572/