Workshop on Richard Baxter and the Development of Dissent
Saturday 29 November 2008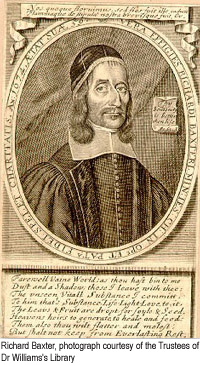 The extensive archive of Richard Baxter (1615-91), including the manuscript of his autobiography Reliquiae Baxterianae, various treatises, cases of conscience, and hundreds of letters, is one of the most important unpublished collections in Dr Williams's Library. A well-known Puritan pastor and theologian, Baxter was both a chaplain in the Parliamentary army and chaplain-in-ordinary to King Charles II. Celebrated for his Interregnum ministry in Kidderminster and offered a bishopric after the Restoration, he became a reluctant nonconformist following the Act of Uniformity in 1662. Baxter continued to write prolifically, producing well over one hundred publications; these, along with the model of his 'reformed ministry' in Kidderminster, exercised a profound influence on the development of Protestant dissent in England.
The Dr Williams's Centre for Dissenting Studies held a one-day workshop on Richard Baxter on 29 November 2008 organised by Dr Alison Searle (Visiting Fellow, Dr Williams's Library) and hosted by the Centre's Co-Directors Dr David Wykes (Director, Dr Williams's Library) and Professor Isabel Rivers (Queen Mary, University of London). The aim was to bring together scholars who had worked on the Baxter archive and who were interested in contributing to its online publication. One of the purposes of the workshop was to identify which parts of the Baxter archive could most usefully be transcribed and edited for online publication.
Seven papers were given by scholars on different aspects of Baxter's career, relationships and influence:
'Baxter's Breviate of the Life of Margaret,…Wife of Richard Baxter' by Dr Carrie Hintz, City University of New York
'Richard Baxter, Builder of Churches' by Dr Kathleen Lynch, Folger Institute
'Richard Baxter and Dissenting Academies' by Mr Mark Burden, Queen Mary, University of London
'Doddridge's missed opportunity? – The declining fortunes of Baxter's Methodus Theologiae' by Mr Simon Burton, University of Edinburgh
'Richard Baxter and Heart Work' by Dr Alan Argent, Trinity Congregational Church, Brixton, London
'The Savoy Conference and The Reformed Liturgy' by Professor Tim Beougher, Southern Baptist Theological Seminary
'Richard Baxter and the Divisions of Dissent' by Dr Tim Cooper, University of Otago
Following this was a presentation entitled 'Editing Reliquiae Baxterianae' led by the three editors of a forthcoming scholarly edition of Baxter's autobiography, Professor Neil Keeble (University of Stirling), Professor Paul Lim (Vanderbilt University) and Dr Tim Cooper (University of Otago). The other twenty-nine participants present at the workshop were asked to give feedback as to the most helpful and appropriate format for this multi-volume publication; it is one of the most important historical sources for seventeenth-century English history. Professor Lim has had subsequently to withdraw from further involvement, but Professor John Coffey of Leicester University has joined the editorial team, bringing to it his expertise in seventeenth-century intellectual history and Puritan biography.
In the final session, Miss Jane Giscombe (Conservator, Dr Williams's Library) gave a short presentation on the condition of the Baxter manuscripts, focusing on the paper he used and its distinctive watermarks. In the discussion that followed issues relating to the conservation, photography and publication of the Baxter Letters and Treatises were explored.