Crabb Robinson Workshop
Saturday 21 April 2007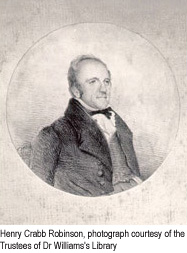 The extensive archive of Crabb Robinson, containing his diary (which he kept from 1811 to 1867), his reminiscences (which cover the years 1775 to 1843), his correspondence, travel journals and other papers, is one of the most important unpublished collections in Dr Williams's Library. Crabb Robinson was the friend of Blake, Wordsworth, and Coleridge, and his accounts of them and of other writers are of great significance for students of Romanticism. As a young man he had a passionate interest in radical politics and rational dissent; he also studied for a period in Germany, where he met Goethe and Schiller, and he was an important disseminator of German thought in England. A man of many careers, interests, and causes, and a committed Unitarian, he covered the Peninsular War for The Times, was an important benefactor and member of Council at University College London, and supported the anti-slavery campaigner Thomas Clarkson.
A one-day workshop was held on Saturday 21 April 2007, with the purpose of bringing together people who have worked on the Crabb Robinson archive at Dr Williams's Library and who are interested in contributing to a new scholarly edition of his correspondence and diaries. Six papers were given by scholars on different aspects of Robinson's career and interests.
The papers were:
'"Schelling considered me as a disciple which I am not": Crabb Robinson on Schelling' by Dr James Vigus, University of Jena
'Crabb Robinson, Blake, and the Vaterländisches Museum' by Dr Karen Junod, Lincoln College, Oxford
'Crabb Robinson's ubiquity' by Professor Rosemary Ashton, University College London
'The Religion of Crabb Robinson' by Professor Tim Whelan, Georgia Southern University
'Our Man in Spain: Henry Crabb Robinson as correspondent for The Times during the Peninsular War' by Professor Karen Racine, University of Guelph
'"Does Southey drive you mad?" The Poet Laureate, Henry Crabb Robinson and Elton Hamond' by Dr Lynda Pratt, University of Nottingham, and Dr Ian Packer, University of Lincoln
In the discussion that followed it was agreed that an on-line Crabb Robinson bibliography of primary (manuscript and print) and secondary material would be published in due course. Karen Racine's preliminary bibliography would form the basis for this work. Good progress was also made in establishing an editorial team to prepare Crabb Robinson's diary for publication, consisting of James Vigus, Tim Whelan, and Karen Racine. The initial work will involve preparing an electronic text from the typescript copy which exists for the diary up to 1853, to be checked against the original manuscript.