Seminar in Religion and Literature 2018-19
1. Wednesday 10 October 2018, 12-1.30pm, ArtsOne 131 (Sandwiches provided)
Richard Harries, Lord Harries of Pentregarth
'W. H. Auden – "Bless what there is for being" '
W.H. Auden who had a natural talent "bordering on wizardry" was the poetic voice of the younger generation in the 1930's. About 1940 he rediscovered the Christian faith. Richard Harries, former Bishop of Oxford, will argue that this took the form of giving Auden a relish for every aspect of life in all its details. This paper comes from Harries' latest book "Haunted by Christ: Modern Writers and the Struggle for Faith".
2. Wednesday 14 November, 1-3pm, Graduate Centre 6.02 (Sandwiches provided)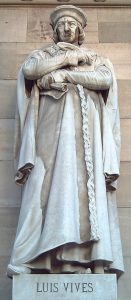 Dr Rosa Vidal-Doval (QMUL)
'Juan Luis Vives and the Conversion of the Jews'
In his De veritate fidei Christianae (1543), the Spanish Renaissance philosopher Juan Luis Vives discussed the conversion of the Jews. He envisaged conversion from Judaism as an exclusively individual process wherein a person came to perceive the truth of Christianity through reason and intellectual maturation. This paper will explore these ideas, placing them in their intellectual and wider historical contexts.
3. Wednesday 28 November, 5-7pm, ArtsTwo 2.18
Emily Harris and Miri Lawrence (QMUL)
'Religious texts in contemporary daily life'
Emily Harris
'Everyday Religion at Home: Belief, Practice and Scripture'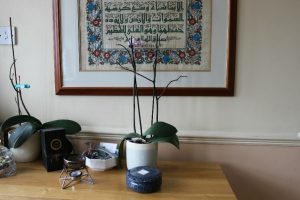 This paper will explore how religious texts shape everyday practice at home in London today. Drawing on interviews in Jewish, Christian and Muslim households, I will discuss how people of different faiths incorporate religious texts into their homes, from reading the Qur'an to prayer books and hymn practice journals. I will also consider how religious texts are displayed at home, from a mezuzah by the front-door to Bible passages and calligraphic artwork in the hallway. Drawing on previous studies (e.g. Qureshi 1996; Hirvi 2016) I will explore the shared importance of religious texts within everyday religious belief and practice for people of different faiths. Further, this paper will build on studies of material, lived religion (Harvey 2013; Ammerman 2014) in looking at how ideas of hospitality and neighbourliness found within religious narratives shape encounters between people of different faiths in London today.
Miri Lawrence
'Home Truths: Representations of the Jewish Suburban Home 1946-1979'
During the post-war years large numbers of East End Jews moved to the London suburbs as they experienced a rise in wealth and class mobility. A number of Jewish writers associated the move to the suburbs with assimilation and a decline in domestic religious practice. I examine representations of the Jewish home in post-war literature, as well as Jewish responses to this literature, focussing on two realist novels, Brian Glanville's The Bankrupts (1958) and Gerda Charles' The Crossing Point (1960) and Jack Rosenthal's play, Bar Mitzvah Boy (1976). Here class, social mobility and the tension between affluence and religious tradition are explored within the domestic setting. Through examining the personal and public responses I explore the dynamic relationship between the participants and the literature that critiqued them, as the community read and related to these texts.
4. Wednesday 9 January 2019, 5-7pm, ArtsTwo 3.16
Dr Lucy Wooding (Oxford)
'The Book as Image: Tudor Religious Culture and Perceptions of Print'
The arrival of the book in the late fifteenth century was once perceived as an important moment of rupture within English religion and one which signalled a significant rejection of visual culture. Recent research has emphasized instead the continuities between late medieval forms of religious media and those of the Reformation era. This paper will discuss the relationship between word and image in early modern England, focusing in particular on the ways in which books were conceptualized within religious discourse as variously text, object and image, suggesting that the dialogue about and between these different forms offers important insights into the evolution of religious culture in an era of reform.
5. Wednesday 20 March 2019, 5-7pm, ArtsTwo 3.16
Dr Ceri Law (Cambridge)
'Sermons, Life-writing and Biographical Memory'
This paper will discuss the broad themes of memory and life-writing in early modern England through the specific lens of sermons. It will argue that the potential of considering sermons as forms of ego-writing have been underexplored, as have the ways that sermons, and particularly collected sermons and printed editions, came to serve as both biographies and memorials for later generations. The paper will explore these issues primarily through the specific example of Hugh Latimer (c. 1485-1555), the famous early evangelical, Henrician and Edwardian preacher, and Marian martyr. Beginning with Latimer's own self-conscious evocation of the recent past and the role of his own biographical detail in his preaching, the paper will then move to examine the posthumous printing of his sermons and the ways that these became inextricably linked to memorialisation of Latimer, and his Marian sacrifice, himself. It will also argue that this specific biographical remembrance of Latimer preaching contributed to a broader construction of an 'early Tudor' memory of Reformation that was created by, and formative for, subsequent generations of English Protestants. The paper will thus examine the layers of personal and collective memorialisation that his sermons accumulated, and suggest the wider significance of this for this central early modern genre of religious writing.
6. Wednesday 8 May 2019, 1-2.15pm, ArtsTwo 2.17 (sandwiches provided)
Dr Mimi Ensley (University of Notre Dame, London Global Gateway)
'Meeting Lydgate's Ghost'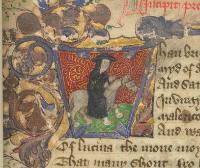 Writing in what is now British Library, Harley MS 5243, minor seventeenth-century poet John Lane revives medieval monastic poet John Lydgate in order to re-tell the story of Guy of Warwick, famous from medieval romance. Though Lane is relatively unknown today, some of his shorter poems made it to print, and three long poems, including a continuation of Chaucer's Squire's Tale and his history of Guy of Warwick, circulated in manuscript amongst a small coterie of readers. While some have mentioned Lane's Corrected Historie of Sir Gwy, Earle of Warwick in studies of the afterlives of the Guy legend, the poem remains understudied, especially in relation to Lane's use of Lydgate as his muse. While many scholars suggest that Lydgate's popularity declined in the post-Reformation period due to his reputation as the 'Monk of Bury', and while it is true that significantly fewer editions of Lydgate's poems were published in the decades after the Reformation, Lane's poem offers another window into Lydgate's post-Reformation reception. This paper, thus, complicates existing scholarly narratives that align Lydgate with medieval or monastic traditions, traditions perceived to be irrecoverably transformed by the events of the Reformation in England.
Image: John Lydgate, British Library, MS Arundel 119, made available courtesy of the British Library Catalogue of Illuminated Manuscripts.