Commonwealth Shared Scholarships 2018-19
About the award
Level: Masters
Course: MA Global Development Futures MSc Integrated Management of Freshwater Environments MA Development and Global Health MSc Global Health Systems Theory and Policy MSc Global Public Health and Policy
Country: Bangladesh, Cameroon, Gambia, Ghana, Guyana, India, Kenya, Kiribati, Lesotho, Malawi, Mozambique, Nigeria, Pakistan, Papua New Guinea, Rwanda, Samoa, Sierra Leone, Solomon Islands, Sri Lanka, Swaziland, Tanzania, Tuvalu, Uganda, Vanuatu, Zambia
Value: Full tuition fee and living stipend.
No. of awards: 3
Deadline: 16th April
More information

Queen Mary is proud to have hosted Commonwealth scholars for many years. Commonwealth Shared Scholarships are for candidates from low and middle income Commonwealth countries, for full-time study at a UK university.
Co-funded by Queen Mary and the UK Department for International Development (DFID), Commonwealth Shared Scholarships enable talented and motivated individuals to gain the knowledge and skills required for sustainable development, and are aimed at those who could not otherwise afford to study in the UK.
Eligibility
To apply for these scholarships, you must:
Be a citizen of or have been granted refugee status by an eligible Commonwealth country, or be a British Protected Person
Be permanently resident in an eligible Commonwealth country
Be available to start your academic studies in the UK by the start of the UK academic year in September/October 2018
By October 2018, hold a first degree of at least upper second class (2:1) honours standard, or a second class degree and a relevant postgraduate qualification
be unable to study in the UK without this scholarship
How to apply
For the scholarship you must make an application using the CSC's Electronic Application System (EAS).
You are advised to complete and submit your application as soon as possible, as the EAS will be very busy in the days leading up to the application deadline.
Applying to QMUL
You must also apply to QMUL for admission to the Masters programme as well as making an application for the scholarship. You should do this before you apply for the scholarship as those with an unconditional offer are more likely to be shortlisted for the award.
Meet our scholars
Find out more about studying at QMUL and living in London from previous Commonwealth Scholars: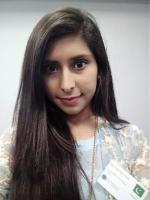 Syeda Rida Zanib
Master in Integrated Management of Freshwater Environments (IMFE), QMUL
Pakistan
Thanks to the Commonwealth Shared Scholarship, Rida is studying for an MSc in Integrated Management of Freshwater Environments in our School of Geography. She came to Queen Mary after completing her BEng in Environmental Engineering at the National University of Sciences and Technology in Islamabad. We asked her a few questions about her impression of Queen Mary after her first term here.
What do you enjoy most about your course?
QMUL is one of few universities that offer a post-graduate program in IMFE. The course is very well outlined and up-to-date, industry standard software is taught, which very helpful in building career experience and preparing students for real-world situations. My favorite part of the course is the helpful and supportive faculty who work in the School of Geography. Staff will guide you on every step and teach you how to think and apply your knowledge independently.
What do you enjoy about Queen Mary?
QMUL feels like home to me. Every person you meet is always ready to help so I never have to worry about being on my own when I experience something new. Being a part of the Russell Group, QMUL gives its students access to many libraries and resources across the UK. Also, there are a lot of extracurricular activities you can do on campus. For instance, I am a member of the Jiu Jitsu society, one of the many athletic groups available to students.
How do you find living and studying in London?
London is a vast city which has something to offer to everyone, any day of the week. I love London because of its diverse culture and opportunities. I have made wonderful friends from all over the world and I am able to learn more about different cultures and how others view the world.
What advice would you give to international applicants?
QMUL is a great place to study; before applying, clear your mind and think carefully about what you want to study, as well as the course curriculum and structure, so you can get the most out of your education. London is a very diverse city, so don't be worried about moving from home – you will surely be able to find things that are familiar to you and feel safe and welcomed while learning.
What advice would you give to applicants for your course?
The course focuses heavily on river environments, their restoration, and with the modeling and effects of flooding. If you are interested to work or research in the field of freshwater this course is the best option for you. The coursework gives students opportunities to practice lab work and do hands-on research, visiting freshwater sites around London, which is very translatable in future work environments.
Aimee Hobbs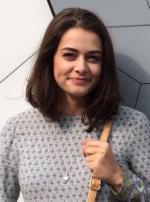 Master in Global Public Health and Policy, QMUL
Zimbabwe
Aimee came to Queen Mary on a Commonwealth Shared Scholarship in September 2017 after working as a speech therapist in her native Zimbabwe. We asked her a few questions about her impressions of Queen Mary after her first few months.
What do you enjoy most about your course?
I enjoy exploring the underlying causes of poor health, the interconnectedness of health and other sectors such as economic and political arenas, and the ways we as a society can influence the health and well-being of our community.
What do you enjoy most about QMUL?
I love that there is such an international community in this course and find that different perspectives and experiences bring a richness to learning. This has shaped my own perspective in a way that I could not have gained otherwise.
What do you enjoy most about living and studying in London?
Living in London has allowed me to experience such a diverse variety of cultures, and I've loved exploring the rich history and heritage that London and surrounds has to offer. I feel privileged to have been able to see evidence of how we have developed as a people through cultural, technological and architectural experiences in the UK.
What advice would you give to applicants from your country wanting to come to QMUL?
Start the application process early and email staff any questions as they are often very helpful!
What advice would you give to applicants from your country applying for your course?
Apply! We desperately need more Zimbabweans in Global Public Health and Policy and certainly more in our department at QMUL.
Meera Daran

Masters in Public Administration (MPA), QMUL
Malaysia
What do you enjoy most about your course?
The MPA is a thoughtful combination of public policy and public administration which resonates with many of my interests as a civil servant in my home country. My classmates consist mostly of public sector practitioners from all around the world, allowing for an exchange of thoughts in a truly global setting. Thanks to our kind and knowledgeable lecturers and guest speakers, classes are thought provoking and well guided for further independent study.
What do you enjoy most about QMUL?
QMUL offers campus and city life in equal measure, truly the best of both worlds. There are countless events and activities to make you feel at home almost instantly. Situated in the vibrant East End known for its diversity of cultures, QMUL is also very close to Central London, striking a good balance in my overall experience of the city.
What do you enjoy most about living and studying in London?
London is a wonderful place for my favourite things: music, art and literature. With so many free museums, parks and historic places of interest, you don't even have to spend a cent enjoying the city. It's been said before, but you'll never run out of things to do in London. If anything, you might even have to restrain yourself from overdoing it!
What advice would you give to applicants from your country wanting to come to QMUL?
Do read about the courses available and apply for the ones most suited to your experience and interests. Many hesitate to apply due to struggles with the English language and feelings of intimidation about being abroad, but to this I say do not fret, as the university provides a supportive environment for international students through a variety of in-sessional courses and other campus activities.
What advice would you give to applicants from your country applying for your course?
I couldn't recommend it more, especially to those who are looking for opportunities to elevate themselves as career civil servants. In my application, I tried my best to relate my personal experiences with the course and spoke unabashedly about my hopes and dreams. Today I consider myself very fortunate for being awarded a Commonwealth Scholarship to study here and find myself inspired everyday by the wonderful community of QMUL and city of London to continue actively pursuing those hopes and dreams.
Contact
Felicity Shelley
Postgraduate Recruitment and Sponsor Relations Manager
CB105 Queens' Building
f.c.shelley@qmul.ac.uk
+44(0)207882 6484