Data dashboards - technical guidance
QEngage is Queen Mary's learner engagement analytics tool and provides the digital visualisation dashboard to users. It is built on the Microsoft Power BI reporting tool. The following resources are provided to help users become familiar with it.
Understanding and using Microsoft Power BI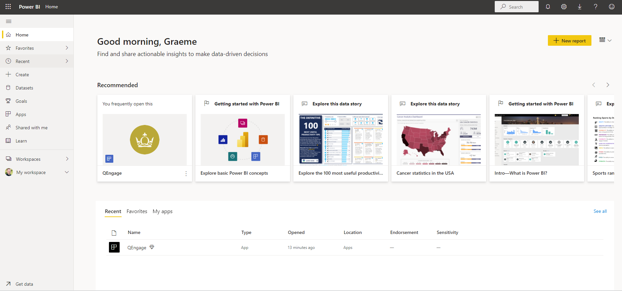 This resource outlines how to begin using Microsoft Power BI: PowerBI Quick Start Guide [PDF 580KB]
This resource explains how to set up multi-factor authentication if you are trying to access Microsoft Power BI away from a campus computer: How to Set Up MFA for Power BI [PDF 499KB]
This Microsoft webpage outlines the basics of Power BI and is useful if you are completely new to using it. It covers (9 min read):
What a visualisation is
What a data set is
What a dashboard is
What a report is
What an App is
This short online module provided by Microsoft will take you through the following Power BI functions (40 mins):
Learn how Power BI services and applications work together
Explore how Power BI can make your business more efficient
Learn how to create compelling visuals and reports
This Microsoft webpage describes the Power BI interface. It covers (7 min read):
Viewing content (dashboards and reports)
Using the different navigation panes
Searching and sorting content
This Microsoft webpage focuses specifically on how to interact with a report in Power BI (7 min read).
This Microsoft webpage focuses specifically on how to ensure the data you are looking at is the most current (2 min read).
Understanding and using QEngage (educators/support staff)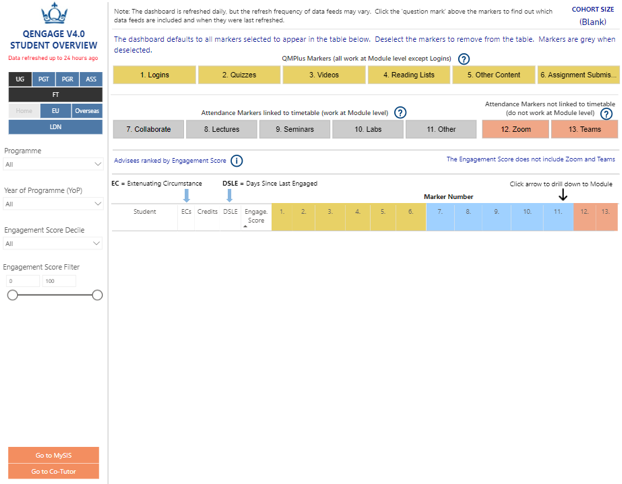 This short video shows how to access and use the main features of the QEngage platform.
For colleagues that have started to use the QEngage platform, please remember you can report any issues with data quality by contacting the ITS Reporting Services team at its-bi-team@qmul.ac.uk.
Understanding and using QEngage (learners)
A learner version of the QEngage data dashboard is in development and will be piloted during 2021-2022.
It will provide learners with a view of their own data and an overview of engagement with their studies from quiz attempts, videos watched, assessments submitted and attendance. Current mock-up designs are shown on the right.
Using QMPlus for LEA data optimisation (educators/support staff)
QMPlus is the Learning Management System (LMS) used at Queen Mary to support teaching. If you set up QMPlus in the normal way, focusing on use of the following three activities/features, the data dashboard in QEngage will be optimised:
QMplus Standard Assignment
QMplus Quizzes
QMplus Media (e.g. videos)
You should simply follow standard guidance from the Queen Mary E-Learning Unit for these elements. Information on how to do this can be found here.
You may also be interested in: