Tseng Wen Heng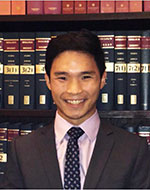 PhD Student
Email: myriam.christmann@qmul.ac.uk
Profile
Supervisors
Summary of research
Wen is currently studying the regulation of online platforms filtering systems for exceptions and limitations to copyright. His research will be addressing the legal issues regarding online filtering systems for copyrighted material, in particular videos under the category of exceptions and limitations to copyright. The legal analysis will address the changes to intermediary liability introduced by the EU Copyright in the Digital Single Market Directive and consider the effect of past regulations through data available to suggest a fair and proportional balance between online freedom of expression and the filtration of content. He is a recipient of the Facebook Fellowship 2020.
Biography
Prior to starting his PhD, Wen worked as an Advocate and Solicitor in the High Court of Malaya for three years after the completion of his pupillage. Before that he completed his LLM with Queen Mary and was called to the bar of England and Wales. Having competed in the Price Media Law moot court in his LLM, he returned as a team coach for the 2019-2020 team. He has contributed as a Queen Mary Law Journal editor, an EIPIN team leader and a representative for the PhD students for 2019-2020.
In his free time, Wen does half ironmans.
Research