22 January 2018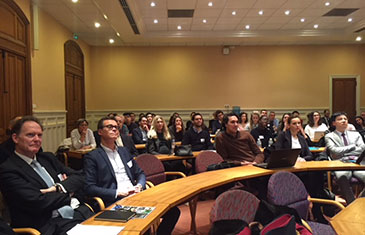 The opening lecture of the Sorbonne-QMUL Double LLM was delivered by Professor Duncan Matthews on 'Specialised IP Courts - the Unified Patent Court and Beyond'
The lecture was followed by comments by Dr Joan Divol, Vice Dean of Extenral Relations at Sorbonne Law School, and Pierre Véron, founding partner at Véron & Associés, along with a discussion, moderated by Professor Maxi Scherer, Director Centre for Commercial Law Studies Paris, Queen Mary University of London.
Professor Matthews underlined the trend toward establishing specialised IP courts, using examples from the United States, England & Wales and the People's Republic of China. Set in this context, the lecture examined the challenges facing the Unified Patent Court (UPC) in the years ahead. Commentaors exchanged on existing specialised IP courts to understand and predict how the UPC might encounter and resolve the challenges that it is likely to encounter in the future.
For more on the Sorbonne-QMUL Double LLM, see here.