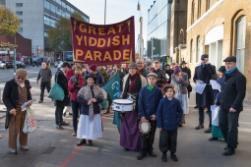 The Centre for Public Engagement (CPE) runs different types of internal funding for public engagement activities.
Applications should be supported by at least one member of staff employed by Queen Mary, and should be focussed on engaging with an audience other than academics in your field.
Small grants scheme
Up to £1,000 available monthly, deadline is the 15th of each month.
The CPE small grants are for projects which are in need of small amounts of money (up to £1,000) to to try something new or to support small or one-off programmes of events.
To apply, and for more information you can view the small grants webpage, including submission form, . You can contact the CPE directly through an advice surgery or emailing publicengagement@qmul.ac.uk if you would like to discuss whether your activity is appropriate for this scheme.
The recurring deadline for applications is the 15th of each month.
Please note that the Small Grants scheme is currently closed for the summer. It will reopen in the Autumn term.
Community Engagement grants scheme
The Community Engagement grants is a new scheme for QMUL staff and students to pilot engagement activities based on needs identified with the local community.
The scheme is now open and accepting applications of up to £500. The deadline is 12noon on Monday 26th February 2018.
Apply here for the Community Engagement grants scheme
Patient and Public Involvement (PPI) grants scheme
The PPI grant is a new scheme accepting applications of up to £500 to support active public involvement in health-related research at QMUL.
The 2018 scheme is now closed.
Festival of Communities Activity grants scheme
Funding of up to £500 per project is available to create new or adapt existing engagement activities for the 2018 Festival of Communities.
The Festival funding opportunity is open to QMUL staff and students who would like to take part.
The deadline is 10am on Monday 26 March 2018
Apply here
for the Festival Activity grants scheme
Large grants scheme
The CPE large grants are for projects which need a more substantial investment of up anywhere between £1,000 and £10,000. It is expected that these projects will run for several months, have a large impact or leave legacy resources. Application is once per academic year.
The 2017 scheme is now closed.
Other funding sources
The National Co-ordinating Centre for Public Engagement has an extensive list of funding opportunities for public engagement here, we also have a CPE funding opportunities featuring a range of grants. The Centre for Public Engagement can help with writing applications and advising on activity.
Costing Public Engagement into Grant Applications
Another source of funding is to request extra funding in a research grant application. Staff are encouraged to include costing for impact activities (which can include engagement activity) as part of the the Pathways to Impact section of many grant rounds.
This can include costing for consumables for delivery, staffing or other associated costs. Again, the Centre for Public Engagement can advise on how to go about this. Please contact us, or come to an to find out more about how we can help.