Talking Trauma at the Big Bang Fair
The Centre for Trauma Sciences were awarded a Large Grant from the Centre for Public Engagement last year. Below, we catch up with how they're getting on with their project:
Published:
The Centre for Trauma Sciences was lucky enough to be awarded a CPE large grant this year, which we are using to redevelop our public engagement activities to focus on highlighting the role of the immune system in Trauma.
We are developing several hands-on activities, including interactive games and a touchscreen body map, as well as producing some supporting leaflets. Together these tools aim to:
Discuss what Trauma is
Introduce some of the cells that make up the immune system
Explain how Traumatic injury can alter the function of these cells
Describe why in some cases the alterations in immune cell function induced by Trauma can harm rather than heal the body after injury
As part of developing the new activities and leaflets, and to ensure that we were pitching the information to students at a correct level, we set up a meeting with a local educational consultant. Together we went over the leaflet drafts and discussed the hands-on activity ideas that we had planned. This was a great opportunity to get an external expert from within the teaching profession to review our ideas and make sure that we were delivering our message in the best possible way.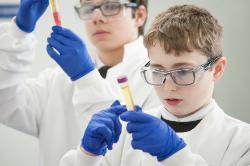 In planning our engagement events for the year we chose an early, smaller fair to test out our new activities. On 27th March 2018 three of the trauma research team headed down to Eastbourne to run our 'Think you're immune to Trauma?' activities at the Eastbourne Big Bang fair. This gave us the chance to run through some of the new activities and gain feedback from the children there, as well as their teachers, the fair organisers and other people presenting at the fair.
The day was a great experience, we got some really positive feedback and the new activities ran smoothly. We definitely generated interest and got children engaged in our activities, and this gave us a great platform to talk about many aspects of our research. As part of our monitoring and self-evaluation plan we handed out stickers to track the number of children that we talked with on the day. In addition, we asked them to complete a couple of evaluation tools to measure the impact that engaging with our activities had had on their understanding of trauma and the immune system. The x – y graph was a great way of getting slightly more in-depth feedback on whether we achieved the aims of our activities.
It was somewhat harder to gauge whether the children linked the role of the immune system in Trauma to all of our activities, and this is something that we will focus on evaluating at our future events.
We are continuing to develop our activities, and to think of new ways to evaluate them, to make sure that we get the most out of our public engagement opportunities. We have more events coming up later in the year. This will be presenting some other new activities at the Festival of Communities as well as adapting other events for a lay audience. In July, we will be showcasing our new touchscreen trauma body map at the Big Bang in East London.
Follow our future activities with the hash tag #immune2trauma
The Centre for Trauma Studies were awarded a 2017 Large Grant to support their activities. The 2018 round opens on 14 August and closes on 25 September.