Countdown to Annihilation: Genocide in Myanmar
At the 2018 Engagement and Enterprise Awards, the International State Crime Initiative, School of Law, were awarded an Influence Public Engagement Award. The Influence Award recognises activity where research has been used to influence a shift in attitudes or the way that things are done, whether this be organisational change, influencing policy or how people think about a topic and their actions. We caught up with them to find out what winning meant to them.
Published:
Nearly one million Rohingya Muslims have fled to Bangladesh to escape persecution in Myanmar's Rakhine State. Since the latest escalation in August 2017, 360 villages have been burned down and a daily average of over 10,000 Rohingya refugees are crossing into Bangladesh. In 2014, ISCI researchers gathered data which in their view began to indicate a genocidal process. Further exploring this, in 2017 they returned to the region and added evidence from interviews with Rohingya refugees in Bangladeshi camps. Together these data support the idea that the plight of the Rohingya of Rakhine State may well be formally classified as genocide.
Supported by this research and documentation, international opinion has now shifted with significant geopolitical ramifications. Naming the Rohingya crisis as 'genocide' rather than 'a humanitarian crisis' or 'ethnic cleansing' is vital because it carries crucial implications for intervention under the Genocide Treaty.
In 2018, we were awarded an Influence Public Engagement Award at the Engagement and Enterprise Awards. It's an honour and a real boost to have our hard work recognised by the university community.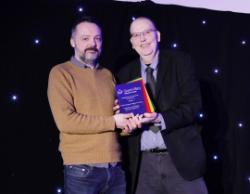 The awards ceremony itself is a welcome and rare opportunity to get people from across the university, along with our external partners, together in one room to celebrate our hard work. The conversations I had as part of the evening were terrific - I met new colleagues and created new collaborations as a result of attending the event. For example, I spoke to a children's author who helped me think about how I might find a way of talking to young children about genocide! Seeing the quality of the other projects is really inspiring and encourages us to work harder to reach our impact goals.
Nominations for the Engagement and Enterprise Awards 2019 are now open until 10 December. Nominate yourself or a colleague here.