Why are Clinical Trials important for research?
Published:
Written by Isabelle Garvey, Research Delivery Officer at Blizard Institute
This week Queen Mary University of London (QMUL) join the world in celebrating International Clinical Trials day, commemorating the first clinical trial carried out by Dr James Lind, the Scottish Physician, to combat the disease of scurvy. International Clinical Trials Day also highlights the importance of clinical trials in healthcare today.
High quality research is vital to high quality care, and letting people know the role that clinical research plays not just in drug development, but in lifestyle conditions that have become more prevalent in recent times is very important. For members of the public it is worthwhile and helpful to know the ways in which clinical research can help prevent a condition or help manage a long-term condition more effectively.
As part of our celebration, we want to share information about the role that clinical research plays in disease prevention. As we work toward preventing diseases such as Type 2 diabetes, involvement in clinical research offers a way to help people protect their health now and in the future.
We run a range of diabetes related studies which work to protect the health of the local population. We also work with a number of different health partners, from academia to industry. These allow us to provide support in a variety of healthcare contexts. These partnerships are both valuable and important. They make sure that our patients get the most up-to-date treatments and research available, and these partnerships continue to develop the sharing of knowledge and experience between the NHS and the scientific community.
To celebrate the clinical research work we are doing in the area of diabetes and its prevention, we crreated a short video that can be viewed on YouTube (click on the image below to be taken through).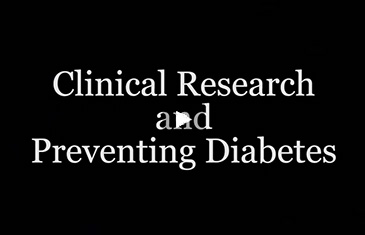 Every day we hear a lot of information on the news and in the media about the growing numbers of people with Type 2 diabetes. This can be very frightening to those who may be at risk, or who have family members with the condition. Many people would like to take steps to prevent the condition, but are unsure of where to start or where they can go for further information.
In this video we speak with healthcare partners we have been working with and let them explain the background of why Type 2 diabetes is such a health issue and some of the main causes of Type 2 diabetes. They also explain how a person can reduce their risk and why involvement in clinical research is a positive step. You can also hear from participants in research who provide their perspective and experience of taking part in research.
We hope you enjoy what we have put together. The video also provides further contact information to get more information or get involved with research if they are interested.
We are experts because we live with the condition.
Ann Prescott, Lay Panel Member
---
Written by Isabelle Garvey
Research Delivery Officer
Blizard Institute