What Goes into Running a Poetry Festival: Globe Road Festival and Engaging New Audiences with Poetry
Published:
Written by Andrea Brady, Professor of Poetry at the Centre for Poetry within the QMUL School of English and Drama
The Globe Road Poetry Festival took place over five days in November 2015 with the aim of bringing together people of all backgrounds to celebrate the diverse poetic traditions of the multicultural community of Tower Hamlets.
The focus was 'Translation and Technology', exploring how these can both create and bridge divides, enable new forms of creativity and engage new audiences with traditional and experimental poetic forms. To reflect this we featured a host of local and international poets alongside multimedia artists and computer scientists.
The main part of the festival was held in the Octagon on the Queen Mary University of London campus, but additional events were hosted at the Idea Store in Whitechapel, the Tower Hamlets Local History Library, and the Rich Mix, as well as a walking tour in the local neighbourhood.
Bringing Together a Programme
We organised the programme carefully to produce a varied series of events reflecting a range of different forms of practice and drawing in a diverse audience. It showcased a wide range of poetic styles and traditions, offering the community a variety of ways to engage with poetry, from hands-on experiments to coding workshops for kids, a slam for school students which built on in-school writing workshops to inclusive discussions and traditional performances.
25 poets were involved in the programme,and we also collaborated with a wide range of partner organisations, including Apples and Snakes, Codasign, Ladies of the Press, Eastside Educational Trust, the Enemies Project, the Ministry of Stories, Pangaea Poetry, the Roundhouse, Rich Mix, the Shanghati Literary Society and Wasafiri magazine.
Over the year and a half of preparation for the festival, we also met with a large number of other community organisations, as part of our efforts to develop a collaborative model and a truly representative and diverse programme. We hope that one of the legacies of the festival will be continuing and productive relationships with all of these organisations.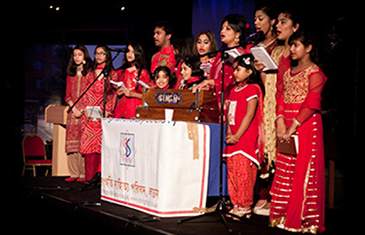 One of our hopes from the collaborative and diverse programme was that this would encourage new audiences to experiment with listening to different kinds of poetry than they normally prefer. This is something we were largely successful with – for example, a range of experimental poets performed alongside computer scientists on the Saturday, and the two groups then engaged in a spirited discussion and 'experiment'.
This taught us a great deal about the benefits and challenges of trying to integrate different audiences; we realised that preferences of style and content can be difficult to overcome, and that it can take a great deal of effort to engage people with writing that's unfamiliar.
A long table discussion held on Sunday also worked particularly well, engaging a more intimate audience in a profound and important discussion about the status and function of poetry in contemporary culture, taking in war, poverty, digital divides, education, access, and aesthetics. The format, in which selected participants sit at a long table alongside audience members (these designations are constantly in flux, as audience members can 'tap' speakers to take their place at the table, or speakers leave to join the audience) effectively de-hierarchised the discussion and allowed for an extremely diverse set of views. Participants were all strikingly eloquent and respectful of each other.
Publicising the Festival to New and Existing Audiences
Though a website for the project had been up and running for over a year, we began the publicity campaign in summer 2015 with social media pages and announcements, including drawing on my own database of subscribers through Mailchimp. Partner organisations also promoted the events; many, including Apples and Snakes, the Roundhouse, and RichMix, with tens of thousands of followers.
We developed posters, fliers and programmes in September, and started postering at the beginning of October with the help of student volunteers. This was due to delays in finalising some aspects of the programme. In hindsight we would have enforced an earlier deadline for the programme, to enable us to have the publicity materials ready earlier, though it did mean we were also able to add some outstanding performers at the last minute.
I also wrote a high-profile editorial on The Conversation, posted via the PR Team, as a way of drawing attention to the festival, something performers were also invited to consider doing. Our contact in the PR Team was extremely helpful throughout, both in planning the publicity campaign and recommending additional advertising sites we might use. They advised me to write the editorial piece and pushed the event themselves on the university's social media channels and website.
Attendance and Ticketing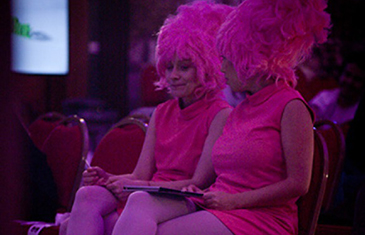 The attendance of the festival was good, especially as each event seemed to attract a different group of people, and we estimate that we saw over 400 people throughout the weekend.
We did note that a large percentage of people who signed up for the free events did not turn up. These were designed to be free to enable as many members of the community as possible to attend, but perhaps charging a nominal fee (e.g. £5 per event, or £15 for the day) would encourage people to follow through with bookings.
This is a subject of ongoing debate, but audience members did say they would have paid up to £5 for the event they attended.
Venue Considerations
The Octagon was chosen as a hub for the festival weekend for its character and central location on the QMUL campus. The space is very impressive and characterful, giving the proceedings a sense of importance. There were however several problems.
As the hall is inside the Queens' Building, which is set back from Mile End Road, it was somewhat difficult for members of the public to find, though we did put up signs around the campus. It is also perhaps somewhat intimidating to approach. Something we've learned through our interaction with community groups is that it is particularly difficult to get members of the public past the university gates. While finding ways to break down these perceived barriers is important, for large scale public events such as these we would possibly seek to host more of the activities at a dedicated public-facing venue such as RichMix in future, which is more familiar to potential audiences.
Secondly, we had technical problems throughout the weekend. We were able to access technical help during university working hours, but precisely at 5pm when the technicians left for the weekend, two of the wired microphones ceased to work. In future, we would definitely budget to have on-site technical support throughout the festival.
Legacy and Further Collaborations
We supplied an evaluation form to all performers and guests, asking them to comment on the festival, and how they heard about it, as well as inviting them to sign up to the Centre for Poetry's website. Almost all of the evaluations were very positive about the programme and the events, it is also notable that many say that this was the first event they had attended something at QMUL.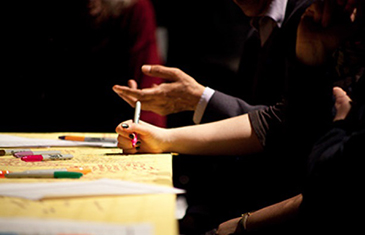 Our documentation of the festival includes a tablecloth annotated by participants in the Long Table discussion, poetry receipts produced by the Ladies of the Press at the Poetry and Technology day, still photographs by two photographers (one professional and one student), and audio and video recording. The latter will be edited and posted to the Archive of the Now website, where they will be accessible to an international audience.
We have already begun to develop some interesting partnerships as a consequence of the festival. Pangaea Poetry, who hosted one of the interactive exhibitions on the technology day of the festival, has since asked us to sponsor a funding application to the Clore Duffield foundation which would allow us to co-produce a web-based international creative writing programme for young people in the UK, France, Lebanon and India. I was also recently interviewed by South Korea's TV Chosun with Stephen McGregor from Computational Creativity, whose Concept Delivery Model was the basis of our live audience experiment on that same day, for a documentary on Artificial Intelligence.
Additionally, my essay from the Conversation and the Globe Road festival were both cited in a call for papers on 'Race and Poetry and Poetics in the UK', which was held at Royal Holloway in March and at which I was invited to speak. This conference highlighted the important intervention that Globe Road had made, and will be the basis of a research network which will seek funding from the AHRC.
These are good omens for the continuing legacy of the festival, and evidence of its impact on the local and international communities it was intended to celebrate.
---
Written by Andrea Brady,
Professor of Poetry and Director of the Centre for Poetry,
Centre for Poetry,
School of English and Drama
Pictures taken by Catriona Gray
Globe Road Poetry Festival received Large Award Funding from the QMUL Centre for Public Engagement.