Opening up Indian Shakespeares on Screen
Published:
Written by Preti Taneja, Global Shakespeare Research Fellow at the Global Shakespeare QMUL / University of Warwick partnership.
Indian Shakespeares on Screen will see four early career academics from institutions across the UK pair with the British Film Institute and the National Film Archive of India for a festival of Talks, Screenings, Workshops and Indian Shakespeare Movie Memorabilia between 27- 30 April 2016 to coincide with international commemoration events for Shakespeare's 400th death anniversary.
This festival will represent the first major international investigation and celebration of Shakespeare in Indian cinema, hosting a major series of critical talks focused on Shakespeare and Indian cinema, and masterclasses with creative practitioners on adapting Shakespeare for the screen.
This includes a showcase of top Bollywood director Vishal Bhardwaj's trilogy of films, Omkara (Othello), Maqbool (Macbeth) and Haider (Hamlet) that relate directly to my research into Shakespeare in current conflict and postconflict zones. These three films translate the 17th Century writings of Shakespeare into the context of contemporary India, using these to explore legacies of colonial rule and living in areas of conflict such as Kashmir.
Each film will be introduced by one of the project partners, who will also conduct a live post-screening Q&A with the film's director and scriptwriter, exploring themes behind each film and the boundaries that scriptwriters must wrestle with between text and performance.
We will also curate an exhibition of Indian cinema artefacts, including rarely seen exhibits on loan from the National Film Archive in India.
Taking this three-pronged approach of film, talks and exhibition, the festival hopes to address a gap left by mainstream distribution and programming of Indian cinema in the UK, which can lead to pigeonholing of films as 'Bollywood', leading to their being screened only in majority Asian areas.
This was highlighted in the UK Film Council's recent report, 'Portrayal vs. Betrayal. An investigation on diverse and mainstream UK film audiences, the document commented that 'There is an overall feeling that Asian film is highly inaccessible in UK cinema as it is shown at inconvenient times and this is a suggested area for improvement'. The report also showed that 69 per cent of Asian audiences believe Asians only figure in films as a token gesture.
Our partnership with the BFI aims to address these findings by opening up Indian cinema, and places exciting filmmaking such as Bhardwaj's Shakespeare trilogy at the heart of the UK's artistic cinematic establishment. It also articulates our conviction that there is a growing UK interest in Indian film culture as an international bellwether, relevant beyond its pigeonholing in terms of distribution and perceived appeal.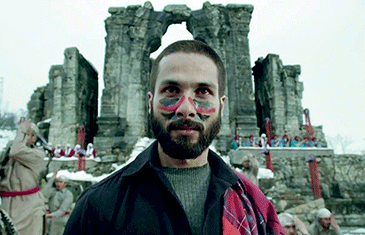 A scene from Haider, Vishal Bhardwaj's take on Hamlet, featured in the Indian Shakespeares on Screen Festival
In partnering with the BFI and holding concurrent events, we hope the festival will reach out to a wide range of audiences fluent in different cinematic and artistic languages, and offer direct contact with the filmmakers and a critical context for their work.
The multilingual approach inherent in our three events ensures a diversity of languages and voices will be heard in the mainstream and the impact of listening to Shakespeare mixed with Hindi and Urdu poets in a range of languages will be measured via the surveys I am designing as part of my research.
The film themes will also attract activists and artists who have used Shakespeare (especially film) to engage audiences of all ages with pressing socio-political issues in various cultures, emphasising the radical relevance Global Shakespeare studies has to contemporary culture beyond the academy.
Material and insights gleaned throughout the festival will feed into my research on Shakespeare and human rights. In terms of afterlife, we will also foster the "Shakespeare on the Indian Screen Network" which will facilitate ongoing dialogue and future collaborations between academic researchers, media, filmmakers, activists and communities. Building on the cross-cultural, interdisciplinary and inter-professional conversations at the events, we will provide a platform for this network on the project website.
Finally, to ensure we document the lessons and insights from the festival we are filming and recording podcasts of the sessions as well as short interviews with our guests, audience members and scholars about the impact of the events on their understanding of British-Indian relations. In publishing these, the project will provide a first hand record for journalists, researchers and filmmakers going forward.
Partners:
Thea Buckley, Shakespeare Institute, University of Birmingham
Koel Chatterjee, Royal Holloway, University of London
Dr Varsha Panjwani, (CREMS) University of York and Boston University (London)
Dr Preti Taneja, Global Shakespeare, QMUL and University of Warwick
For more the full programme and tickets to all events, please see www.indianshakespearesonscreen.com
---
Written by Preti Taneja,
Global Shakespeare Research Fellow,
Global Shakespeare