How We Read - Running a successful exhibition on assisted reading technologies
Published:
Written By Matt Rubery, Reader in English at the School of English and Drama
"How We Read: A Sensory History of Books for Blind People" was a public exhibition exploring the history of reading technologies designed for blind people over the past two centuries. It was featured at Being Human, the UK's first national festival of the humanities.
The exhibition introduced visitors to a range of reading formats beyond the conventional book whilst encouraging reflection on the ways in which different sensory modes have been privileged at certain historical moments and by changing communities of readers. Through touch, sound and sight, "How We Read" opened up the many ways in which we do something as simple as read a book.
It began with the development of embossed literature at the start of the nineteenth century, then examined innovations in sound and optical character recognition scanning devices during the twentieth century, and finally reflected on the status of today's assistive technologies.
From raised print to talking books and optophones, a fascinating array of historic artefacts were on display from museums, archives, and other centres dedicated to preserving the heritage of blindness. Such devices have made reading material accessible to many thousands of visually disabled readers in Britain.
A series of hands-on activities, interactive workshops, and live performances allowed visitors to try out for themselves alternative ways of reading. These included: descriptive tours led by an experienced museum curator; a tactile storytelling workshop in which participants learned how to read Braille; a panel led by visually impaired readers who shared their experiences of reading books in different media; and a live reading by a professional actor who has recorded books for people who are blind. The exhibition ended with a live performance from "The Braille Legacy," a musical based on the life of Louis Braille with songs sung by children from the Sylvia Young Theatre School.
My co-curator, Heather Tilley, and I tried to include blind and partially sighted people at every stage of the exhibition, and special effort was made through the RNIB and colleges for young visually-impaired people. They offered feedback, loaned items, and participated in our engagement events.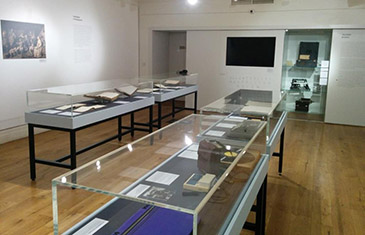 One thing we learned was the importance of being opportunistic: the exhibition evolved in unexpected and exciting ways, and when such chances arose, we were flexible enough to depart from the original plan and make the necessary adjustments. For example, several people offered to contribute to the exhibition after reading about it in the newspaper. These contributions (such as the donation of an Optacon reading machine) turned out to be immensely popular. We also obtained a curious device called an optophone that had recently been found by the archivist at Blind Veterans UK. As far as I can tell, this is the first time such a machine has been displayed in the UK since the 1920s. It was a big hit.
My major regret was that the exhibition could not be put on for a longer time period. We chose the Peltz Gallery as a building that is accessible to people with disabilities and near RNIB headquarters in Central London, but were unable to reserve the space for longer than a week. Doing so would have allowed more people to visit the exhibition. What a shame!
All 'How We Read' exhibition materials are now available online at http://www.howweread.co.uk/
---
Written by Matt Rubery,
Reader in English,
School of English and Drama