Centre of the Cell Celebrates 5 years
Published:
Written by Rebecca Knowlson,
Learning & Outreach Officer at Centre of the Cell
Here at Centre of the Cell we have quite a bit to celebrate this year. We have been open for five years, had over 100,000 participants involved in our activities and we also merged back with Queen Mary. There's also a lot to look forward to with a number of exciting projects in development.
Five Year Anniversary
On 6th May Centre of the Cell marked its five year anniversary with a celebration event hosted at the Blizard Institute. This event was an opportunity for past and present staff, funders, supporters and friends to celebrate Centre of the Cell's achievements, say thank you to all of those who have contributed, and give our guests a glimpse at what Centre of the Cell has in store for the future.
The evening began with speeches from Queen Mary Principal Simon Gaskell, Chairman of the Aldgate and Allhallows Foundation John Hall and Frances Balkwill, Director of Centre of the Cell. The speeches, chaired by Mike Curtis, the Dean of Dentistry and Director of the Centre for Public Engagement, emphasized the importance of engaging with the local community, public engagement as a core feature of Queen Mary's work and how inspirational leaders play an important role in the success of innovative public engagement projects.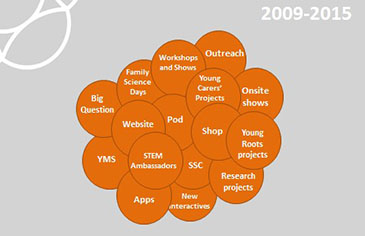 Frances Balkwill, who was introduced by Mike Curtis as a 'binary star' who heads up both of her research centre and Centre of the Cell, focused largely on the growth of Centre of the Cell from a website, Pod and shop to a multi-faceted science communication centre, delivering a broad range of projects, including an extensive outreach programme, family science days, a Youth Membership Scheme, Big Question lectures and projects with the local community.
A recent example of one of our projects is 'Something in the Air', a three hour workshop about air pollution funded by the Medical Research Council. The workshop, which includes a one hour show followed by six workstations, helps students to understand what air pollution is, how it affects people, how it can be measured and how it can be avoided.
In addition to the workshop, children whose parents had given consent were involved in real air pollution research where they met scientists from the Paediatrics team and provided sputum, urine and DNA samples as well as taking part in lung function and skin-prick allergy tests. The project is now approaching its evaluation stage in which the team will return to schools to update them on their findings and evaluate the impact of the project.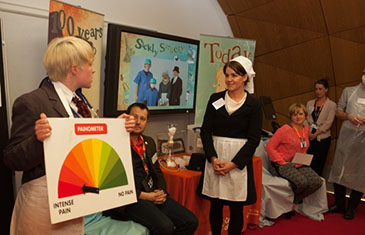 After the speeches, the guests attended one of three shows on offer. They could choose between a Pod visit, our medical history show 'Sores, Spores and Sickly Bugs' or our 'Snot, Sick and Scabs' show. I worked with my colleague Alex Jenkin to perform 'Sores, Spores and Sickly Bugs.'
This show, presented by Dr Sore from 1915 and Dr Spore from 2015, explores medicine and disease 100 years ago and today and reveals how things have changed. In the show guests were asked to participate and take on the role of patients and medical professionals from 1915 and 2015. With some help from a very enthusiastic but slightly terrified audience, we managed to make two surgical teams, one from 1915 and one from 2015, perform an amputation operation on two rather frightened looking patients.
Luckily, we didn't go through with the amputation and our patients were able to enjoy the rest of their evening. Whilst our audience was narrowly avoiding surgery, other guests were curing burns, growing cells and treating TB in the Pod and dunking their hands in snot to learn all about the body defences in our 'Snot, Sick and Scabs' show.
After the shows were over, everyone made their way over to the Old Library in the medical school for a reception where we were treated to a jazz pianist, canapés and drinks. Here guests got a chance to play with another exciting feature of the evening, a virtual reality device, provided by Draw & Code, where players put on a headset and use a handheld control to 'see' what our new Pod structure 'Neuron Pod' will look like when built.
The celebration event was a great evening and a wonderful opportunity to bring together all those who have worked together to make Centre of the Cell what it is today.
100,000 visitors

In addition to our five year celebration, in April we marked 100,000 participants that have been involved in Centre of the Cell activities with a special Pod visit for a Year 4 class from Thomas Buxton Primary School, a local school that we have worked with previously.
'The kids had an incredible time! Thanks so much to your team for hosting the event, and a big thank you for the gift bags as well.' Year 4 Teacher, Thomas Buxton School.
Looking to the future
As we look to the future, there is a lot for us to be excited about and a lot to keep us busy!
There are currently three new games being developed for the Pod and website. One of the games is all about colon health in which players will get to 'race' poo down a track – we are certain that school groups visiting the Pod are going to love this! Another game is all about gene knockouts in which players search for people with genetic knockouts in the population and discover what the advantages of these knockouts can be. I am working on the final game, aimed at A-Level students, where players build and, subsequently, destroy a tumour, and learn about the tumour microenvironment along the way.
As well as new games, we are hoping to secure the remaining funding for Neuron Pod and our Youth Membership Scheme (YMS).
Neuron Pod will be an futuristic new space for us to use when schools come to visit. This will contribute greatly to our sustainability as it will guarantee a second space on site, allowing us to have two school groups on site at one time. As such, it will double our visitor numbers and their dwelling time on the Whitechapel campus. In addition it will be a fantastic space that will enable us to do more work with the local community.
Our free Youth Membership Scheme (YMS) encompasses all of our activities and events for young people (aged 14-19 years old) outside of school time.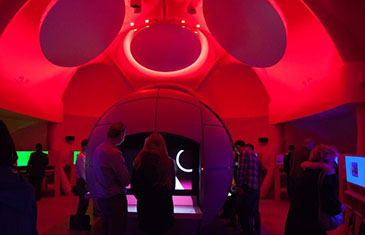 Joining the Centre of the Cell Youth Membership Scheme (YMS) currently provides access to volunteering opportunities, youth forum events, careers advice, university application sessions, revision help, work experience and email updates about science events, competitions and opportunities in London. Gaining funding will allow us to continue and extend this scheme.
We hope to add a summer school, youth panel, more work experience places and additional mentoring and advice sessions for members as well a continuing our existing scheme.
This programme in particular is hugely beneficial to young people in the local area. One youth member told us: 'Without Centre of the Cell, I wouldn't have applied for Cambridge… Centre of the Cell has been there for me-I won't forget how they have supported me throughout.'
---

By Rebecca Knowlson
Learning & Outreach Officer
Centre of the Cell, Queen Mary University of London