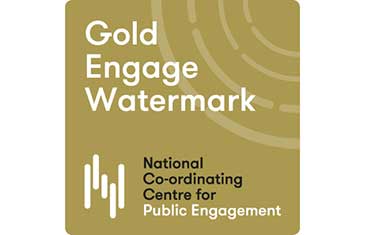 The Engage Watermark is an award granted by the National Coordinating Centre for Public Engagement (NCCPE) to higher education institutions to recognise their strategic support for public engagement and their commitment to improve the support offered.
The Watermark process invites universities to reflect on their current public engagement practice— assessing the understanding and awareness of public engagement, the support for high quality engagement activities, and the institution's strategic intent—through a university-wide survey, a series of site-visits, and one-to-one interviews. Universities can then use the recommendations to develop a robust plan to enhance their engagement work moving forward.
In 2016, Queen Mary became the first institution to receive a Gold Engage Watermark, awarded to institutions which are beacons of excellence in the support on offer for public engagement.
Progressing to Platinum
After holding a Gold Engage Watermark for four years, Queen Mary is now eligible to apply for the Platinum Watermark—the highest award possible. This Watermark is awarded to institutions that evidence a sustained commitment to high-quality public engagement and are acting as leaders within the field.
From November 2020 onwards, Queen Mary will begin the assessment process for the Platinum Engage Watermark. Over the subsequent 6-9 months, the NCCPE will work alongside Queen Mary's Centre for Public Engagement to gather insights on engagement from students and staff across the University to help evaluate where we are at present, and help us understand what we need to do in future to further embed and enable a culture of engagement.
We will additionally be using the insights gathered from the Platinum Engage Watermark assessment to feed into the development of Queen Mary's Public Engagement Enabling Plan.
The Engage Watermark Survey
The Engage Watermark Survey invited all staff and students at Queen Mary to share their thoughts on, and experiences of, public engagement at the University. This was completed in December 2020. These results will be made available to the Centre for Public Engagement as part of the reporting from the Watermark in mid-2021.
Site Visit
Members of the NCCPE team have met with key members of staff across Queen Mary in a mix of one-to-one interviews and focus groups. These sessions were designed to allow the NCCPE to have more in-depth discussions about the public engagement support at the University. This process was completed mid-February.
Action Planning
Using the evidence and materials collected, the NCCPE will produce a report on the support for engagement at Queen Mary, including recommendations for future development. In response, Queen Mary will produce an action plan to incorporate areas we can develop. This action plan will additionally directly feed into the development of the Public Engagement Enabling Plan
Award
NCCPE will use their report and the subsequent action plan to award an appropriate Engage Watermark reflective of Queen Mary's public engagement support. We hope to be awarded in Autumn/Winter 2021.