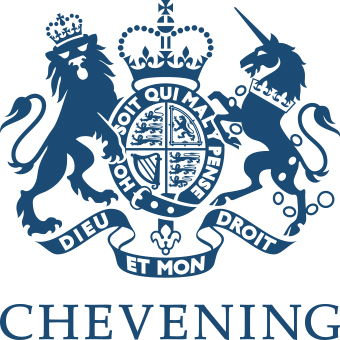 QMUL works closely with the Chevening - the UK government's international scheme aimed at developing global leaders - to provide a large number of full scholarships for study on our one-year Masters courses.
Every year QMUL hosts a large cohort of the 1500 Chevening Scholars who come to study at universities all over the UK. In 2017-18 we have a record of 89 scholars joining QMUL from 55 countries across the globe!
QMUL's Chevening Scholars play an active role in our lively and diverse student community and are invited to attend our annual International Scholars Reception, as well as a variety of other scholarship events throughout the year.
The Awards
Chevening Scholarships are available for students from all nationalities.
All Chevening awards cover full overseas tuition fees, as well as providing a stipend for living costs, air-fares, and a variety of other expenses.
Chevening Scholars also benefit from a year-long programme of events helping you experience the best of British culture and to make the most of your time in the UK.
There are two types of award on offer at QMUL:
QMUL-Chevening Scholarships
A large number of these awards will be available across all one-year QMUL masters courses. To be eligible you need to rank Queen Mary amongst your top three institutions.
QMUL-Chevening Partner Awards
In addition to the QMUL-Chevening Scholarships, Queen Mary also supports an additional fifteen QMUL-Chevening Partner Awards. These awards are for specific academic departments and for particular courses. To be eligible for these additional awards, you must place Queen Mary as your top-ranked choice.
For 2017-18 entry partner awards are on offer:
The programmes offered within the School of Law and Centre for Commercial Law Studies will be made available as follows:
1 scholarship:
Available for the following degrees:
LLM in Banking and Finance Law
LLM in Commercial and Corporate Law
LLM in Comparative and International Dispute Resolution
LLM in Computer and Communications Law
LLM in Energy and Natural Resources Law
LLM in Insurance Law
LLM in International Economic Law and Regulation
LLM in Intellectual Property Law
LLM in International Business Law
LLM in International Shipping Law
LLM in Media Law
LLM in Tax Law
Offered in the following countries:
Cameroon
Egypt
Ethiopia
Ghana
Kenya
Rwanda
South Africa
Swaziland
Tanzania
Zimbabwe
Zambia
And 1 scholarship:
Available for the following degrees:
LLM in Competition Law
LLM in Environmental Law
LLM in European Law
LLM in Human Rights Law
LLM in Immigration Law
LLM in Legal Theory
LLM in Medical Law
LLM in Public International Law
LLM in Public Law
How to Apply
Applications for all scholarships must be made directly to the Chevening: full details on how to apply are available on the Chevening's webpages.
In order to be considered for a QMUL-Chevening Partner Award, candidates are encouraged to place QMUL as their first choice university.
The deadline for applications was Tuesday 8 November 12:00 GMT. Therefore applications for 2018 are now closed. Applications for 2019 entry will open in August.
Candidates should also apply for their chosen Masters programme at QMUL through our online portal in the normal way.
Candidates are encouraged to QMUL as early as possible to ensure that their application can be processed in a time to meet the Chevening's deadline for the confirmation of their unconditional university offer in July 2018.
Meet our scholars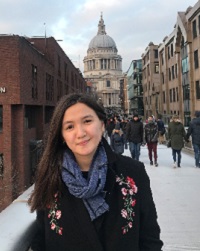 Akmaral Sman, Kazakhstan
Akmaral is studying for a Masters in Public Administration in our School of Business and Management. She has been nominated as the course representative and loves the teaching style on her course which combines the important aspects of public management with objective analysis of the failures within society today.
Akmaral particularly enjoys the diversity of London. "Every morning i see so many faces, colours, titles of books in the tube, styles, laughs and serious faces. It is amazing how you can basically in 15 minutes can hear at least 30 languages of passers-by."
Karen Leung, Hong Kong
Karen is studying for a LLM in Competition Law with her Chevening scholarship. She notes that the teaching is extremely practical as well as being inspirational and insightful. The central London location of the commercial law department is a bonus for Karen who enjoys the vibrancy and creativity of the West End.
She recommends that applicants reach out to alumni and existing students and spend time to go through the full list of modules and options before applying.
Mukta Balroop, Trinidad and Tobago
Mukta is studying for a LLM in Media Law and loves that the diversity of Queen Mary allows for making friends from all over the world and lays the foundation for a great legal network in the future.
He also found rankings to be unhelpful and said he found much more useful information by reaching out to alumni, researching the professors and reading in depth about the specific modules offered by Queen Mary School of Law.
Zhandos Sybanbayev, Kazakhstan
Zhandos is using his Chevening Scholarship to study for a MSc in Management. He loves studying in London because of the opportunity to be at the centre of events, both academic and entertainment. One evening you could be watching a world-leading economist give a lecture, and the next you'll be at a sold-out music concert!
He advises new students to try and get involved in student life outside of your academic commitments in order to get the most out of your time in the UK.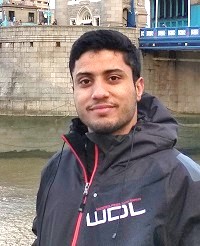 Vaibhav Chadha, India
Vaibhav is taking the general Law LLM at our Centre for Commercial Law Studies (CCLS). He loves the diversity of modules available which he says has help him expand his scope and see things from completely new points of view. Many of his modules are taught by practising lawyers who help to bring class alive by including interactive elements based on their experience in the professional legal world.
Vaibhav is enjoying studying in London for the first time; "London to me is a world in itself. You meet people from countries you never heard of, you get food items you might never had ... Studying in London has its own incentives. You are taught here with some of the best teaching practices and standards. Students here receive an exposure which not only leads to their academic but also overall growth."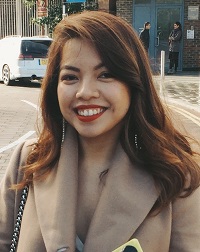 Liya Saffura, Malaysia
Liya is a lawyer, specialising in corporate governance and is studying on our general LLM Laws with her Chevening scholarship. She enjoys the flexibility that the course offers, allowing her to venture into different disciplines such as ethics in finance and laws on climate change.
Liya appreciates the diverse background of both the staff and the students at Queen Mary which offers great opportunities to learn about different cultures. She also credits the extensive collection of academic materials which make research for assignments and essays hassle-free.
In her free time, Liya takes advantage of the vast array of art galleries and classical music concerts available in central London.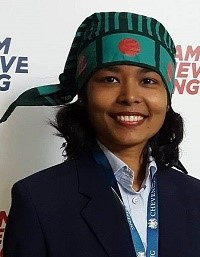 Shahida Pervin, Bangladesh
Shahida is studying on the MSc Economics at Queen Mary and although she finds the schedule very intense, she likes the wealth of opportunities to engage with academics, to pursue professional development and to volunteer alongside her studies. Shahida chose Queen Mary because of the location and has not been disappointed- "the historical and social value, and the cultural diversity is extraordinary".
Shahida recommends the MSc in Economics for anyone with a keen interest in quantitative economics. She was thrilled to receive the Chevening scholarship, alongside two others from Bangladesh who also came to Queen Mary. She recommends to prepare your documents meticulously and apply early!
To contact the alumni ambassador for your country please check out the international office pages.