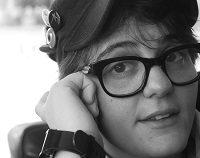 Vasiliki Tsagkroni, PhD Candidate, School of Politics & IR
Primary Supervisor: Dr Judith Bara
I earned a BA in Political Science and History and an MA in Political Science at the Panteion University of Athens, Greece.
During my undergraduate studies I became interested in politics, and in particular by political parties. My interest focused on radical right parties because of their complex nature: they encompass a constant struggle between old and new ideologies and the inherent contradiction between extremism and its 'boundaries'. Moreover, having worked on the subject of Radical Right Parties for my postgraduate thesis entitled Housetrained you'll never be! Radical Right Parties in Scandinavia, it occurred to me that a PhD project that could combine political science and communication strategies would be a challenging and useful investigation.
My research interest involves consumerism and its effect on the evolution of modern day radical right parties. In a society where consumerism permeates all aspects of our everyday lives, radical right parties rebrand themselves to become as attractive as possible.
Polls, electoral results, party membership and other sources of evidence establish that there has been a rise in support of the radical right parties in a vast selection of European countries.
Although ideology is critical for the characterisation of parties, I focus on political marketing, bearing in mind that it is echoed in several stages of the decision making process within party structures and influences (basic) policies, campaign strategies, and even party leadership.
My aim is to analyse the parties' branding and marketing strategies in relation to media utilisation as a means of wider appeal to sectors of the electorate and also build a political marketing model applied on European radical right parties.