16 July 2015
They include Assan Ali and Mohammed Nurull Islam who were both made honorary fellows thanks to their work as co-directors on the Mile End Community Project (MCP). The community-based organisation is celebrating its 20th year and specialises in grassroots youth engagement via film and media. MCP and QMUL first worked together on the Cutting East Youth Film Festival - a film festival for young people created by young people. They have since been involved as partners on the Queen Mary Students' Union's community sports programme, worked with researchers for engagement projects, and collaborated in research and teaching on a Business Management course.
Assan said: "It's truly an honour to receive this Fellowship as recognition of the work we do. I hope it encourages young people to invest in their community and aspire to study at the University."
Novelist and science communicator Catherine Lucy Hawking was made an honorary graduate and awarded a Doctor of Sciences (DSc). Daughter of theoretical physicist Stephen Hawking, who attended the ceremony, Lucy studied French and Russian at Oxford before embarking on a successful career as a journalist and author.
In 2007, with her father, she wrote the first novel in the successful George series, George's Secret Key to the Universe, which has been translated into 38 languages and published in 43 countries. Lucy tours the world giving inspirational talks on science for younger audiences. She has worked with the Centre for Public Engagement at QMUL on a range of science outreach projects including Ourspace, the Science Stories book written by local school children, and the Mission X: Train like an Astronaut project.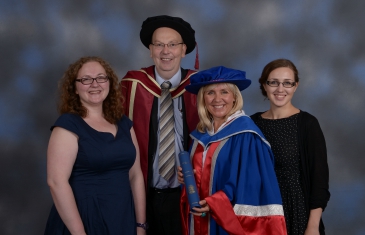 Lucy Hawking with Professor Peter McOwan and the QMUL Public Engagement team
Maggie Philbin, the much-loved Tomorrow's World presenter and BBC science and technology reporter, was also made an honorary fellow. Philbin has more recently worked on BBC One's Bang Goes The Theory and reported for BBC Breakfast, Inside Out and BBC Webwise, as well as heading up the BBC's Digital Switchover and writing for The Guardian. In 2008 she created an interactive science and engineering event TeenTech, which now runs across the UK and has won several national and international awards.
In 2013 she was included on the Tech City insider list of 100 people who are making digital London tick while the following year she was asked by Ed Miliband to lead an independent taskforce to produce a report on digital skills to be shared with all political parties to inform their policies for the next election.
Gerry Reilly was awarded a Doctor of Sciences Honorary Degree (DSc) in recognition of his role in formalising and supporting a partnership between QMUL and IBM.
Gerry studied Physics and Electronics at Queen Mary College, graduating in 1982 before moving to IBM in 1999. In 2011, on behalf of IBM, he signed a formal partnership agreement with QMUL and has developed opportunities for collaboration which have spanned across the School of Electronic Engineering and Computer Science (EECS), the Schools of Mathematical Sciences, Business and Management, Engineering and Materials Science, and Law. Gerry is also visiting Professor in EECS contributing with guest lectures and as a member of the industrial advisory board. He has supported research and teaching activities across the university and provided valuable feedback from an employer perspective. Currently he is involved with the exciting new opportunities around the launch of degree apprenticeships.