News
For all the latest news and information on our events and what's happening here at Queen Mary, Malta Campus, follow us on our social media channels.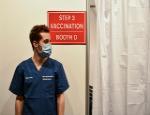 Student volunteers from Queen Mary Malta Campus to support vaccine rollout and community projects
31 March 2021

Student and staff volunteers supporting vaccination roll out in Gozo
Local partnerships and collaborative projects with the community

Queen Mary Malta Campus starts new academic year, plans community events
4 November 2020

Queen Mary University of London, Malta Campus and its medical degree programme have reopened for the new academic year and welcomed 64 new first year students to the historic capital of Gozo. Now in its fourth year of operation on the Islands, the University offers its internationally renowned five-year Bachelor of Medicine, Bachelor of Surgery (MBBS) programme and is already attracting students from around the world.