Information for Kenyan applicants
Queen Mary University of London has a long history of welcoming students from around the world. Over the years, many thousands of international students have graduated from the university and gone on to pursue successful careers. Today, we are home to students from more than 162 different countries and over 45% of our student body come from outside of the UK. This diversity contributes to a lively and welcoming community which should make you feel comfortable and at home.
We are one of the largest colleges of the University of London and one of the few with fully integrated teaching, research and residential facilities. Our setting provides our students with the benefits of both a large campus environment, and the countless academic and social opportunities provided by London.
There are currently 21 students from Kenya studying at Queen Mary who are enrolled on a range of degree programmes at both undergraduate and postgraduate levels.
Queen Mary's International Office staff visit Kenya twice a year, details of our next visit can be found on these pages.
Entry requirements
Entry requirements
Undergraduate (BA, BSc, LLB etc.)
Students that have successfully completed A-Levels, the European Baccalaureate, or the International Baccalaureate will be considered for admissions to our undergraduate degrees.
Please check the grade requirements for your chosen degree programme via the undergraduate study section of our website.
The Kenyan Certificate of Secondary Education (KCSE) is not currently accepted for entry to any of our bachelor degree programmes. However, applicants that have completed the KCSE can be considered for entry to one of our International Foundation Programmes. These provide opportunities for students to progress to linked bachelor degree programme one year later, providing that the foundation programme is satisfactorily passed
For more information regarding our foundation programmes please click here.
We generally accept the KCSE with grade B in relevant subjects.
If you are currently studying another UK foundation programme elsewhere and would like to progress to one of our Bachelor degrees, please get in touch via the contact details at the bottom of the page.
English Language Requirements
For details on the University of London External Diploma/Degree transfers, please go to the following website
Undergraduate Medicine and Dentistry Admissions
For detailed Medicine and Dentistry entry requirements and instructions on how to apply, please refer to the School of Medicine and Dentistry website.
Postgraduate
Taught Degrees (MA, MSc etc.)
Students that apply to one of our Master degree courses are normally expected to have achieved an Upper Second Class bachelor degree, however some courses will also accept a Lower Second Class classification.
Please check the grade requirements for your chosen degree programme via the postgraduate study section of our website.
We are also pleased to also consider students if they have obtained a Bachelor or Master's degree.
This is QMUL's equivalency table for UK and Kenyan Bachelor degree classifications:
UK

Bachelor Degree Classification

Kenyan

Bachelor Degree Classification

First Class (1st)

1st Class or 70%

Upper Second Class Hons (2:1)

2:1 class or 60-69%

High – Lower Second Class Hons (2:2)

2:2 class with avarage of 56-59%

Standard – Lower Second Class Hons (2:2)

2:2 class or 50-55%

Third Class Hons (3rd)

3rd class or 40-49%
Full English Language Requirements section can be seen at the link below. If a first degree is taught for at least 2 years fully in English, and no more than 5 years have passed since the student was taught in English, the Admissions office can consider the degree for English language acceptability. These degrees will be considered on a case by case basis. Students will need to supply academic transcript and confirmation letter from central university administration confirming the course is taught and examined in English for at least 2 years.
Research degrees (MPhil/PhD)
Competitive applications to our postgraduate research degree programmes will include high overall grades achieved in their Master Degree.
For more information regarding our research specialisms and opportunities, please see our dedicated webpages.
English Language Requirements
Student profiles and Alumni ambassadors
Yussuf Bashir, Kenya, LLM Human Rights Law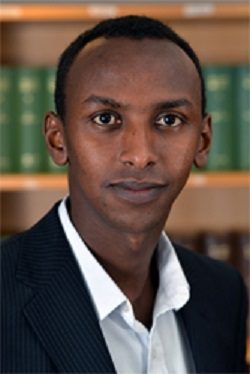 The opportunity for professional and personal development away from my home country has been invaluable. The UK has long been a destination for those seeking to do this from all over the world- I am just following in their footsteps.
In country representatives
Uniserv
Nairobi
9th Floor, Fortis Tower,
Wood vale Grove,
Westlands
Phone: +254 723 597 445
+254 735 014 549
Mombasa
1st Floor, Kalair Centre,
Opp. Texas Alarms,
Nyali Road
Phone: +254 41 4472104
+254 729 575173
The British Council provides comprehensive advice on many aspects of study in Britain.
Visit: www.britishcouncil.org/kenya
Nairobi
British Council
ICEA Building
Kenyatta Avenue
PO Box 40751
00100 Nairobi
Tel: +254 (0)20 334855
Fax: +254 (0)20 339854
Visits to your country