Information for students from Uganda
Queen Mary University of London has a long history of welcoming students from around the world. Over the years, many thousands of international students have graduated from the university and gone on to pursue successful careers. Today, we are home to students from more than 162 different countries and over 45% of our student body come from outside of the UK. This diversity contributes to a lively and welcoming community which should make you feel comfortable and at home.
We are one of the largest colleges of the University of London and one of the few with fully integrated teaching, research and residential facilities. Our setting provides our students with the benefits of both a large campus environment, and the countless academic and social opportunities provided by London.
There are currently 12 students from Uganda studying at Queen Mary who are enrolled on a range of degree programmes at both undergraduate and postgraduate levels.
Entry requirements
Undergraduate
Students achieving good results from the Uganda Advanced Certificate of Education (in combination with the Uganda Certificate of Education), the East African Advanced Certificate of Education or the Cambridge Overseas Higher School Certificate are eligible for entry into the first year of a Bachelors degree course.
Please check the grade requirements for your chosen degree programme via the undergraduate study section of our website.
Students holding a qualification that is not recognised for direct entry to a degree course might be accepted to attend a Foundation course before pursuing an undergraduate programme at Queen Mary.
For information on applying to study for a foundation course at Queen Mary, please click here.
Postgraduate
Information on the comparability of international qualifications can be found on the Entry Requirements section under the listings for each programme in the course finder. Please note this information is only intended as a guide as the final decision on equivalency of overseas qualifications will be made by the Admissions Office at Queen Mary.
English language requirements:
Please refer to our English Language Requirements for full details.
For details on the University of London External Diploma/Degree transfers, please click here.
Useful contacts
The British Council provides comprehensive advice on many aspects of study in the UK. Their website includes information on application procedures - including a sample UCAS form, guidance for completing the on-line UCAS application, funding etc.
Visit: https://www.britishcouncil.ug
Kampala
British Council
Plot 4, Windsor Loop
Off Kira Road
Kamwokya, Kampala
Uganda
Tel:+256 312 560 800
WhatsApp: +256 790 243 070
E-mail: info@britishcouncil.org.ug
Student profiles and Alumni ambassadors
Hussein Walugembe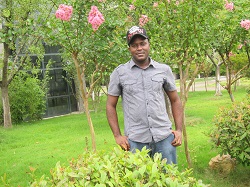 Hussein was Queen Mary's very first Islamic Development Bank scholar and has been studying for a PhD in Computer Science since 2016. Before coming to the UK, Hussein worked at various universities in Uganda and studied for a MSc in Hunan University, China.
Hussein is enjoying the collaborative nature of the PhD environment and the opportunities to develop as researcher through the wide variety of free courses run by the Academic Development Team. He's currently preparing to write up his work in acadmic publications and to present at an international conference.
He is keen to return to Uganda and continue to develop as an independent academic researcher. He has ambitions to be a leading professor in his field.
We asked Hussein how he found the application process and life as a PhD student at Queen Mary:
"I really liked Queen Mary before enrolling for my PhD. This was because in the process of finding a potential supervisor, I was treated pretty well. I searched on the Internet and visited a web page that displayed staff who work at Queen Mary and from here, I filtered 3 potential supervisors. I contacted them and all responded instantly and this made my application move faster.
Furthermore, now with my research, the supervisors are helpful and I often meet my supervisor at least once a week. This helps me to stay on track with my research project.
At QMUL, they take us through training programs/courses that make us better researchers. These courses also highlight us on career options one can undertake after studies. These courses are organised by Academic Development Department."
Scholarships and Funding
Queen Mary offers various scholarships to encourage excellent students to study with us. Please see our International Scholarships page for more information.
In country representatives
Uniserv Kampala
SM Chambers, Plot 14,
Hannington Road,
Opp. Serena Hotel Staff Gate,
Kampala, Uganda
SI-UK Kampala
Visits to your country
Country manager
Anita Walton
Regional Manager - Africa
Email:africa@qmul.ac.uk
Tel: +44(0) 20 7882 6525