Information for applicants from Turkey
Hoşgeldiniz!
Queen Mary University of London has a long history of welcoming students from around the world. Over the years, many thousands of international students have graduated from the university and gone on to pursue successful careers. Today, we are home to students from more than 162 different countries and over 45% of our student body come from outside of the UK. This diversity contributes to a lively and welcoming community which should make you feel comfortable and at home.
We are one of the largest colleges of the University of London and one of the few with fully integrated teaching, research and residential facilities. Our setting provides our students with the benefits of both a large campus environment, and the countless academic and social opportunities provided by London.
There are currently around 100 students from Turkey studying at Queen Mary who are enrolled on a range of degree programmes at both undergraduate and postgraduate levels.
Queen Mary's International Office staff visit Turkey 3 times per year, details of our next visit can be found on these pages.
Entry requirements
Undergraduate
Students that have successfully completed A-Levels, the European Baccalaureate, or the International Baccalaureate can be considered for admission to our undergraduate degrees.
Please check the grade requirements for your chosen degree programme via the undergraduate study section of our website.
We also consider students from Turkey with one of the following qualifications:
Devlet Lise Diplomasi (State High School Diploma)
Lise Bitirme Diplomasi (Private High School Diploma)
Only if either qualification was completed at one of the following schools:
ACI School
Beyoglu Anatolian High School
Bilfen High School
Bilkent University Preparatory School (BUPS)
British International School
Cevre College
Enka School
Eyuboglu High School
Galatasaray High School / Istanbul Galatasaray Lycee
German High School
Hisar Schools
Isik Schools
Isikkent High School
Istanbul High School
Istanbul International Community School
Italian High School
Izmir American Collegiate Institute
Kadikoy Anatolian High School
Koc School
Marmara Education Group
MEF Schools (International/Okullari)
Notre Dame de Sion High School
Robert College
Saint Benoit French High School
Saint George's Austrian High School
Saint Joseph French High School, Istanbul
Saint Joseph French High School, Izmir
Saint Michel French High School
Saint Pulcheire High School
SEV American College
Sisli Terakki Schools
Tarsus American College
TED Adana College
TED Aliaga College
TED Ankara College
TED Antalya
TED Bursa College
TED Istanbul College
TED Izmir College
TED Polatli College Foundation Private High School
Ulus Jewish School
Uskudar American Academy
This is QMUL's equivalency table for GCE A-Levels and the Turkish Lise Diplomasi qualifications:
| | | | | |
| --- | --- | --- | --- | --- |
| A*AA | AAA | AAB | ABB | BBB |
| 90% overall | 85% overall | 80% overall | 75% overall | 70% overall |
Please note, actual offers may differ slightly.
Please see the information included in the English Language Requirements section below.
OR
UK foundation programme from QMUL or certain other approved institutions
Students who either have studied a Lise Diplomasi qualification at a school not listed above, or whose grades do not meet our minimum requirements may be considered for entry onto one of our Foundation Programmes.
For more information regarding our foundation programmes please click here
If you are currently studying another UK foundation programme elsewhere and would like to progress to one of our Bachelor degrees, please get in touch via the contact details at the bottom of the page.
Undergraduate Medicine and Dentistry Admissions
For detailed Medicine and Dentistry entry requirements and instructions on how to apply, please refer to the School of Medicine and Dentistry website.
Please note, the Lise Diplomasi qualifications are not accepted for admission to our MBBS or BDS programmes (but they are accepted for all other undergraduate programmes delivered in London).
Postgraduate
Information on the comparability of international qualifications can be found on the Entry Requirements section under the listings for each programme in the course finder. Please note this information is only intended as a guide as the final decision on equivalency of overseas qualifications will be made by the Admissions Office at Queen Mary.
English Language Requirements
How to Apply
For further information on how to apply, please refer to these links:
Student profiles and Alumni ambassadors
Alumni ambassador
Sezen Kama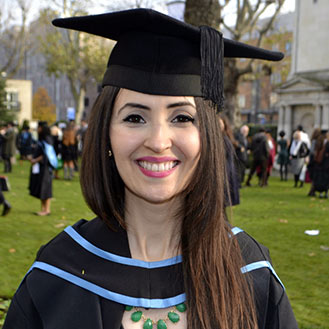 Email Sezen
I am Sezen Kama, a Queen Mary University of London LL.M. graduate and currently a research fellow at Istanbul Medeniyet University Faculty of Law Department of Constitutional Law in Turkey.
I found Queen Mary University of London LL.M. in Human Rights Law challenging and diverse. Modules such as 'European Human Rights Law', 'International and Comparative and Social Justice', 'International Law' in particular. It was an extremely productive but at the same time compelling period for me. However Queen Mary makes everything easier for you.
Firstly, our lecturers are friendly and ready to help students. Even completing your study, they still guide you through your academic studies. For instance, my dissertation for International and Comparative Social Justice module was "Another Dimension of the Right to Education: Is "Equally Accessible Higher Education" a Dream?" will be published in Queen Mary Human Rights Law Review, thanks to Prof. Geraldine Van Bueren (one of the original drafters of the United Nations Convention on the Rights of the Child). In addition, Queen Mary LL.M. Officers and a career consultant for law students are other important figures for student prospects. They are always available to help and answer any questions.
I became one of LL.M. representatives and a Vice-President at Queen Mary Turkish Society. My team members and I at QMUL Turkish Society organised many social organizations, like Traditional Turkish Breakfast, A Donation Night for Syria with UNICEF Syria Campaign and so on. This is because I am experienced with international organizations and have been a member of Human Rights Lawyer Association since 2012.
I am here to answer your questions related to LL.M., accommodation, and of course London, the capital city of all good memories. Do not forget; "When a man is tired of London, he is tired of life; for there is in London all that life can afford."
— Samuel Johnson
---
Gozde Kokturk
LLM

To have an education in London was a dream since childhood. After a challenging selection process, I was granted a Jean Monnet Scholarship funded by European Union and this allowed me to take up a place on Queen Mary's LLM. The Centre for Commercial Law Studies is known worldwide for its distinguished academicians, many play a significant role not only in the academic field but also in the law making industry.
Cancan Ece Öz
International Foundation Programme

Through the foundation programme I developed my level of understanding in various subjects and improved my English for undergraduate study. I learnt reading and research strategies and developed presentation techniques which are fundamental for academic and professional life. Our lecturers were always helpful and very keen to share their knowledge with students.
Gozde Bilen
MSc Management and Organisational Innovation

After gaining three valuable years' work experience, I realized that in order to progress professionally and personally I needed to broaden my horizons and improve my professional CV and develop my qualifications. I had always liked the idea of living abroad and in particular in one of the world's foremost cities. London was my first choice in this regard as it represents the cutting edge in commerce, fashion, culture and technology. London has so much to offer and among its diverse attractions is a top class, high quality education system. Queen Mary, University of London offered what I was looking for. After reading about the university online and about the courses offered in a seminar on education abroad that I attended, I thought that QMUL was the best choice for me. QMUL has a fantastic campus in central London, an active social life, and has students from many different countries and excellent teachers with years of experience in their field. It has provided me with most of the new opportunities I wanted and with an unforgettable experience of living in the vibrant city of London
Mustafa Dalkiran,
MSc Management of Intellectual Property

My main motivation for choosing Queen Mary was its excellent reputation. A number of social and cultural activities are arranged by Queen Mary
for Intellectual Property students and researchers, and I greatly value this input. Queen Mary students also enjoy the use of first-class facilities such as the library at Senate House which includes unlimited access to e-journals and e-books on the university databases, in addition to the in-sessional English Language Programme.
I really appreciate the sense of living history in London, and have made the most of the sightseeing and entertainment opportunities available. It is a great city to live in.
Scholarships and Funding
Our current tuition fees can be checked here
Jean Monnet Scholarships
Queen Mary has had a number of Jean Monnet scholars in the past and hope to welcome more in the future. For full details about applying for a Jean Monnet Scholarship, please visit their website.
There are a number of scholarships and funding options available for students wishing to study at Queen Mary at both undergraduate and postgraduate level. Find out more about all of our scholarships and the types of funding available using our database.
Country manager
Josh Ibrahim
Regional Manager - Europe
Marketing and Communications
Queen Mary University of London
Mile End Road
London E1 4NS
Email: europe@qmul.ac.uk
Tel: +44(0) 20 7882 6519