Information for students from Rwanda
Queen Mary University of London has a long history of welcoming students from around the world. Over the years, many thousands of international students have graduated from the university and gone on to pursue successful careers. Today, we are home to students from more than 162 different countries and over 45% of our student body come from outside of the UK. This diversity contributes to a lively and welcoming community which should make you feel comfortable and at home.
We are one of the largest colleges of the University of London and one of the few with fully integrated teaching, research and residential facilities. Our setting provides our students with the benefits of both a large campus environment and the countless academic and social opportunities provided by London.
There are currently 5 students from Rwanda studying at Queen Mary who are enrolled on a range of degree programmes at both undergraduate and postgraduate levels.
Entry requirements
International Foundation Programmes
The following Rwandan qualifications will be considered for entry onto a Queen Mary Foundation course:
Academic:
Advanced General Certificate of Secondary Education
For information on applying to study for a foundation course at Queen Mary, please refer to English language and foundation courses.
Undergraduate
Academic:
The following qualifications will be considered for entry onto a Queen Mary Master's degree:
Queen Mary or other UK Foundation course
3 A levels (grades A-C)
International Baccalaureate (IB)
Please refer to the prospectus and department web sites for individual subject A' level and IB requirements.
Find out more about University of London External Diploma/Degree transfers.
For information on applying to study for an undergraduate course at Queen Mary, please refer to Undergraduate study.
English:
Please see the English Language Requirements for full details.
Postgraduate
Information on the comparability of international qualifications can be found on the Entry Requirements section under the listings for each programme in the course finder. Please note this information is only intended as a guide as the final decision on equivalency of overseas qualifications will be made by the Admissions Office at Queen Mary.
Student profiles and Alumni ambassadors
Daniel Gasaatura, Rwanda
MSc Finance and Law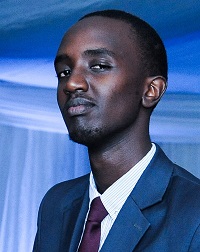 Daniel is a Chevening scholar studying on the MSc Finance and Law at Queen Mary. His favourite aspect of the course is the chance to integrate financial and accounting knowledge into his existing legal background. He knows this will make him an especially valuable asset upon returning to Rwanda.
The variety and flexibility of course modules is another big positive for Daniel. It allows him to pick exactly those which are relevant to his country's economy, making the qualification directly applicable after graduation. However, he warns applicants to take time to properly read about all the options as the huge variety can be confusing if you try to rush.
Daniel loves living in London; he said "Nothing beats the experience of living in one of the biggest cities in the world. QMUL has a great learning environment, and has very helpful staff, which I found very useful during my first few days here."
Scholarships and Funding
Queen Mary offers various scholarships to encourage excellent students to study with us. Please see our International Scholarships page for more information.
In country representatives
We work with Uniserv Rwanda. Feel free to contact them for free application advice.
UNISERV
Yyussa Plaza, 1st Floor, Opp. Chez Lando Hotel
Kisementi, Remera, Kimironko Road, KG 11 ST
Kigali
Rwanda
Contact: +250 785 556 511
Email : info@uniserveducation.comWebsite: uniserveducation.com
Visits to your country
There are currently no planned visits to your country but please check again soon for updates.
Country manager
Anita Walton
Regional Manager
Email: africa@qmul.ac.uk
Tel: +44(0) 20 7882 6525