Information for students from Kyrgyzstan
Queen Mary University of London has a long history of welcoming students from around the world. Over the years, many thousands of international students have graduated from the university and gone on to pursue successful careers. Today, we are home to students from more than 162 different countries and over 45% of our student body come from outside of the UK. This diversity contributes to a lively and welcoming community which should make you feel comfortable and at home.
We are one of the largest colleges of the University of London and one of the few with fully integrated teaching, research and residential facilities. Our setting provides our students with the benefits of both a large campus environment, and the countless academic and social opportunities provided by London.
Entry requirements
Foundation programmes
Students holding an overall grade 4 from Attestat (Certificate of Completed Secondary Education) will be admitted to a Queen Mary Foundation Programme.
Students will also be required to have achieved appropriate grades from a SELT test. See Entry Level Guidelines for English Language for further details.
For information on applying to study for a foundation course at Queen Mary, please refer to Foundation options
Undergraduate
Academic:
We are pleased to consider students who have completed Queen Mary recognised foundation course or at least 1 year of an approved Diplom Bakalavra/Diplom Specialista degree.
Please refer to the prospectus and department web sites for individual subject A-level and IB requirements.
For information on applying to study for an undergraduate course at Queen Mary, please refer to Undergraduate study
Entry to Pre-Masters
Overall minimum average of 60% or 3 from a bachelors or masters degree from a recognised Kyrgyzstan University - IELTS 6.0 (5.5 in writing).
For information on applying to study for a Pre-Masters course at Queen Mary, please refer to Pre-Masters study
Postgraduate
Information on the comparability of international qualifications can be found on the Entry Requirements section under the listings for each programme in the course finder. Please note this information is only intended as a guide as the final decision on equivalency of overseas qualifications will be made by the Admissions Office at Queen Mary.
Student profiles and Alumni ambassadors
Alumni ambassador
Jomart Joldoshev
Email Jomart
My name is Jomart Joldoshev, an experienced international lawyer and international arbitrator, specializing in investment, energy and construction law, having completed an LLM in Comparative and International Dispute Resolution at Queen Mary University of London. Any individual who has a passion for international dispute resolution will be familiar with the Queen Mary University of London and one of the best programs in international arbitration. Studying in Queen Mary was truly a great honour for me. I was given a rare opportunity to be exposed to the greatest minds in the international dispute resolution field, as well as the opportunity to experience living in London. Queen Mary Professors are unique and professional. They were always ready to support me with my research, offering their best advice. I was amazed by their theoretical and practical knowledge in international arbitration and enjoyed having an opportunity to meet tutors who actually practice as Arbitrators. Another great thing about Queen Mary is its international environment and I made friends from all over the world. We had monthly dinner where we tried different cuisines and talked about different cultures, food, history and legal systems. On weekends, there are so many fun places to visit in London; so much inspiration to grasp; so many opportunities to grow et al. Undoubtedly, a decision to study at Queen Mary was the best one! I made a huge step forward in my career, becoming Panel arbitrator in three additional International Arbitration Institutions and a Fellow at the Chartered Institute of Arbitrators. Right now, I am a Managing partner of the Bishkek and London-based international boutique law firm Jomart & Co and a Director for Investment Disputes of the International Court of Arbitration in Kyrgyzstan.
---
Shakhrbanu Bagheri, BA International Relations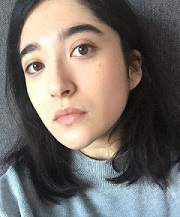 Choosing Queen Mary as my first choice was one of the best chances I have ever taken in my life. When I was doing my foundation course, I did not know which university to pick as I was not familiar with the institutions in the UK. At the end, I just followed everyone and applied to what people were saying was "one of the best universities, everyone who is in there is super happy". Once I got in, I realised that it was true. I was very scared of being far away, not being able to improve my English or make new friends. However, Queen Mary students are one of the most welcoming and warm people, so I luckily got into a very good place.
I chose to study International Relations. After all, understanding what is going on in the world is a cool thing to have under your belt. The best thing about my programme is the diversity of topics that we cover, great structure, and most importantly my tutors. The staff at School of Politics and International Relations are not only great academics to learn and inspire from, but also amazing people who will make time for you if you need help.
Being a student in London is simply amazing. Being a student in a city where you are surrounded by opportunities daily not only teaches you about how to utilise them, but also reminds you that anything is possible in this world at my age.
The most interesting thing on my degree programme I've learnt so far is that everything is political. We are political subjects, our interactions are political, and that the world needs a lot more kindness!
Scholarships and Funding
Queen Mary is a host institution for a number of Chevening Scholarship holders each year. See this link for further details on the Chevening awards.
Queen Mary offers various scholarships to encourage excellent students to study with us. Please see our page for more information.
In country representatives
Visits to your country
Country manager
Josh Ibrahim
Regional Manager - Europe
Marketing and Communications
Queen Mary University of London
Mile End Road
London E1 4NS
Email: europe@qmul.ac.uk
Tel: +44(0) 20 7882 6519