Information for students from Greece
Queen Mary University of London has a long history of welcoming students from around the world. Over the years, many thousands of international students have graduated from the university and gone on to pursue successful careers. Today, we are home to students from more than 162 different countries and over 45% of our student body come from outside of the UK. This diversity contributes to a lively and welcoming community which should make you feel comfortable and at home.
We are one of the largest colleges of the University of London and one of the few with fully integrated teaching, research and residential facilities. Our setting provides our students with the benefits of both a large campus environment, and the countless academic and social opportunities provided by London.
There are currently 296 students from Greece studying at Queen Mary who are enrolled on a range of degree programmes at both undergraduate and postgraduate levels.
Brexit update:
The UK government has guaranteed that EU students starting a degree in 2019-20 will continue to be eligible for 'home fee status' for the duration of their studies in England and Wales.
It means that:
EU students will pay the same fees as UK students for all levels of study.
EU students will be able to apply for funding support for the duration of their studies at Queen Mary.
Further information can be found on the UK Department of Education's website.
Entry requirements
Undergraduate
Students that have successfully completed A-Levels, the European Baccalaureate, or the International Baccalaureate can be considered for admission to our undergraduate degrees.
Please check the grade requirements for your chosen degree programme via the undergraduate study section of our website.
We also consider students from Greece with the following qualifications:
Apolytirion plus Pan-Hellenic examinations
This is QMUL's equivalency table for GCE A-Levels and the Apolytirion plus Pan-Hellenic examinations
| | | | | |
| --- | --- | --- | --- | --- |
| A*AA | AAA | AAB | ABB | BBB |
| 19/20 average in the Apolytirion, plus 19 in two relevant Pan-Hellenic Examination Subjects | 18.5/20 average in the Apolytirion, plus 18 in two relevant Pan-Hellenic Examination Subjects | 18/20 average in the Apolytirion, plus 18 in two relevant Pan-Hellenic Examination Subjects | 18/20 average in the Apolytirion, plus 17.5 in two relevant Pan-Hellenic Examination Subjects | 18/20 average in the Apolytirion, plus 17 in two relevant Pan-Hellenic Examination Subjects |
Please note, actual offers may differ slightly.
Please see the information included in the English Language Requirements section below.
Apolytirion plus either two A-levels or two Advanced Placements
This is QMUL's equivalency table for GCE A-Levels, and the combinations of Apolytirion plus either GCE A-Levels or Advanced Placements
A*AA
AAA
AAB
ABB
BBB

18/20 in the Apolytirion,

Plus:

Either

AA in two A-level

Or

55 in two Advanced Placements

17.5/20 in the Apolytirion,

Plus:

Either

AA in two A-level

Or

55 in two Advanced Placements

17/20 in the Apolytirion,

Plus:

Either

AA in two A-level

Or

55 in two Advanced Placements

17/20 in the Apolytirion,

Plus:

Either

AB in two A-level

Or

54 in two Advanced Placements

17/20 in the Apolytirion,

Plus:

Either

BB in two A-level

Or

44 in two Advanced Placements
Please note, actual offers may differ slightly.
Please see the information included in the English Language Requirements section below.
UK foundation programme from QMUL or certain other approved institutions

Students whose grades do not meet our minimum requirements may be considered for entry onto our Foundation Programmes.

For more information regarding our foundation programmes please click here

If you are currently studying another UK foundation programme elsewhere and would like to progress to one of our Bachelor degrees, please get in touch via the contact details at the bottom of the page.
Undergraduate Medicine and Dentistry Admissions
For detailed Medicine and Dentistry entry requirements and instructions on how to apply, please refer to the School of Medicine and Dentistry website.
Please note, neither the Apolytirion plus Pan-Hellenics, nor the combination of Apolytirion plus A-Levels are accepted for admission to our MBBS or BDS programmes delivered in London (but both are accepted for all other undergraduate programmes).
The combination of Apolytirion plus Pan-Hellenic exams are accepted for our MBBS programme delivered in the Republic of Malta. Please click here for more information.
Postgraduate
Information on the comparability of international qualifications can be found on the Entry Requirements section under the listings for each programme in the course finder. Please note this information is only intended as a guide as the final decision on equivalency of overseas qualifications will be made by the Admissions Office at Queen Mary.
English Language Requirements
How to Apply
For further information on how to apply, please refer to these links:
Student profiles and Alumni ambassadors
Alumni ambassador
Athina Psaraki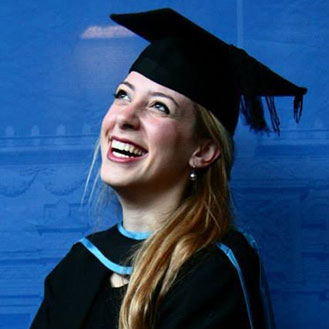 Email Athina
My face shows how happy one can be as a Queen Mary University of London graduate!
I obtained the LL.M. in International Business Law in 2013 and I was awarded School of Law prize for the 'Best Student 2012-13 specialising in International Business Law'.
Queen Mary constantly proves its high level of commitment towards its students. Both the academics and administrative staff are always ready to help students. The structure of the modules is designed to fulfil every students' need – it is flexible and up to date. My personal experience was amazing! The modules I chose were taught by both high profile academics and professionals of top law firms, thus enabling me to get a thorough knowledge of the relevant legal issues. Queen Mary students receive the latest updates regarding the events in the city relevant to their areas of interest and so they get the most out of London as well.
Although the balance of study and social life in London may sound difficult to achieve, it is not. Living in London and sharing the experience with all the wonderful people you come across during your studies is unique. You will learn how to develop your organization skills so you can balance academic and personal life. By studying at Queen Mary and living in London you have the very best of choice… so seize the day!
I am at your disposal if you have any questions about what it is like to live and study at QMUL.
---
Andriani Kalintiri
PhD in Law
Before joining Queen Mary I studied an LLB at the National and Kapodistrian University of Athens and an LLM at the University of Cambridge. I chose to study in the UK because of the country's great legal tradition in commercial law and the quality of its academic institutions. The reason to undertake postgraduate study was my desire to expand my knowledge in the field of commercial law in general and competition law in specific and my ambition to learn how to think critically and do academic research.
I could not be more satisfied with the standard of my supervision at Queen Mary. My supervisors are always willing to help me with any issue, either strictly related to my PhD, providing me with thorough feedback, or concerning participation in conferences or speeches in the field of my research. The thing I most enjoy about my course is the interaction with persons that have similar academic interests and the following exchange of ideas.
The main advantage of the Queen Mary campus is that it is like a small town. It has everything you may want, all the facilities are close and you get the feeling of truly being part of a vibrant community. I am very happy with the available facilities and especially the IT resources. Wherever you are, you can always find a computer and have access to the internet. Moreover, the library staff are amazing and always there to help you find what you are looking for, and order or even buy the book you really need to read, but cannot find anywhere else.
London is -among other things- the perfect city to study and live. There are so many great facilities and you can literally have access to anything you may need, while on the other hand, there are always new places to discover.
Efthalia Karapistoli
MSc International Human Resource Management & Employment Relations
Studying in London is a fantastic experience. There are lots of museums to visit and social events taking place. It is a city which never sleeps and I loved being part of it. Having completed my studies at undergraduate level in the Economic University of Piraues I wanted to study at a UK university with great a reputation and facilities. I also wanted to speak English fluently and I knew that living for a year in the UK would provide me with this opportunity.
I received lots of support from Queen Mary when I first arrived. The university welcome week included plenty of seminars regarding essential issues. For instance, there were classes regarding our safety in London, registering with a doctor, train stations that were close by and classes for improving English language. From the moment that I arrived, members of staff were happy to help with questions regarding classes or accommodation issues. I have always felt part of Queen Mary and I appreciate the support that I received.
Emmanouela Biliri
LLB
Arriving in a new country can be challenging. Queen Mary, however, made things easier. I was given information on how to travel around London and how to deal with my finances. Because of the campus based facilities it offers, Queen Mary is an amazing place to make friends from different areas of studies. Mile end is also a fast growing area, and there have recently been many new developments making it a very vibrant place to live.
Queen Mary is a prestigious university and one of the top ranked UK universities for Law. The teaching hours are flexible, and the academic staff are very passionate about what they do. All the law modules are taught at Mile End so there is no need for time-consuming travelling, and there are also plenty of places to spend your free time. There is always something going on, and there is always something keeping you busy!
Scholarships and Funding
There are a number of scholarships and funding options available for students wishing to pursue their studies at Queen Mary including our, International Mathematical Sciences Excellence Awards, School of Law scholarships, School of Law Undergraduate Bursaries and School of Economics and Finance scholarships.
Undergraduate tuition fees for EU students are currently £9000 per academic year. Tuition fees are not paid until a student officially enrols. EU students have the option to take out a Tuition Fee Loan from the UK Government. The fee is paid directly to the university on the student's behalf and is administered by Student Finance England. Students can borrow the full fee, part of the fee or none of the fee each year of their study. You will pay back the Loan once you have finished studying and are earning over £21,000 a year. You can find out more on how to apply for a Tuition Fee Loan on the GOV.UK website.
Country manager
Josh Ibrahim
Regional Manager - Europe
Marketing and Communications
Queen Mary University of London
Mile End Road
London E1 4NS
Email: europe@qmul.ac.uk
Tel: +44(0) 20 7882 6519
Information for students from Greece
Josh Ibrahim will be attending the QS Fair at Hilton Athens, Greece