Information for students from Colombia
Bienvenido!
Queen Mary University of London has a long history of welcoming students from around the world. Over the years, many thousands of international students have graduated from the university and gone on to pursue successful careers. Today, we are home to students from more than 162 different countries and over 45% of our student body come from outside of the UK. This diversity contributes to a lively and welcoming community which should make you feel comfortable and at home.
We are one of the largest colleges of the University of London and one of the few with fully integrated teaching, research and residential facilities. Our setting provides our students with the benefits of both a large campus environment, and the countless academic and social opportunities provided by London.
Entry requirements
Foundation programmes
Applicants who have taken the Bachillerato/Diploma de Bachiller and have achieved an overall average grade of at least 80% will be considered for entry onto a foundation programme at Queen Mary.
For information on applying to study a foundation course at Queen Mary, please refer to English language and foundation courses.
Undergraduate
Applicants with A Levels or the International Baccalaureate will be considered for entry on to a Queen Mary undergraduate course. Please refer to the prospectus and department web sites for individual subject A level and IB requirements.
Students who have studied a recognized foundation programme in the UK will also be considered.
Applications for undergraduate degrees in the UK are made through the UCAS system, information on the process can be found on the Undergraduate pages.
Applications for Medicine and Dentistry
The School of Medicine and Dentistry accepts a limited number of qualifications for the MBBS and BDS programmes. Further details about the qualifications accepted and scores required can be found on the School of Medicine and Dentistry website.
For individual grade requirements for particular degree programmes please refer to the undergraduate study section of this website. Applicants whose grades do not meet our minimum requirements may, in some cases, be considered for entry onto our foundation programmes.
Postgraduate
Information on the comparability of international qualifications can be found on the Entry Requirements section under the listings for each programme in the course finder. Please note this information is only intended as a guide as the final decision on equivalency of overseas qualifications will be made by the Admissions Office at Queen Mary.
English language requirements
How to Apply
For further information on how to apply, please refer to:
The above list is for guidance only and is not conclusive. Students unsure about the acceptability of their qualifications should write, for advice, to Queen Mary's International Office (americas@qmul.ac.uk) or Admissions Office, with full details of their educational background.
Student profiles and Alumni ambassadors
Alumni ambassador
Germán Darío Florez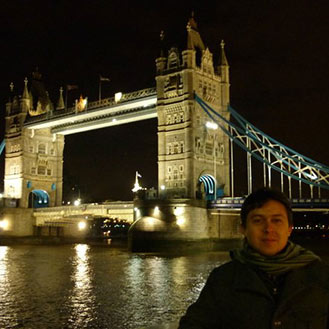 Email Germán
My name is Germán Darío Florez and I am a Colombian lawyer from the Colombian National University. I did my Intellectual Property Masters LLm in QM between 2009 and 2010. In Addition I have studies in Information Technology Law and E-Commerce from Universidad Complutense de Madrid (2008) and Pech University in Hungary. I have no doubt about how important was for me to study at Queen Mary University of London. I received an education in a truly high quality level. All the subjects I took were taught for excellent academics that showed me a wide range of issues regarding Intellectual Property nowadays and how different policies deal with it. I also built a priceless networking as I exchanged rewarding experiences with other LLm students from all over the world. This extensive experience I have gained doing my masters at QM has helped me in my current job positions.
At the moment I am a lecturer of Intellectual Property and Information Technology Law at the Colombian National University and Catholic Colombian University. I also have an offer to teach next semester in the new masters degree on IP law offered at Sergio Arboleda University. At the same time I am an external lawyer at the Colombian Trademark Office (Superintendencia de Industria y Comercio, Delegatura de Signos Distintivos). in the last couple of years I have been the coach of the International Arbitration Law teams at National and Catholic Universities obtaining 3 rewards in the Washington Competition last year. Therefore the skills I obtained at QM have been very useful for working both in the academic and in the professional field.
In the near future I want to be an academic in international institutions and also I want to still helping public bodies in Colombia with the development of intellectual property policies.
---
Scholarships and Funding
Queen Mary Scholarships and Bursaries
There are a number of scholarships and funding options available for international students wishing to pursue their studies at Queen Mary including our International Science and Engineering Excellence Awards, International Mathematical Sciences Excellence Awards, School of Law scholarships and School of Economics and Finance scholarships.
COLFUTURO Scholarships
Each year Queen Mary part-funds a number of awards in conjunction with COLFUTURO for Colombian citizens to study one year master's, or four year PhD programmes.
COLFUTURO scholars coming to Queen Mary for a Master's degree will receive a 20% discount. All on-site, full-time Master's courses (MA, MSc, MRes) are eligible.
COLFUTURO scholars coming to Queen Mary for a PhD will receive a full tuition fee waiver for up to 4 years. There are three PhD tuition fee waivers available per year- one in the Faculty of Humanities and Social Sciences and two in the Faculty of Science and Engineering.Queen Mary and COLFUTURO will jointly decide on the allocation if more than three applicants are successful.
COLFUTURO applications are now open and close 1st March 2021. Further details about the opportunity and application process can be found on the Colfuturo website.
For full information on the Queen Mary/Colfuturo funding agreement and eligibility please visit our COLFUTURO scholarship page or email scholarships@qmul.ac.uk
Other sources of funding
For information about other sources of funding, please visit our scholarships and funding pages.
Country manager
Meghan Harper
Deputy Head of International Student Recruitment
Regional Manager (Americas)
Tel: +44(0)20 7882 6523 Email: americas@qmul.ac.uk