Grant Tregonning (Water and Environmental Management MSc, 2016)
The academic and professional staff were really supportive throughout my BSc, so I knew they would be great mentors to support me in my postgraduate studies. I developed a strong bond with them, my peers and the uni. It still feels like I am 'coming home' when I visit campus.
Published:
Why did you choose to study an MSc in Integrated Management of Freshwater Environments at Queen Mary?
I really enjoyed my time at Queen Mary when I was studying my BSc in Environmental Science, and to be honest, I wasn't ready to give up learning just yet! I was still deciding what sort of career I wanted to pursue later in life and what subjects excited me the most. The BSc provided a good range of subjects whilst the MSc allowed me to further refine the skills/knowledge learnt in my undergrad and better prepare me for employment. The academic and professional staff were really supportive throughout my BSc, so I knew they would be great mentors to support me in my postgraduate studies. I developed a strong bond with them, my peers and the uni. It still feels like I am 'coming home' when I visit campus.
What aspects of your degree did you find most enjoyable and was there anything that surprised you in your studies?
I was surprised at how wonderfully diverse the university was and how many different people were on my course. I developed close friendships with people from all around the world (Japan, Sweden, Colombia, Saudi Arabia, Antigua and Barbuda, Germany and Indonesia) and still keep in touch with everyone from the BSc! I really miss spending time with them all. Uni can be tough when you are juggling lots of different things and my peers were a fantastic support network. I agree that uni should be about developing skills and knowledge but it is also about exposing yourself to new experiences and making new friends. We went on lots of different fieldtrips together and they are some of my most treasured memories.
Before undertaking your master's, you did your undergraduate degree in Environmental Science at Queen Mary. How did you find the transition from undergraduate to postgraduate studies?
At the time, I was working as a research assistant for one of the PhD students, so I had worked in the labs during the summer and it felt as though I hadn't left my BSc! The transition was pretty smooth and the professional staff handled most of the complicated stuff. Gemma Harvey was the MSc convenor and kept me in the loop with any important dates before the MSc started. The only thing that felt different was that my cohort had changed, but I was excited to make some new friends too. I still keep in touch with them and Gemma has a group on LinkedIn to keep the MSc network connected.
Can you describe your career path to date and your current role?
Before I went into science, I went to art-college and studied 3D design, visualisation and sculpture. I had planned to study Architecture but soon realised that it wasn't the right avenue for me to pursue an environmentally focused career. I went back to college and chose to study different subjects and afterwards, I came to study the BSc in Environmental Science at Queen Mary.
After my MSc, I went to study for a PhD at Newcastle University in Geospatial Engineering. My work focused on improving urban sustainability and liveability for cities within the UK. I spent some time teaching undergraduate and postgraduate students and co-developed the Geographic Information System Mapping (GIS) helpdesk at the university with another PhD student. I also worked for the Brilliant Club and the Nuffield Foundation, which help to reduce the access gap for underrepresented or marginalised young people.
I feel that it is such a privilege to have access to education and be able to choose what you do with your life, so I only wanted to pursue a career that I am truly passionate about, and which (hopefully) stimulates positive change in some way or another.
In 2019, I was a recipient of the Marie Curie Horizon-2020 Research and Innovation Staff Exchange (RISE) programme, and became a visiting research fellow at the University of Auckland. I really loved my time in Auckland and I got to work with a team of specialists related to my PhD research. After my PhD, I joined the Institute for Global Sustainable Development at the University of Warwick as a research fellow in geospatial data science and further developed my research on urban liveability and sustainability. At Warwick, I got the chance to work on lots of international projects (mainly within the Global South) in informal settlements, slums, and camps. I also worked on projects situated in Romania, Poland, and the US.
In July 2021, I joined the MRC/CSO Social and Public Health Sciences Unit as a research associate within the Institute of Health and Wellbeing at the University of Glasgow. I am currently working on a project that links green spaces with physical and mental health and I get to work with lots of urban decision makers and stakeholders, as well as some inspiring academics across different disciplines. It's strange because I feel that I have come full circle and use a lot of the visualisation and 3D design skills that I developed at art-college in my current geospatial work. I make lots of maps and turn data into all sorts of visuals to effectively engage community and stakeholder members.
Aside from the above, I am a fellow of the Royal Geographical Society, an associated member of the Workshipful Company of Water Conservators, and a member of the Parliamentary and Scientific Committee.
How did your master's degree help prepare you for your career and what are some of the skills you learned that you still use in your work today?
The BSc gave me a flavor of lots of different subjects, whilst the MSc allowed me to build upon the BSc and develop a more niche skillset. It also helped me figure out which subjects I enjoyed the most and bought me some time to try and carve out a career path and develop my research interests. I learnt that I love GIS and want to use my skillset to focus on issues associated with climate change, sustainability, inequalities, and citizen science.
The MSc was a fantastic basis for me to build my career upon. A lot of the knowledge and skills developed during my time at Queen Mary are directly applied to my current research and I regularly use skills such as GIS, remote sensing, modelling, data collection methods, data analysis, fieldwork, citizen science and, of course, research methods.
What was special about your time at Queen Mary? Did you get to go on any memorable fieldtrips? 
I think the most special thing about my time at Queen Mary is the long-lasting relationships that I have developed with my peers and staff members. It sounds cliché, but I made some friends for life, and everyone always looked out for one another. I know that my time at university would not have been the same without them and I would have struggled to get to where I am now without those people. I remember when we were away on a fieldtrip in Florida and we had been out all day in the field learning about the Everglades.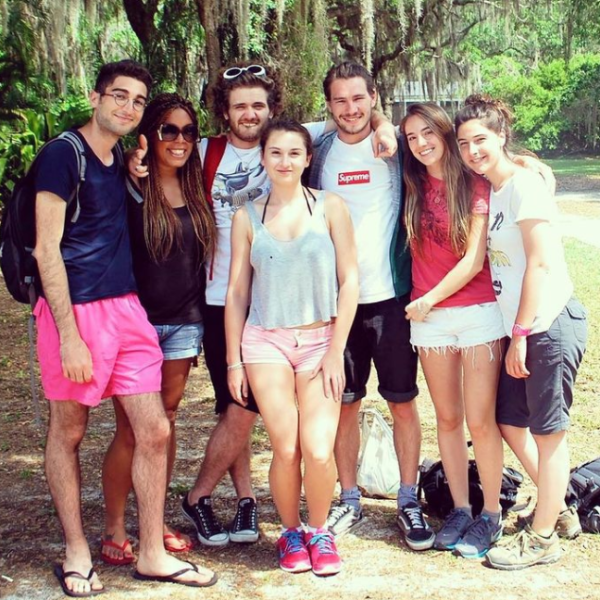 The weather and scenery were amazing and we came back and had a BBQ together. Everyone pitched in and it felt like a big family. We had such a laugh.
The fieldtrips were amazing! It was one of the reasons I chose to study at Queen Mary. We went to Florida, Italy, the Cairngorms (Scotland), and lots of different locations in the UK. There were other opportunities to go on fieldtrips to other locations (some of my peers went to Borneo and I had serious FOMO) but to be honest, I could not fit any more in. Two other Queen Mary students and I applied for a Geographical Fieldwork Grant from the Royal Geographical Society in the second year of our BSc; we were successful and went to the beautiful island of Barbuda in the Caribbean for three months!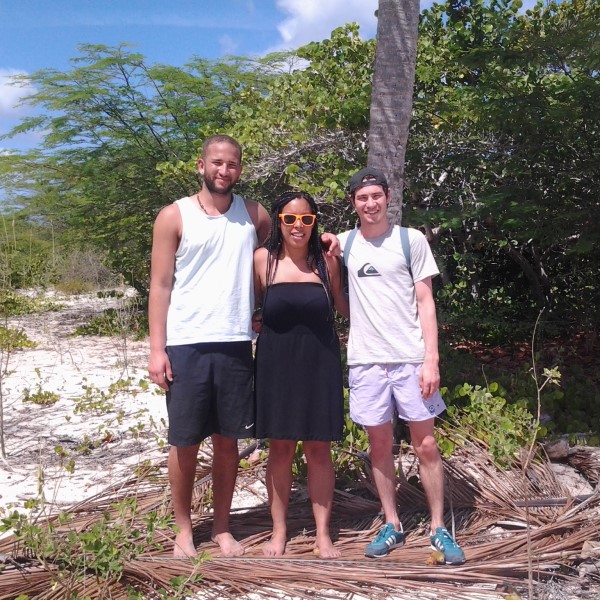 It was genuinely a once in a lifetime trip and I really cherished being able to spend that much time in a beautiful location, researching something that I love, with two of my best friends.
What are some of the ways in which students can get involved in green initiatives and positively contribute towards sustainability at Queen Mary?
I was part of 'Green Mary' which is a student-led initiative aiming to improve sustainability and reduce impact on the environment. There are lots of opportunities to get involved on a one-off basis or if you want to do something more frequently and volunteer. It is a privilege to have free time to volunteer and not everyone always has time to do so, but if you do have free time there are some great internships available on campus and in London. I think the university even has a vegetable patch that you can help out with! The SU has lots of societies you can get involved in too, such as the Environmental Society and the Geography Society. It's a good way to meet some like-minded people and make new friends.
What is the most exciting thing about what you do?
I really enjoy working with people and seeing the direct impact research can have upon a community. The projects at Warwick and Glasgow take a more nuanced approach to geospatial research and place the community's needs at the centre of a project. Climate change disproportionately affects underrepresented or marginalised communities the most, but these communities can be rendered invisible. The projects I am working on adopt a more participatory based approach to include the views of these community members alongside urban decision makers, researchers, and scientists. It means that the research becomes more useful to these communities and hopefully improves their everyday lives. It's really exciting to see communities feel empowered and take ownership of the research and for us to all contribute towards positive change. It's what gets me up in the morning.
Is there any advice you would give to current students or recent graduates considering their career options?
I think people are funneled into making a decision on their career too early in life and it can make things stressful and eclipse the enjoyment of learning and discovery. I feel that it is such a privilege to have access to education and be able to choose what you do with your life, so I only wanted to pursue a career that I am truly passionate about, and which (hopefully) stimulates positive change in some way or another. I try not to focus too much on the future, and instead focus more on the present and what makes me happy.
There are so many weird and wonderful jobs out there (I am always learning about new ones), so there is definitely a career suited to you, even if you haven't discovered it yet. Keep developing the skills and knowledge that you enjoy the most and the right job will eventually find its way to you. If you're stuck and need some help figuring out what you want to do, the careers department at Queen Mary are really good at helping you develop potential career ideas, and they can even find you internships/part-time jobs. Speak with your teaching staff too as they have lots of good ideas and can link you to the right people.
*The MSc in Integrated Management of Freshwater Environments has been renamed to MSc Water and Environmental Management.
This profile was conducted by Alumni Engagement Coordinator, Nathalie Grey. If you would like to get in touch with Grant or engage him in your work, please contact Nathalie at n.grey@qmul.ac.uk.