The School welcomes new staff
Published:
The School of Geography at Queen Mary University of London is delighted to welcome a number of new colleagues this academic year.
Dr Anna Bourne – Lecturer in Physical Geography
Anna was previously a Lecturer in Palaeoenvironmental Science at the University of Southampton and before that she was based here at Queen Mary as a temporary Lecturer in Physical Geography during the 2015-16 academic year. Following her PhD at Royal Holloway, Anna held research posts at Royal Holloway and Swansea. Anna is a tephra specialist and her research interests are in the development of robust and precise regional chronologies of environmental change – key to being able to then assess how change is propagated and represented in other types of palaeoenvironmental archives across the North Atlantic region, Europe and beyond. She is particularly interested in the application of tephrochronology to palaeoenvironmental sequences in order to link records and test the synchroneity of events. Her work also explores the application of tephrochronology and volcanic hazard assessment. Most recently, she has been analysing the Greenland Ice-Core records for their cryptotephra content in order to provide links to North Atlantic marine sediments and assess the causes of abrupt climatic changes over the last 120,000 years and is developing new research in the South Pacific Islands. Recent published work includes a paper in Nature Scientific Reports and a clutch of significant articles in Quaternary Science Reviews and other outlets. Anna joined the School in September 2018 on a three-year fixed term contract.
Dr James Brown – Lecturer in Human Geography
James has held a number of research and teaching positions at SOAS in the Department of Development Studies where he completed his PhD in 2017. This followed an MA in Global Development and international Political Economy from the University of Leeds and a BA in Philosophy and Policy from the University of Exeter. His research focuses in labour geography, special economic zones and manufacturing production networks in Southeast Asia, with a particular focus on Laos and Cambodia. He has a forthcoming paper in the European Journal of East Asian Studies and several others that are under review or in preparation for Geography journals. James joined the School in September 2018 on a one-year fixed term contract.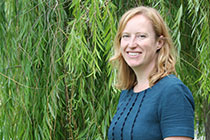 Dr Heather Ford – NERC Independent Research Fellow, Lecturer in Environmental Science
Heather joins us from the University of Cambridge, where she has been working as NERC Independent Research Fellow. She received her PhD from the University of California, Santa Cruz, her masters degree from San Diego State University, and her first degree from University of California, Davis. Heather is a palaeoceanographer who undertakes geochemical analysis of microfossils from marine sediment to reconstruct past ocean conditions. Heather also very recently published a significant paper in the journal Nature Communications on gender and participation in scientific conferences, based on research about the American Geophysical Union Meeting. You can read it here. Heather joined the School in September 2018 on a permanent basis.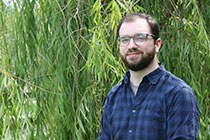 Dr Stuart Grieve – Lecturer in Physical Geography
Stuart has held previous posts at Queen Mary, Edinburgh, Cardiff and UCL. He is a geomorphologist who uses computational and modelling techniques to develop understanding of the processes, driven by environmental change, which shape planetary surfaces. Some of his recent research included analysis of global river morphology and climate data, work on shallow landslide recurrence interval modelling, and the use of integrated channel hillslope metrics to understand the evolution of complex tectonic environments. In his previous post at UCL, Stuart has also been developing geo-spatial modelling software. Stuart joined the School in September 2018 on a permanent basis.
Dr Will Monteith – Lecturer in Human Geography
Will has already made a distinctive, high quality and exciting contribution to the work of the School during the past year in his temporary post. Will's research interests are in urban development issues in Sub-Saharan Africa, with a focus on the role of informal labour and precarious livelihoods in urban markets in Uganda. In future years, he plans to develop his work by examining 'post wage economies' in other contexts and by pursuing a collaborative project exploring the global geographies of the wax fabric trade. Will continues to work in the School on a permanent basis.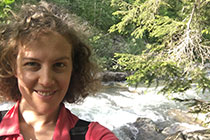 Dr Giuditta Trinci – Lecturer in Physical Geography
Giuditta continues in the School, building on her very successful time with us as a Lecturer in Fluvial Geomorphology over the past academic year. She was awarded her PhD from Queen Mary and the University of Trento (as part of the Erasmus Mundus SMART joint doctoral programme) in 2017 and has undertaken a number of research and environmental consultancy roles. Giuditta is particularly interested in understanding the mutual feedbacks between fluvial processes and aquatic organisms (animals and plants) and the relevance of this for sustainable river management; and the impact of human activities on freshwater systems (including freshwater security, biodiversity and environmental change, geoengineering). Her research to date has focused on the field-testing and development of hydro-morphological river assessment methods; and exploring how aquatic organisms respond to flow hydraulics at small spatio-temporal scales. This includes the hydraulic characterisation of mesoscale geomorphic features using high frequency flow measurements and advanced multivariate statistical analysis and GIS. Giuditta collaborates closely with Dr Gemma Harvey, Dr Alex Henshaw and Professor Geraldene Wharton, and recently had a paper published in WIREs Water and has several others in preparation for river science and physical geography journals. Giuditta continues to work in the School on a one-year fixed term contract.
Dr Marcia Vera Espinoza – Lecturer in Human Geography
Marcia was previously a Postdoctoral Research Associate in the Department of Politics at the University of Sheffield, working on an ERC funded project led by Andrew Geddes on 'Prospects for International Migration Governance'. She completed her BA at the University of Chile, followed by an MA in International Studies and a PhD, based in Geography, at the University of Sheffield. Marcia is interested in migration and development in the Global South, with a particular focus on refugee and migrant governance, protection and integration in Latin America. Her edited book The Dynamics of Regional Migration Governance (Edward Elgar) will be published later in the year and she has recent or forthcoming papers in Global Policy, Forced Migration Review and Geopolitics. Marcia joined the School in September 2018 on a one-year fixed term contract.
Dr James Bradley – Lecturer in Physical Geography
James will be joining us from the University of Southern California where he is currently a Postdoctoral Research Fellow in the Department of Earth Sciences. James previously undertook his undergraduate and PhD degrees at the University of Bristol in the UK. Due to recent success in securing further research funding, he joins us a little later in the academic year. James is interested in ecosystem responses to environmental change and undertakes research mainly in cold (Arctic and the Antarctic) and deep oceanic environments. He combines skills in modelling and fieldwork and his research will have strong synergies with microbiology colleagues in Queen Mary's School of Biological and Chemical Sciences. James will be joining the School in April 2019 on a permanent basis.
Dr Joe Penny – Lecturer in Human Geography
Joe is currently a Research Assistant at the Bartlett School of Planning at UCL, working on a British Academy/Leverhulme small grants scheme project 'Constellations of Hunger' which explores the organisation and social practices of food aid providers in three UK cities. This follows his PhD on 'The (post) politics of Austerity Urbanism in London'. He is interested in the restructuring or local governance under austerity, the financialisation of the local state, public land and council housing, and the nature and dynamics of urban politics and fiscal democracy. His work has a strong focus on London. Recent publications include papers in the International Journal of Urban and Regional Research and in Urban Geography. Joe was previously a researcher at the New Economics Foundation where he was involved in a number of projects and publications, including on everyday insecurity, the politics of austerity and the impacts of NHS reforms. Joe will be joining the School in January 2019 on a three-year fixed term contract.
Dr Clementine Chirol – Postdoctoral Research Associate
Clementine joined us earlier in the summer to work with Professor Kate Spencer and Dr Simon Carr (formerly of Queen Mary) on the NERC-funded RESIST(UK) project, exploring the impacts of sediment structure and geochemistry on saltmarsh erosion. Clementine completed her PhD at the University of Southampton and describes herself as a coastal geomorphologist and geodata analyst. Clementine joined the School in June 2018 on a 27-month fixed term contract.
Dr David Geiringer – Postdoctoral Research Associate
David will be working with Professor Alastair Owens on his new research project 'Clerical domesticity and the inner city: Vicarages and urban change in Britain, 1960-1990'. David joins us from the School of History at Queen Mary where he has just completed a one-year post as Lecturer in Contemporary British History. Prior to joining Queen Mary he undertook his AHRC-funded PhD 'The Pope and the Pill: exploring the sexual experiences of Catholic women in post-war England' at the University of Sussex. He has recent papers in Twentieth Century British History and Cultural and Social History and a forthcoming article in Contemporary British History. He has also just completed a draft of his monograph for Manchester University Press: The Pope and the Pill: Sex, Catholicism and Social Change in post-war England. Alongside his core interests in the history of modern religion, David in working on collaborative projects with James Baker (Sussex) on the history of the home computer and its impact on family and domestic life in 1990s Britain, and with Claire Langhamer (Sussex) on 'Emotional Labour': Feelings at Work in Modern England', covering the last 100 years. David joined the School in August 2018 on a three-year fixed term contract.
Dr Amy Clarke – ESRC LISS-DTP Postdoctoral Fellow
Amy Clarke will be joining the School in the autumn to work with Professor Catherine Nash as her mentor. The title of the fellowship is Urban Roots and National Belonging: hierarchies and scales of belonging in London. Amy completed her PhD in Geography at Sussex with a thesis titled, National Lives, Local Voices: Boundaries, hierarchies and possibilities of belonging. During the new fellowship, Amy will write three articles related to her PhD, and produce policy briefs, blogs and videos for dissemination to policymakers and other stakeholders, including the All-party Parliamentary Groups on Race and Community and Migration, and the Parliamentary Office for Science and Technology. In addition, she will undertake some new ethnographic research toward the end of the fellowship on east London's genealogical community. She also intends to develop this new research into applications for further funding. Amy will be joining the School in October 2018 on a one-year fixed term contract.
Dr Azeezat Johnson – ESRC LISS-DTP Postdoctoral Fellow
Azeezat has been awarded a one-year ESRC postdoctoral fellowship (supported by the London Interdisciplinary Social Science Partnership), to be based here with us from October 2018 to September 2019. Azeezat will spend the bulk of her time extending her PhD thesis (on the clothing practices of Black Muslim women in Britain) into a book manuscript, as well as preparing for future research on the British grammar of race. She plans to continue her work with the School's Equality and Diversity Committee, the RAFA2 BME attainment project, and contribute to elements of our teaching programme. She will be working closely with Professor Alison Blunt, who will be her mentor. Azeezat continues to work in the School on a one-year fixed term contract.
More information: