Development Futures: Mumbai Unbound
Published:
Development Futures: Mumbai Unbound is an innovative third-year module in the School of Geography, which explores the geographical diversity of peoples lived experiences of contemporary social, economic, political and cultural transformations in twenty-first century India. Comprising of lectures, seminars and an 8-day field trip to Mumbai, the module encourages students to challenge dominant (western) understandings of the city, economy and development and to theorise back from the empirical realities of the global South.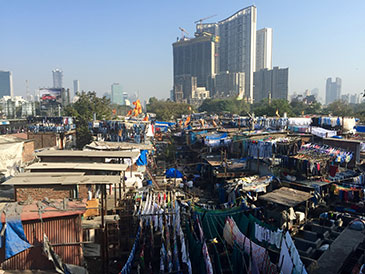 Dhobi Ghat, where 200,000 items are laundered daily, is one of the many places that students get to visit in Mumbai © Daniel Holt
In December 2016, 28 students and four members of staff headed to Mumbai. In a packed itinerary, they visited Dharavi, once identified as the largest slum in Asia, and travelled on the local trains with tiffin wallas to deliver lunches to office workers in central Mumbai. They explored the informal but very organised Chor Bazaar with its reconditioned car engines and sewing machines, and later visited an upscale shopping mall, home to Louis Vuitton and Gucci, as well as plush offices located in Mumbai's state of the art Bandra Kurla Financial District. "Students worked in small groups on independently designed research projects that investigated the working lives of security guards, the housing aspirations of the middle classes and sanitation facilities in Dharavi," said Professor Kavita Datta, who led the trip, alongside colleagues Dr Philippa Williams and Dr Gale Raj-Reichert.
As the first field class ever run by the School of Geography at QMUL to the global South, this module continues to give students the opportunity to witness 'development' first hand: the 'emergence' of an assertive 'new' India which is tapping into global circuits of finance and capital, a growing middle class which is part of a transnational elite in its work and consumption patterns, a city which epitomises inequality in which the super-rich live in close proximity to the very poor and the everyday (extra)ordinary lives of Mumbaikers.
Third-year geographers, Farhasaad Shahid, Tanzina Khatun and Daniel Holt were all part of the trip.
QMUL students in Dharavi doing research on education, aspirations and development © Roshani Perera
"After studying about development for the past two years, actually being able to go into the field to conduct research and learn about it was a rewarding and exciting experience," said Farhasaad.
"We travelled with the famous lunch deliverers, the Dabawallas, on the trains of Mumbai and saw the crowded, stifling and enthralling Chor Bazaar, where everything and anything is for sale," said Daniel. "Although we saw the sites of the city, you see so much more through the trip, as it objectively demonstrates how the city is a working, bustling mass through many different lives. There is extreme wealth and extreme poverty on each other's doorstep," he added.
Students followed Dabbawallas into Mumbai's financial district for lunch deliveries. 5,000 Dabbawallas deliver 200,000 lunches in Mumbai every day - on time, every time, with zero errors. © Daniel Holt
"I learned a lot while in Mumbai; however, if I was to choose what struck me most: I've learned that in a part of the world which is becoming more and more socially, politically and economically significant, poverty and wealth live side-by-side," said Tanzina.
Farhasaad said that the most exciting experience was being able to conduct fieldwork with fellow students. Her group researched the role of education in lives of slum children and families, along with the type and quality of education on offer in Dharavi. They carried out action research, and interviewed teachers, parents, and officials in the area to talk about children's aspirations. As she was the only Hindi speaker in the group, she could translate the interviews back into English for the whole group. "This was a very valuable experience for me, as it taught me the challenges of doing action research, or being able to spontaneously talk to different kinds of people about personal issues. I can take these skills long into the future as a part of my career or further research and study," said Farhasaad.
QMUL Geography crew on Marine Drive, overlooking Back Bay and Chowpatty Beach. © Andrew Loveland
"This trip to Mumbai has been the highlight of my degree – it was full of learning experience, but not only from an academic perspective. By communicating with the locals and being in a foreign environment, we experienced a new culture very different to what we are used to," she added. "Thank you to the lecturers and School of Geography for organising such an amazing field trip, which we will remember forever!"
More information: