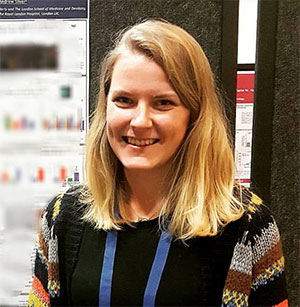 Hannah Thompson
Project - Researching the link between type 2 diabetes and large bowel cancer
PhD student graduating in 2017
I chose to study my PhD at QMUL for various reasons mainly because of its attachment to major UK hospitals which I use for patient samples. The university has range of large research intensive institutes including the world-renowned Blizard Institute where I interact with various people across different departments, I'm learning all the time …And then of course there is living in London !
At QMUL I have gained greater awareness of my strengths and weaknesses through being involved in as many activities as possible all alongside running my own PhD. I have developed my presentation skills and found a love for public engagement - I won the Outstanding Contribution to Public Engagement award from The Blizard Institute in 2017. I also gained lots of friends for life and contacts in the research industry.
I have the opportunity to do other things apart from my PhD. Being involved in extra activities such as Biotechnology Young Entrepreneurs Scheme, speaking at public engagement events and helping with school children visiting the Centre of the Cell.
My plan now is to find work which will involve interacting with medical professionals and / or the public to promote research science.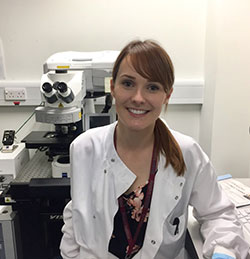 Lisa McGinty
Project - Investigating barrier function in the skin and oesophagus.
PhD student graduating in 2018
My current focus is trying to establish a 3D model of gastroesophageal reflux disease. I work to develop 3D biological models of tissues independently in a lab which I can then manipulate genetically or chemically before analysing areas like protein and gene expression, using techniques such as immunofluorescent microscopy or quantitative PCR.
Throughout my PhD I have had the opportunity to present my work at both national and international conferences as well as internally organised events such as the Blizard Institute symposium and our graduate studies day.
I thoroughly enjoy working in the Blizard Institute, it has a really good working atmosphere and has one of the largest lab spaces in the UK with great facilities. The people are all very helpful and there are plenty of opportunities to network or collaborate with other researchers.
My career plans are to successfully complete my PhD and then proceed into a junior post doctorate position. I aim to successfully secure funding and hopefully publish some high impact factor journals that will allow me to proceed into a more senior position toward the end of the next five years.