Dr Michael Cattell, MSc, PhD, Dip Dent Tech, Adv. C&G Cert, CILT, FHEA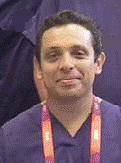 Reader in Dental Technology and Biomaterials
Email: m.cattell@qmul.ac.ukTelephone: +44 (0) 207 8826316Room Number: Pros Teaching Lab, Floor 3, Institute of Dentistry
Profile
Dr Mike Cattell is a Reader in Dental Technology and Biomaterials, at Bart's and the London, School of Medicine and Dentistry. In 1994 he was awarded an MSc and worked in conjunction with the Department of Biomaterials Materials at Queen Mary (QM) and published extensively within the Biomaterials field. He worked with the IRC in Biomedical Materials (QM) and the Department of Biomaterials and Tissue engineering (Eastman Dental Institute) and gained his PhD in 2003 (Dental ceramics). He was previously a Senior Chief Dental Technician in Restorative Dental Technology with over thirty years' experience and was awarded the TEC Diploma in Dental Technology and Sherring Lucas award prize (1984), and later an advanced Certificate in fixed Prosthodontics (1986). Managing a busy laboratory and teaching has given him a vast technical knowledge/experience in a wide range of manufacturing techniques used in dental restoration construction, together with knowledge of functional dental occlusion, dental anatomy and the aesthetics of restorations. He was awarded the Certificate in Learning and teaching (2007) and gained fellowship of the Higher Education Academy (2016).
In 2012 Mike was the Lead responsible for setting up and running the Dental Laboratories for the Olympic and Paralympic games, including a successful mouth guard programme. He was part of the Olympic and Paralympic games medical team who won the prestigious Nursing Times Team of the year award. He teaches MSc, MClin/DClin and PhD students in the faculties of Dentistry and Materials and is course director for the MSc in Dental Technology.
Centre: Oral Bioengineering
Teaching
Supervision/Teaching of MSc, PhD, MClin Dent / DClin Dent and Undergraduate Dental students.
Principal of the first MSc in Dental Technology established in the UK.
International and National External examiner.
Academic lead/ Head of the Teaching and NHS production laboratories in the institute of Dentistry.
FHEA Fellowship of the Higher Education Academy.
Mike is a reviewer for several Dental and Scientific Journals including: Dental Materials Journal, Journal of Dentistry, European journal of Prosthodontics and restorative dentistry, British Dental Journal, Journal of the European Ceramic Society, Advances in Applied Ceramics: Structural, Functional and Bioceramics, Ceramic bulletin). He is on the board of the European Dental Materials society and is an International and National External examiner and Open University panel member for the Validation of Foundation Degrees and BSc Degrees in Dental Technology. Mike also participates in external peer review of international research council grants.
Research
Research Interests:
Research interests are the synthesis, nucleation and crystallization of novel glasses for Dentistry. This work led to novel low-wear, high-strength nano-scale glass-ceramics to prevent facture/wear of dental ceramic restorations and several patents and publications. Over three million restorations were provided for patients and sold in 46 countries which received media coverage worldwide (readers digest, circulation>10m). The leucite glass-ceramic product was clinically rated excellent by the 'Dental Advisor' and by the Clinical Research Associates, who evaluate products for the dental profession. These glass-ceramics allowed minimal or "no tooth" drilling, eliminating pain and local anaesthesia injections required to prepare teeth.
His research has led to the following outputs;
2014 Research Excellence Framework judged his research to be excellent in terms of reach and significance.
Industry awards for clinical/cosmetic excellence for Lumineers®2 glass-ceramics and top cosmetic product by the 'Dental Advisor'.
First supervisor for research students winning numerous prices including: Drapers prizes, Voco prize for Dental Biomaterials (IADR), Kulzer travel award (IADR), Frechette award (runner up).
Granted patent (WO2014207244) on new glass-ceramic formulations.
Other ceramic research is the synthesis/testing of nepheline, lithium disilicate, diopside glass-ceramics, YTZP ceramics and processing ceramics using plasma spark sintering, heat extrusion or CAD-CAM.Newer areas of research are the synthesis of novel antibacterial Chlorhexidine drugs (patent filed) and their encapsulation or electrospinning into fibres.
Projects have collaborated with Industry, Eastman's Dental Institute, School of Engineering and Material Science (QM), Nanoforce (QM) and Fraunhofer institute. Dr Cattell supervises MSc, MClin/DClin, PhD students in the faculties of both Dentistry and Materials.
Publications
Key Publications
Luo D., Hasan S., Shahid, S., Khlebtsov B.N., Cattell, M.J., and Sukhorukov, G. Gold Nanorod Mediated Chlorhexidine Microparticle Formation and Near-Infrared Light Induced Release. Langmuir, 2017, 33, 7982–7993.
Luo D., Shahid, S., Sukhorukov G., Cattell, M.J. Synthesis of novel chlorhexidine spheres with controlled release from a UDMA-HEMA resin using ultrasound. Dent Mater, 2017, 33, 713-722.
Luo D., Zhang X, Shahid, S., Cattell, M.J., Gould D.J., Sukhorukov, G. Electrospun poly (lactic acid) fibers containing novel chlorhexidine particles with sustained antibacterial activity. Biomaterials Science, 2017, 5, 9-21.
Luo D., Cattell, M.J., Shahid, S., Sukhorukov, G. Novel Formulation of Chlorhexidine Spheres and Sustained Release with Multilayered Encapsulation. ACS Applied Materials & Interfaces, 2016, 8, 12652–12660.
Theocharopoulos A.L., Bushby, A.J., P'ng, K.M.Y, Wilson R.M. K., Tanner E., Cattell M.J. Interfacial modulus mapping of layered dental ceramics using nanoindentation. The Journal of Advanced Prosthodontics, 2016, 479-488.