New book published: 'Authority in Transnational Legal Theory: Theorising Across Disciplines' co-edited by Professor Roger Cotterrell and Dr Maks Del Mar
Published: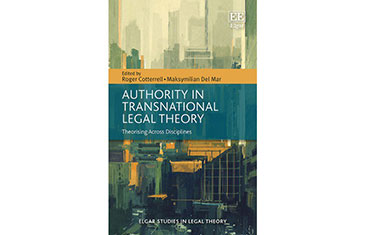 'Authority in Transnational Legal Theory: Theorising Across Disciplines' has been published by Edward Elgar Publishing. The book is edited by Roger Cotterrell, Anniversary Professor of Legal Theory and Dr Maksymilian Del Mar, Reader in Legal Theory, Queen Mary University of London (QMUL).
The increasing transnationalisation of regulation – and social life more generally – challenges the basic concepts of legal and political theory today. One of the key concepts being so challenged is authority. This discerning book offers a plenitude of resources and suggestions for meeting that challenge.
Chapters by leading scholars from a wide variety of disciplines confront the limits of traditional state-based conceptions of authority, and propose new frameworks and metaphors. They also reflect on the methodological challenges of the transnational context, including the need for collaboration between empirical and conceptual analysis, and the value of historicising authority. Examining the challenge offered by transnational authority in a range of specific contexts, including security, accounting, banking and finance, and trade, Authority in Transnational Legal Theory analyses the relations between authority, legitimacy and power. Furthermore, this book also considers the implications of thinking about authority for other key concepts in transnational legal theory, such as jurisdiction and sovereignty.
Comprehensive and engaging, this book will appeal to both legal academics and students of law. It will also prove invaluable to political scientists and political theorists interested in the concept of authority as well as social scientists working in the field of regulation.
Dr Del Mar is a Co-Director of QMUL's Centre for Law and Society in a Global Context (CLSGC), of which Professor Cotterrell is also a member.
Endorsements for the book
'For a subject the editors acknowledge to be as yet unformed, this book provides an impressive collection of substantive contributions, offering sometimes tentative, sometimes bold perspectives that range across its contested terrain. The immense significance of the subject and its potentially far-reaching implications are clearly accessible through the quality of these contributions. The prospects for an informed appreciation of the subject's future development are reinforced by the editors' own careful introductory commentary and measured concluding reflections.' – Andrew Halpin, National University of Singapore