CLSGC Book Launch: Gender, Alterity and Human Rights
30 October 2019
Time: 5:00 - 7:00pm
Venue: Room 313, Third Floor, School of Law, Queen Mary University of London, Mile End Road, London E1 4NS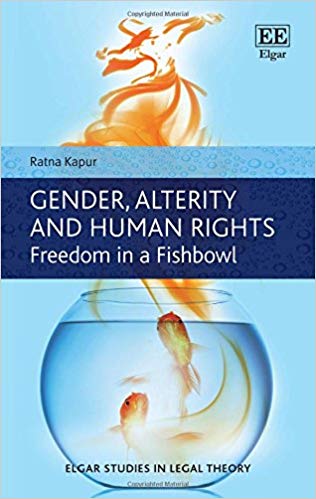 The Centre for Law and Society in a Global Context is delighted to host the book launch of Professor Ratna Kapur's 'Gender, Alterity and Human Rights: Freedom in a Fishbowl' at the School of Law, Queen Mary University of London.
Description
Human rights are axiomatic with liberal freedom. Yet more rights for women, sexual and religious minorities, has had disempowering and exclusionary effects. Revisiting campaigns for same-sex marriage, violence against women, and Islamic veil bans, Gender, Alterity and Human Rights lays bare how human rights emerge as a project of containment and unfreedom rather than meaningful freedom. Kapur provocatively argues that the futurity of human rights rests in turning away from liberal freedom ­and towards non-liberal registers of freedom.
Author
Ratna Kapur is Global Professor of Law at Queen Mary University of London. She has been senior core faculty at the International Global Law and Policy Institute, Harvard Law School since 2013. Ratna has written extensively on issues of human rights, with a specific focus on women's rights, the rights of migrants, sex workers, and religious minorities. She has also written about various aspects of Indian Constitutional law, in particular, the politics of secularism, the right to religious freedom, and equality.
Commentators
Professor Neve Gordon (QMUL)

Dr Rahul Rao (SOAS)

Professor

Susan

Marks

(LSE)
Dr Sumi Madhok (LSE)
Directions
For directions to the venue, please refer to the map.
Contact
For more information on this event, please email lawevents@qmul.ac.uk.
Photography, video and audio recording
School of Law events may be photographed or video and audio recorded. These materials will be used for internal and external promotional purposes only by Queen Mary University of London. If you object to appearing in the photographs, please let our photographer know on the day. Alternatively you can email lawevents@qmul.ac.uk in advance of the event that you are attending.