Book Launch: (B)ordering Britain: Law, Race and Empire
When: Wednesday, November 18, 2020, 2:00 PM - 3:30 PM
Where: Online event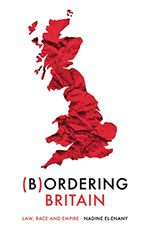 The Centre for Law and Society in a Global Context (Queen Mary) is proud to host Dr Nadine El-Enany with her exciting new book (B)ordering Britain: Law, Race and Empire. At a moment when Brexit and a resurgent far-right has reinvigorated feelings of imperial nostalgia, this timely intervention examines how the state we know as 'Britain' is in fact the spoils of empire. It argues that immigration laws are acts of colonial seizure and violence which obstruct the vast majority of racialised people from accessing colonial wealth amassed in the course of colonial conquest.
We are also delighted to be joined by Professor Ratna Kapur (Queen Mary) and Professor Patricia Tuitt who will offer their reflections on this brilliant monograph.
Copies of the book are available to buy via Manchester University Press.
Speaker Bios
Dr Nadine El-Enany (Birkbeck)
Nadine El-Enany is a Senior Lecturer in Law at Birkbeck School of Law and Co-Director of the Centre for Research on Race and Law (@CentreRaceLaw). Nadine teaches and researches in the fields of migration and refugee law, European Union law, protest and criminal justice. She has published widely in the field of EU asylum and immigration law. Her current research project, funded by the Leverhulme Trust, focuses on questions of race and criminal and social justice in death in custody cases. Nadine has written for the Guardian, the LRB Blog, Pluto Blog, Verso Blog, Open Democracy, Media Diversified, Left Foot Forward and Critical Legal Thinking.
Professor Ratna Kapur (Queen Mary)
Ratna is a Professor of Law at Queen Mary University of London as well as the Senior Core Faculty at the International Global Law and Policy Institute, Harvard Law School. She has written extensively on issues of human rights, with a specific focus on women's rights, the rights of migrants, sex workers, and religious minorities. She has also written about various aspects of Indian Constitutional law, in particular, the politics of secularism, the right to religious freedom, and equality. Her current research interest is on developing a critique of freedom in human rights law and exploring other non-liberal emancipatory possibilities.
Professor Patricia Tuitt
Patricia has extensive research, teaching and strategic management experience within the field of critical legal studies. Formerly Professor and Dean of the School of Law at Birkbeck, University of London, Patricia Tuitt's many publications include the monographs, False Images: Law's Construction of the Refugee (1996) and Race, Law, Resistance (2004). She is co-editor of Critical Beings: Law, Nation and the Global Legal Subject (2004) and Crime Fiction and the Law (2016).
**Please note this is an online event and details will be sent to registrants the day before the event
Contact
For more information on this event, please email lawevents@qmul.ac.uk.
Photography, video and audio recording
School of Law events may be photographed or video and audio recorded. These materials will be used for internal and external promotional purposes only by Queen Mary University of London. If you object to appearing in the photographs, please let our photographer know on the day. Alternatively you can email lawevents@qmul.ac.uk in advance of the event that you are attending.