Fourth Conference on Law and Macroeconomics 2021
When: Wednesday, October 27, 2021 - Thursday, October 28, 2021, 2:00 PM - 5:00 PM
Where: Online,
The role of law as an instrument of macroeconomic policy through the Covid-19 pandemic, including as a means to provide social protection, has opened up new and exciting research opportunities. As we edge towards recovery, what is the role of law in creating a macroeconomy appropriate for a post-pandemic world?
We welcome submissions for an online virtual conference on 27-28 October 2021 that will continue to explore connections between law and macroeconomics. Papers may address the role of law, regulation, and institutions in:
Monetary policy, both conventional and unconventional, including how it is impacted by payments systems, e.g., new platforms and technologies, as well as the effects and risks of the unwinding of QE;
Financial regulatory policy, both domestic and international, including its effect on the economy, its role in crisis containment and resolution, access to capital, and other aspects of financial inclusion;
Fiscal policy, especially its role in mitigating the effects and frequency of economic downturns, including the respective roles of federal, state, and local governments. We are particularly interested in papers that explore the combination of expansionary fiscal policy and loose monetary policy;
Moderating recessions with other policy levers, including bankruptcy, contract, and property law; environmental, utility, and labor regulation; and investment and capital controls;
ESG – which coalitions decide how to implement it, and what will it mean for investment?
Law and data – who's data is it anyway?
Sovereign debt, debt relief, and forgiveness, and the possible consequences;
Is the legal profession able to deliver for people in the twenty-first century economy?
Legal strategies for reducing inequality, including policies affecting labor, competition, access to housing, healthcare, and other public services, as well as personal, corporate and public debt relief.
To learn more about conference, view the Fourth Conference on Law and Macroeconomics Program [PDF 675KB] or visit the conference website.
Stay up to date on Twitter and https://twitter.com/QMSchoolofLaw.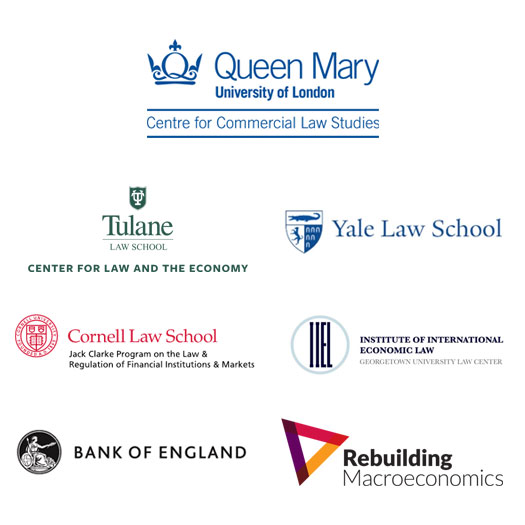 Co-hosts
Co-hosts for the conference include, in addition to the Bank of England and Queen Mary University of London (Professor Rosa Lastra, CCLS):