Criminal Justice Centre Event: Reasons to Doubt
14 November 2019
Time: 6:00 - 8:00pm
Venue: Room 3.1, Third Floor, Queen Mary Centre for Commercial Law Studies, Northgate House, 67-69 Lincoln's Inn Fields, London WC2A 3JB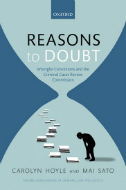 On Thursday 14th November, at 6pm the Criminal Justice Centre, Queen Mary University has organised a discussion of Reasons to Doubt: Wrongful Convictions and the Criminal Cases Review Commission by Carolyn Hoyle and Mai Sato (OUP 2019).
This book is based on a four year study of the Commission's work which included interviews of staff and access to case files and the Commission's internal guidance memoranda. It offers in-depth analysis of the Commission's operating practices, working rules and assumptions, and how these influence its interpretation of its mandate to refer cases to the Court of Appeal, Criminal Division which have a 'real possibility' of success.
Programme
Event chair: Professor Richard Nobles, Queen Mary University of London.
6.00

Presentation by

Professor Carolyn Hoyle, University of Oxford Centre for Criminology, author (with

Mai Sato) of Reasons to Doubt.
6.15

Panel Responses:

Dr Sharon Persaud, barrister, former Commissioner at the Criminal Cases Review Commission;
Dr Dennis Eady, Innocence Project and School of Law and Politics, University of Cardiff;


Dr Stephanie Roberts, School of Law, University of Westminster, consultant for JUSTICE on criminal appeals.
7.00

Reply to responses by Professor Hoyle, followed by audience discussion and questions.
7.30

Drinks and informal discussion.
8.00

Close
**This event qualifies for Continuing Professional Development (CPD) credits.
Directions
For directions to the venue, please refer to the map.
Contact
For more information on this event, please email lawevents@qmul.ac.uk.
Photography, video and audio recording
School of Law events may be photographed or video and audio recorded. These materials will be used for internal and external promotional purposes only by Queen Mary University of London. If you object to appearing in the photographs, please let our photographer know on the day. Alternatively you can email lawevents@qmul.ac.uk in advance of the event that you are attending.