Building Trust in the Digital Economy Workshop
When: Wednesday, July 29, 2020, 9:30 AM - 3:30 PM
Where: Online,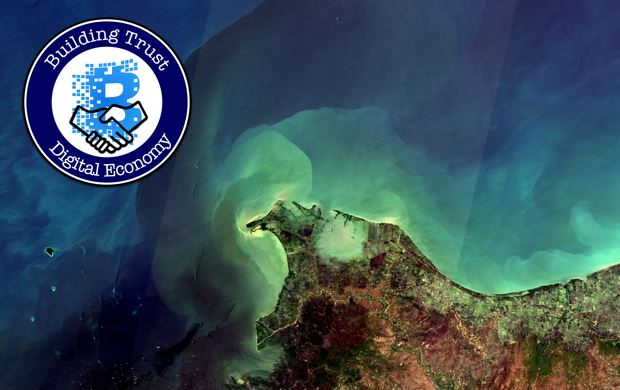 Registration is now open until 22 July. This is a free event, however availability is limited so secure your place now and get access to all of the session recordings.
Information services are undergoing a major change due to rapid technological developments. Cloud computing is a central element of broadening the use of satellite imagery for scientific, social and economic purposes.
The aim of the workshop is to present the findings of a research project commissioned by the European Space Agency, Building Trust in Digital Economy, to the relevant stakeholders and further develop important insights into business needs of Earth Observation companies and the space industry.
Throughout focused sessions, panel discussions and break-out rooms we will informally assess the state of play when it comes to the scope of protection afforded by intellectual property and contract law to EO-derived products and services within the cloud computing environment. We will examine existing initiatives and articulate recommendations to increase users' confidence in adequate protection for their products and services. We further envisage the workshop to harness the involvement across legal, EO, blockchain and cloud computing communities, users and contributors. Technical solutions, such as using blockchain to record the transactions, will be tested in the technical implementation phase of the project.
Live streams begin at 9.30am BST on Wednesday, 29 July. All sessions will be available for replay from 3-31st August 2020.

Agenda
09:30 – 09:40 Welcome
09:40 – 10:00 Session 1 – State of Play – The scope of legal protection available for EO-derived products and services
10:00 – 10:30 Panel discussion – The limits and constraints of applicable laws with regards to EO-derived products and services
10:30 – 11:00 Panel discussion – Business needs of EO companies with regards to legal protection of EO-derived products and services
11:10 – 11:40 Moderated break-out room discussions (30 mins) – How can the law address business needs of EO companies?
11:40 – 12:00 Feedback from the break-out discussions and Q&A
Lunch break
13:00 – 13:20 Session 2 – Bridging the gaps – technical analysis
13:20 – 13:50 Panel discussion – How can blockchain facilitate more effective IP protection?
13:50 – 14:20 Panel discussion – Space 4.0: Cloud computing
14:30 – 15:00 Moderated break-out discussions – Case studies (selected based on the survey and interview results)
15:00 – 15:20 Q&A session
15:20 – 15:30 Closing remarks
15:30 – 16:30 Informal session/Networking
Confirmed speakers:
Frederic Vallois , Thales Alenia Space
Nuno Catarino, Deimos Portugal
Samson Williams, Space Channel
Keir Finlow-Bates, Chainfrog
Noam Shemtov, CCLS
Ian Walden, CCLS
Chris Reed, CCLS
Michaela, MacDonald, CCLS
Moderators:
Anthony Day, IBM
Martin Jones, ARGANS
Antoine Mangin, ACRI-ST
If you haven't done so, please complete the following survey.
Please note this event will be recorded and shared our web and social media channels. Contact ccls-events@qmul.ac.uk for more information.