QMSU course reps
Represent your course mates and gain valuable skills to boost your CV, whilst resolving course-related issues.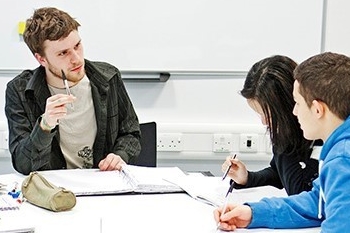 How will this help you progress your career journey?
If you are looking to acquire experience, becoming a QMSU Course Rep will not only allow you to develop important skills and experiences for future applications, but will give you access to full training and support from the Students' Union. You might also find running to be a QMSU Course Rep useful if you are exploring your career options, as the experience will provide you with an opportunity to learn more about your own strengths and passions.
What is a Course Rep?
Each year of each degree course has at least one Course Rep, who are the key link between students and staff in their school. They seek out students' views and represent them at Staff Student Liaison Committee (SSLC) meetings, work in partnership with staff to improve their course and resolve any course-related issues as they arise throughout the year.
We know that effective representatives are trained not born, so the Students' Union provides full training and support for all Course Reps. Course Reps learn and develop valuable skills that help to improve their employability. All Course Reps are invited to a special awards ceremony at the end of the year where they receive a certificate to recognise their contribution.
Commitment
Flexible across the year – Course Reps are required to attend at least one staff-student liaison committee each semester, as well as training on how to be an effective Course Representative.
Who can become a Course Rep?
To become a Course Rep, you need to be elected by the students on your course during an election run by the Students' Union. Elections take place at the beginning of each academic year for First Year Reps and those on one-year taught postgraduate courses. Once elected, Reps remain in post for the duration of their course, unless they resign or their course mates call for an election. N.B. Different arrangements apply for medical and dental students.
How do I become a Course Rep?
Complete a simple nomination form (online or on paper) during an advertised nomination period.Visit the Course Rep page of the QMUL website for further information.
---
Placement: Voluntary Location: On campus