The Student Consultancy Project
Work with other students on a real-life consultancy project within UK/ International businesses, charities and social enterprises.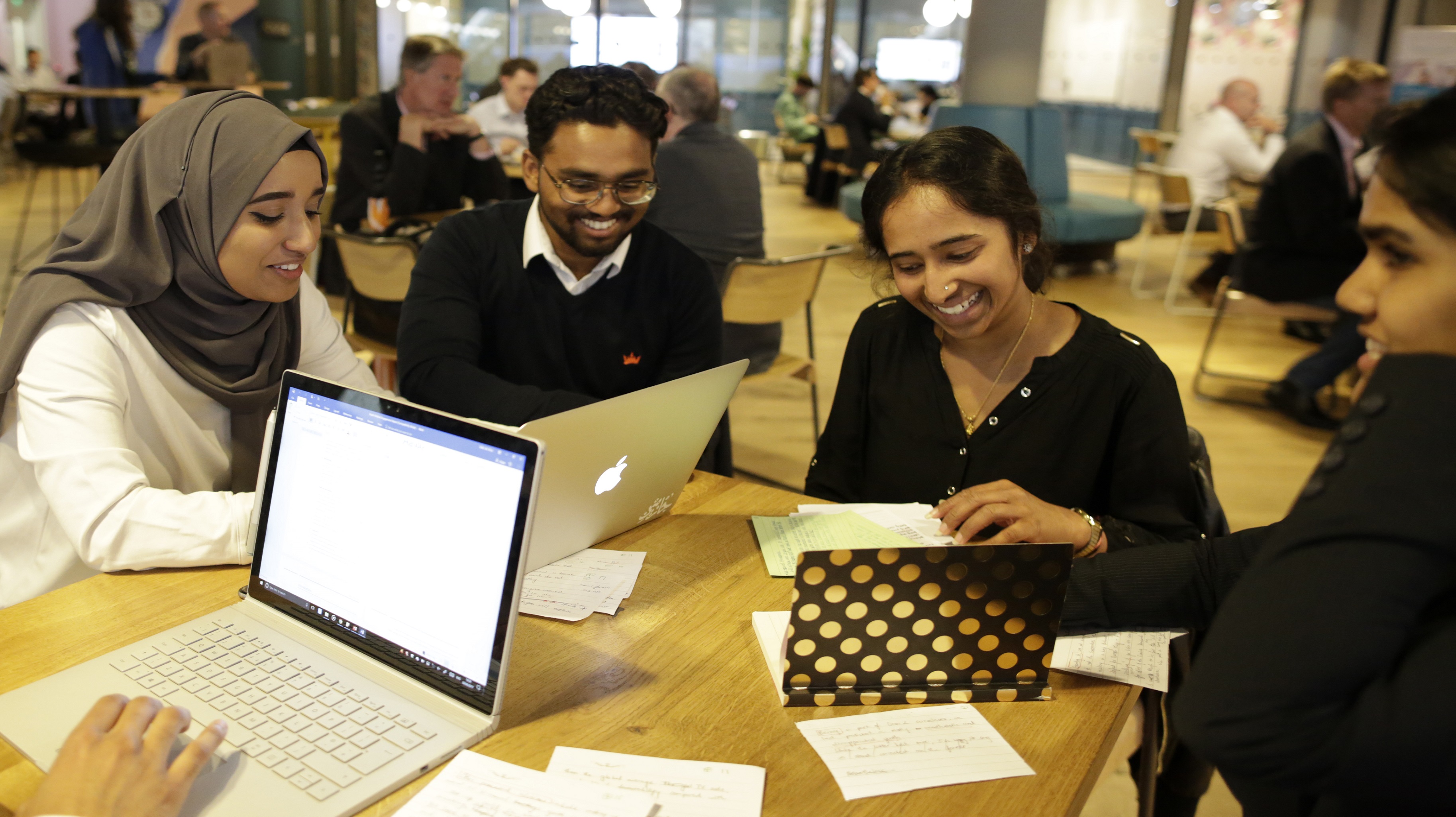 The Student Consultancy Project (SCP) gives you the chance to work in multidisciplinary teams solving problems faced by businesses, charities and social enterprises within the UK and Internationally. Undergoing several training sessions, coaching, face-to-face client meetings and further professional development offerings, this is a fantastic opportunity to gain first-hand experience working with a client whilst receiving support from a Queen Mary supervisor.
How will SCP help you progress your career journey?
If you are looking to acquire experience, The Student Consultancy Project will allow you to work on a real-life consultancy project and gain valuable skills and experience. You may also find The Student Consultancy Project valuable if you are still exploring your career options, as by undertaking work experience you will gain insight into your strengths, skills and career preferences. Another benefit of participating in The Student Consultancy Project is that you get greater insight into an employer's perspective, which can help you understand how to show your skills and experience more effectively in future job applications.
Eligibility and Commitment
Open to all Queen Mary undergraduates from any academic school (including medicine and dentistry students).
Takes place over a full term time (mostly Wednesdays). This equates to roughly 20 hours for project work and additional time for training/ professional development. See below for an indicative timeline.
Please make sure you are eligible and can commit to this time before applying.
How to Apply
Applications for The Student Consultancy Project are currently closed. Sign up to our mailing list to find out when applications go live again.
Queen Mary's commitment to our diverse and inclusive community is embedded in our recruitment processes for our student employability programmes, as well as our stated strategic objective of being "the most inclusive university of its kind, anywhere". Reasonable adjustments will be made at each stage of the recruitment process for any candidate with a disability.
If you need to discuss any reasonable adjustments such as requiring the application form in a different format, or would like advice in regard to the recruitment process, please email the Student Consultancy Project team on studentconsultancy@qmul.ac.uk
Contact Us
If you are interested and have any questions or concerns please email us.
Programme Outline
After working on the project for 5 weeks teams present their findings directly to the client in the form of a short report and presentation. You will receive pre-project training from Careers and Enterprise staff around consultancy, project management, professional and presentation skills. Teams also attend regular project coaching meetings with a QMUL supervisor and a post-project debrief where you will learn how to apply this experience to future applications and interviews.
What You Gain
SCP will be listed on your digital transcript, the Higher Education Achievement Record (HEAR).
You will receive references for future employment.
Gain experience of working with a client on a real-life consultancy project
Build interpersonal, client management & team working skills
Opportunity to use your own initiative and creativity to solve problems.
Develop your project management, organisation and time management skills.
Develop your professional communication skills, both written and verbal.
Apply your research and analytical skills to a real-life project.
Past Student Consultants
"I had the chance to work in a completely professional environment, where people – our clients – trusted our abilities. It was an incredible chance to develop a range of specific and interpersonal skills, which will definitely boost my CV and confidence"
"The project was working with a real [company] therefore you are actually making a difference to a business; if you want to get a job then this opportunity gives you great exposure to people…speaking to people regularly develops the right mindset to go out and be proactive about getting a job"
Timeline Example (Autumn/ Spring)
Week 0: Placed into teams on QMPlus
Week 1: Introductory session and initial training (2.5 hours)
Week 2: 1st Coaching session (30 mins)
Week 3: Client meeting (1 hour)
Week 4: Project work + 2nd coaching session (30 mins)
Week 5: Project work
Week 6: Project work
Week 7: Reading week
Week 8: Presentation lab (1.5 hours)
Week 9: Practise presentations (1 hour)
Week 10: Client presentations (1 hour)
SKETCH (Student Knowledge Exchange Through Community Hubs)
The Student Consultancy Project is now a part of a new QMUL student-led professional services firm called SKETCH (Student Knowledge Exchange Through Community Hubs). SKETCH brings together five student activity strands within QMUL: The Legal Advice Centre, qNomics, qLegal, The Student Consultancy Project, and the QM Social Venture Fund. Each activity strand gives students the opportunity to apply their skills to a real world context, under the guidance of professionals or University staff. External clients will be able to use all of these services if they wish, like a professional services firm.
---
Placement: Location: On campus / Off campus