Dr Adriano Barbosa da Silva, B.Sc, Ph.D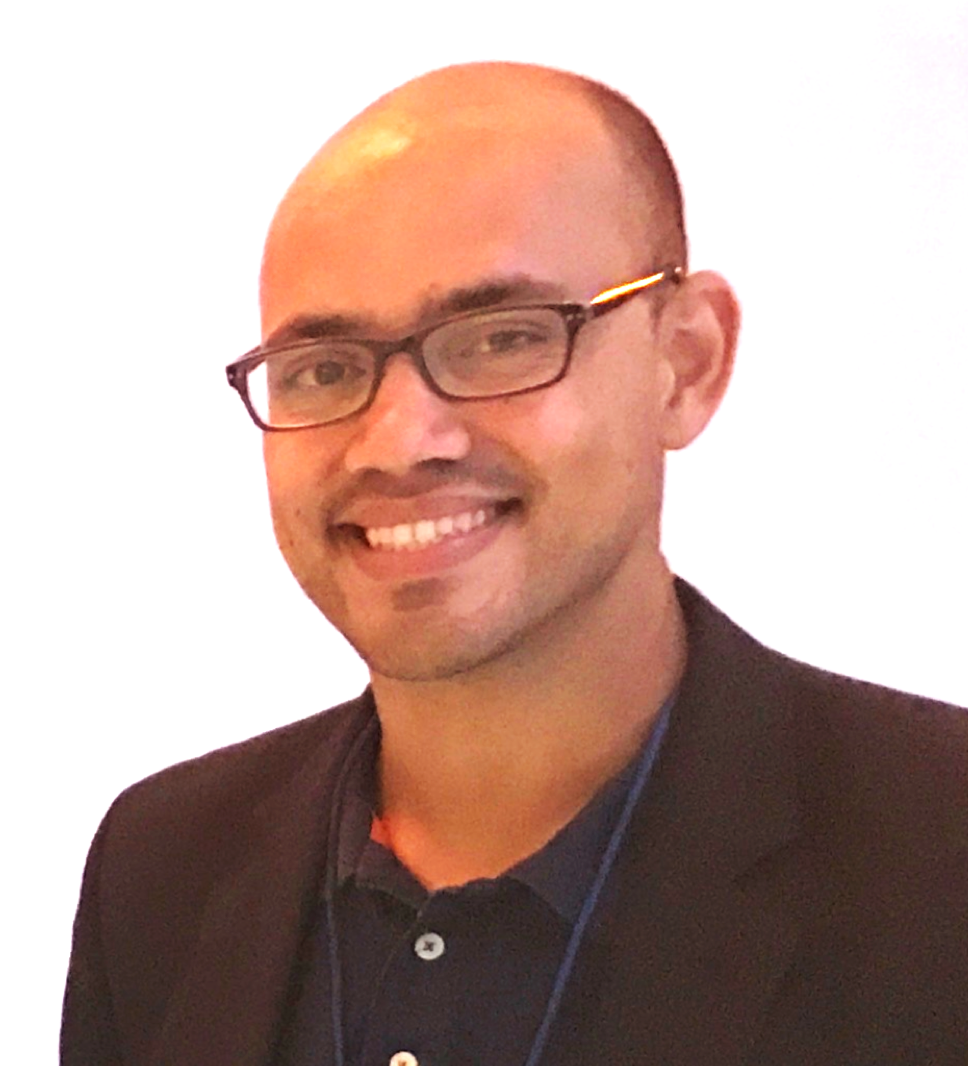 UKRI Rutherford Fund Innovation Fellow / Lecturer
Centre: Centre for Translational Bioinformatics
Email: adriano.barbosa@qmul.ac.ukTelephone: +44 (0) 2078 822 105Website: https://www.linkedin.com/in/dr-adriano-barbosa-phd/
Profile
Dr. Adriano Barbosa has received his PhD in Bioinformatics by the Federal University of Minas Gerais (Brazil) after training at the Structural and Computational Biology Unit of the European Molecular Biology Laboratory in Heidelberg (Germany). Then, he conducted a Postdoc training at the Max-Delbrück Center for Molecular Medicine in Berlin (Germany) at the Computational Biology and Data Mining Group.

Between 2013-2018, Dr. Adriano Barbosa worked as Research Associate at the Bioinformatics Core of the Luxembourg Centre for Systems Biomedicine at the University of Luxembourg, where he participated as scientific collaborator of the EU/EFPIA IMI projects eTRIKS, AETIONOMY and BioCOG.

Currently, Dr. Adriano Barbosa is a UKRI (MRC) Rutherford Fund Innovation Fellow and Lecturer at the School of Medicine and Dentistry of the Queen Mary University of London (William Harvey Research Institute). He is also PC member of the International Society for Computational Biology's ISMB and member of the project management committee at the Informatics for Integrating Biology & the Bedside (i2b2 tranSMART) Foundation.
See Dr. Adriano Barbosa's profile at ORCid, LinkedIn, Google Scholar and Publon.
Read Dr. Adriano Barbosa's Ph.D. thesis [in portuguese].
Principal Investigator at C4TB
Team Members
Mr. Mohamed Golaid - MSc Student in Bioinformatics Intern
Ms. Alisha Angdembe - MSc Student in Bioinformatics Intern
Former Member
Ms Lissur Orsine - Visiting PhD Student
Teaching
I have lecturing expertise in:
Bioinformatics, Computational Biology and Health Data Science
Introduction to Machine Learning for Clinical Data Analysis
RNASeq Data Analysis
R/Bioconductor for Genomics
Prime of Biological Databases
Systems Biology Modeling of Cancer Pathways
Introduction do Text-mining
Molecular Biology
Structure and function of nucleic acids and proteins
Recombinant DNA technology
Research
Research Interests:
Health Data Science: Data Visualization (Tydiverse), Machine Learning (R/Python);
Transcriptomics Data Analysis: RNASeq pipelines;
Multi-modal Data Integration: tranSMART, RedCap, XNAT;
Literature Mining: open source publications and electronic health records data mining;
Semantic Bioinformatics: Graph Databases, Webservices and Ontologies;
Systems Biology Modelling: SBML/SBGN systems design, COPASI simulations;
Structural Genomics: de novo Genome Assembly, sequence mapping, comparative genomics;
Evolution: Sequence Homology; Phylogenetic Reconstruction;
Examples of research funding:
UKRI MR/S003827/1 (£299,527) A translational data integration platform for the stratification of patients based on clinical, laboratory and magnetic resonances imaging.
Publications
ORCID: https://orcid.org/0000-0002-5260-2607
Piereck B, Oliveira-Lima M, Benko-Iseppon AM, Diehl S, Schneider R, Brasileiro-Vidal AC, Barbosa-Silva A. LAITOR4HPC: A text mining pipeline based on HPC for building interaction networks.
BMC Bioinformatics. 2020 Aug 24;21(1):365. doi: 10.1186/s12859-020-03620-4. PMID: 32838742; PMCID: PMC7447576.
Brusamarello-Santos LCC, Alberton D, Valdameri G, Camilios-Neto D, Covre R, Lopes KP, Zibetti Tadra-Sfeir M, Faoro H, Adele Monteiro R, Barbosa-Silva A, John Broughton W, Oliveira Pedrosa F, Wassem R, Souza EM. Modulation of defence and iron homeostasis genes in rice roots by the diazotrophic endophyte Herbaspirillum seropedicae.
Sci Rep. 2019 Jul 22;9(1):10573. doi: 10.1038/s41598-019-45866-w. PubMed PMID: 31332206; PubMed Central PMCID: PMC6646362.
Gu W, Yildirimman R, Van der Stuyft E, Verbeeck D, Herzinger S, Satagopam V,Barbosa-Silva A, Schneider R, Lange B, Lehrach H, Guo Y, Henderson D, Rowe A; IMIOncoTrack and the IMI eTRIKS consortia. Data and knowledge management intranslational research: implementation of the eTRIKS platform for the IMIOncoTrack consortium.
BMC Bioinformatics. 2019 Apr 1;20(1):164. doi:10.1186/s12859-019-2748-y. PubMed PMID: 30935364; PubMed Central PMCID:PMC6444691.
Barbosa-Silva A, Bratfalean D, Gu W, Satagopam V, Houston P, Becnel LB, Eifes S, Richard F, Tielmann A, Herzinger S, Rege K, Balling R, Peeters P, Schneider R.Presenting and sharing clinical data using the eTRIKS Standards Master Tree fortranSMART.
Bioinformatics. 2019 May 1;35(9):1562-1565. doi:10.1093/bioinformatics/bty809. PubMed PMID: 30256906; PubMed Central PMCID:PMC6499239.
Herzinger S, Gu W, Satagopam V, Eifes S, Rege K, Barbosa-Silva A, Schneider R;eTRIKS Consortium. SmartR: an open-source platform for interactive visualanalytics for translational research data.
Bioinformatics. 2017 Jul15;33(14):2229-2231. doi: 10.1093/bioinformatics/btx137. PubMed PMID: 28334291;PubMed Central PMCID: PMC5870773.
Satagopam V, Gu W, Eifes S, Gawron P, Ostaszewski M, Gebel S, Barbosa-Silva A,Balling R, Schneider R. Integration and Visualization of Translational MedicineData for Better Understanding of Human Diseases.
Big Data. 2016 Jun;4(2):97-108. doi: 10.1089/big.2015.0057. PubMed PMID: 27441714; PubMed Central PMCID:PMC4932659.
Trindade D, Orsine LA, Barbosa-Silva A, Donnard ER, Ortega JM. A guide forbuilding biological pathways along with two case studies: hair and breastdevelopment.
Methods. 2015 Mar;74:16-35. doi: 10.1016/j.ymeth.2014.10.006. Epub2014 Oct 28. PubMed PMID: 25449898.
Wethmar K, Barbosa-Silva A, Andrade-Navarro MA, Leutz A. uORFdb--acomprehensive literature database on eukaryotic uORF biology.
Nucleic Acids Res. 2014 Jan;42(Database issue):D60-7. doi: 10.1093/nar/gkt952. Epub 2013 Oct 24.PubMed PMID: 24163100; PubMed Central PMCID: PMC3964959.
Donnard E, Barbosa-Silva A, Guedes RL, Fernandes GR, Velloso H, Kohn MJ,Andrade-Navarro MA, Ortega JM. Preimplantation development regulatory pathwayconstruction through a text-mining approach.
BMC Genomics. 2011 Dec 22;12 Suppl4:S3. doi: 10.1186/1471-2164-12-S4-S3. Epub 2011 Dec 22. PubMed PMID: 22369103;PubMed Central PMCID: PMC3287586.
Soldatos TG, O'Donoghue SI, Satagopam VP, Barbosa-Silva A, Pavlopoulos GA,Wanderley-Nogueira AC, Soares-Cavalcanti NM, Schneider R. Caipirini: using genesets to rank literature.
BioData Min. 2012 Feb 1;5(1):1. doi:10.1186/1756-0381-5-1. PubMed PMID: 22297131; PubMed Central PMCID: PMC3307494.
Barbosa-Silva A, Fontaine JF, Donnard ER, Stussi F, Ortega JM,Andrade-Navarro MA. PESCADOR, a web-based tool to assist text-mining ofbiointeractions extracted from PubMed queries.
BMC Bioinformatics. 2011 Nov9;12:435. doi: 10.1186/1471-2105-12-435. PubMed PMID: 22070195; PubMed CentralPMCID: PMC3228910.
Fontaine JF, Priller F, Barbosa-Silva A, Andrade-Navarro MA. Génie:literature-based gene prioritization at multi genomic scale.
Nucleic Acids Res.2011 Jul;39(Web Server issue):W455-61. doi: 10.1093/nar/gkr246. Epub 2011 May 23.PubMed PMID: 21609954; PubMed Central PMCID: PMC3125729.
Pavlopoulos GA, Soldatos TG, Barbosa-Silva A, Schneider R. A reference guide for tree analysis and visualization.
BioData Min. 2010 Feb 22;3(1):1. doi:10.1186/1756-0381-3-1. PubMed PMID: 20175922; PubMed Central PMCID: PMC2844399.
Barbosa-Silva A, Soldatos TG, Magalhães IL, Pavlopoulos GA, Fontaine JF,Andrade-Navarro MA, Schneider R, Ortega JM. LAITOR--Literature Assistant forIdentification of Terms co-Occurrences and Relationships.
BMC Bioinformatics.2010 Feb 1;11:70. doi: 10.1186/1471-2105-11-70. PubMed PMID: 20122157; PubMedCentral PMCID: PMC3098111.
Soldatos TG, O'Donoghue SI, Satagopam VP, Jensen LJ, Brown NP, Barbosa-Silva A, Schneider R. Martini: using literature keywords to compare gene sets.
Nucleic Acids Res. 2010 Jan;38(1):26-38. doi: 10.1093/nar/gkp876. Epub 2009 Oct 25.PubMed PMID: 19858102; PubMed Central PMCID: PMC2800231.
Fontaine JF, Barbosa-Silva A, Schaefer M, Huska MR, Muro EM, Andrade-Navarro MA. MedlineRanker: flexible ranking of biomedical literature.
Nucleic Acids Res. 2009 Jul;37(Web Server issue):W141-6. doi: 10.1093/nar/gkp353. Epub 2009 May 8.PubMed PMID: 19429696; PubMed Central PMCID: PMC2703945.
Fernandes GR, Barbosa DV, Prosdocimi F, Pena IA, Santana-Santos L, CoelhoJunior O, Barbosa-Silva A, Velloso HM, Mudado MA, Natale DA, Faria-Campos AC,Aguiar SC, Ortega JM. A procedure to recruit members to enlarge protein familydatabases--the building of UECOG (UniRef-Enriched COG Database) as a model.
GenetMol Res. 2008 Sep 30;7(3):910-24. PubMed PMID: 18949709.
Barbosa-Silva A, Satagopam VP, Schneider R, Ortega JM. Clustering of cognate proteins among distinct proteomes derived from multiple links to a single seedsequence.
BMC Bioinformatics. 2008 Mar 5;9:141. doi: 10.1186/1471-2105-9-141.PubMed PMID: 18321373; PubMed Central PMCID: PMC2277401.
Barbosa-Silva A, Pafilis E, Ortega JM, Schneider R. Development of SRS.php, aSimple Object Access Protocol-based library for data acquisition from integrated biological databases.
Genet Mol Res. 2007 Dec 11;6(4):1142-50. PubMed PMID:18273808.
Wanderley-Nogueira AC, Soares-Cavalcanti NM, Morais DA, Belarmino LC,Barbosa-Silva A, Benko-Iseppon AM. Abundance and diversity of resistance genes inthe sugarcane transcriptome revealed by in silico analysis.
Genet Mol Res. 2007Oct 5;6(4):866-89. PubMed PMID: 18058709.
Nascimento DG, Rates B, Santos DM, Verano-Braga T, Barbosa-Silva A, Dutra AA,Biondi I, Martin-Eauclaire MF, De Lima ME, Pimenta AM. Moving pieces in ataxonomic puzzle: venom 2D-LC/MS and data clustering analyses to inferphylogenetic relationships in some scorpions from the Buthidae family(Scorpiones).
Toxicon. 2006 May;47(6):628-39. Epub 2006 Mar 23. PubMed PMID:16551474.
Cestari IS, Haver NJ, Barbosa-Silva A, Ramirez MI. PROTOGIM: a novel tool to search motifs and domains in hypothetical proteins of protozoan genomes.
Parasitol Res. 2006 Mar;98(4):375-7. Epub 2005 Dec 13. PubMed PMID: 16362340.
Barbosa-da-Silva, Adriano, Wanderley-Nogueira, Ana C., Silva, Raphaela R.M., Berlarmino, Luiz C., Soares-Cavalcanti, Nina M., & Benko-Iseppon, Ana M.. (2005). In silico survey of resistance (R) genes in Eucalyptus transcriptome.
Genetics and Molecular Biology, 28(3, Suppl. ), 562-574.