Dr Emma Chambers, PhD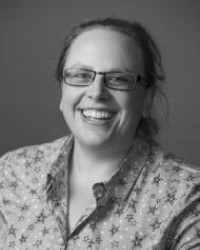 Lecturer
Email: emma.chambers@qmul.ac.uk
Profile
Emma Chambers graduated in Immunology from the University of Bristol in 2008. She subsequently undertook an MSc and PhD at King's College London in Immunology. Her Phd was under the supervision of Prof. Catherine Hawrylowicz investigating the in vitro and in vivo immunomodulatory properties of Vitamin D. Following her PhD, Emma was awarded an MRC Centenary Fellowship to understand the mechanisms of steroid resistant severe adult asthma.
Following on from this fellowship, Emma undertook Postdoctoral research in the lab of Prof. Arne Akbar at University College London, to investigate how immunity changes with age. Her project was investigating if blocking inflammation can enhance antigen-specific immunity in older adults, using the anti-inflammatory drug Losmapimod (p38-MAPKinase inhibitor) or Vitamin D. Emma developed an interested in the effect of age on monocyte phenotype and function, and found that monocytes contribute to the phenomenon of inflammageing.
Emma was awarded a Bart's Charity lectureship in April 2020 to join the Centre for Immunobiology at the Blizard Institute. The aim of her lab to understand how ageing alters the lung environment and the role ageing plays in asthmatic disease. Emma is currently an early career British Society for Immunology Trustee.
Research
Research Interests:
Life-expectancy is increasing in the western-world - unfortunately, increasing life-span does not coincide with increasing health-span, significantly impacting on quality of life. The effect of age on a 'healthy' immune system has been well studied particularly on the adaptive immune system and is termed immunosenescence. However, interestingly not all aspects of immunity declines with age, as there is a state of systemic chronic low grade inflammatory observed in older adults termed 'inflamm-ageing'. Inflammageing is detrimental to a functioning immune response, and we have found recently that blocking inflammation can enhance antigen-specific immunity in older adults.
Asthma is a chronic inflammatory disease, and with the increasing older population, there will increasing number of older people living with asthma. The effect of being older (>65 years old) on asthma development, severity and treatment has not been well investigated. Indeed, most clinical and research studies on phenotype and control of asthmatic disease to-date have focused on younger patients, often actively excluding older participants.
The aim of the Chambers lab is to understand how age alters stromal and immune cells in the lung. In addition the Chambers lab aims to understand how ageing alters asthma phenotype, severity and treatment responses.
Publications
Key Publications
ES Chambers, M Vukmanovic-Stejic, B Shih, H Trahair, P Subramanian, J Glanville, D Gilroy, M Rustin, T Freeman, NA Mabbot, and AN Akbar. Monocyte-derived Prostaglandin E2 inhibits antigen-specific cutaneous immunity during ageing.
https://doi.org/10.1101/2020.04.02.020081
Chambers ES, Akbar AN (2020). Can blocking inflammation enhance immunity during aging?. Journal of Allergy and Clinical Immunology vol. 145, (5) 1323-1331.
https://doi.org/10.1016/j.jaci.2020.03.016
Pereira B, De Maeyer R, Covre L, Nehar-Belaid D, Lanna A, Ward S, Marches R, Chambers ES et al.(2020). Sestrins induce natural killer function in 1 senescent-like CD8+ T cells. Nature Immunology.
https://doi.org/10.1038/s41590-020-0643-3
Vukmanovic-Stejic M, Chambers ES, Suárez-Fariñas M, Sandhu D, Fuentes-Duculan J, Patel N, Agius E, Lacy KE et al.(2018). Enhancement of cutaneous immunity during aging by blocking p38 mitogen-activated protein (MAP) kinase–induced inflammation. Journal of Allergy and Clinical Immunology vol. 142, (3) 844-856. https://doi.org/10.1016/j.jaci.2017.10.032
Chambers ES, Nanzer AM, Pfeffer PE, Richards DF, Timms PM, Martineau AR, Griffiths CJ, Corrigan CJ et al.(2015). Distinct endotypes of steroid-resistant asthma characterized by IL-17Ahigh and IFN-γhigh immunophenotypes: Potential benefits of calcitriol. Journal of Allergy and Clinical Immunology vol. 136, (3) 628-637.e4.
https://doi.org/10.1016/j.jaci.2015.01.026
View all Emma Chambers Research Publications here: http://www.researchpublications.qmul.ac.uk