Barts MS Research
Never Stop Trying to Stop MS
We believe we can offer more people with Multiple Sclerosis (MS) access to effective treatment, regardless of the stage of their disability or economic background.
MS affects over 120,000 people in the United Kingdom and about 2.5 million worldwide.
Many thousands are currently excluded from access to disease modifying drugs that have the potential to change their lives.
This includes people with advanced MS such as people in wheelchairs, people where regulations automatically exclude them, and people who are in resource-poor countries where the price of treatment is just unreachable.
There is good scientific evidence in favour of full access to the whole range of MS drugs, up to date information and a willingness to keep trying to help all people with MS.
Novel approaches to more cost-effective therapy and a change in the current culture towards people with MS are needed to improve lives now.
MS patients need your help today
Your donation could support our team's work to develop new approaches to treating and managing MS by providing the evidence and test the effectiveness of currently available, and promising new therapies.
This work is crucial for improving the lives of people with MS with limited access to treatment. Your donation could make a real difference:
£100 could support one of our clinical researchers to share pilot data of our research with the medical community, and better information for people with MS
£50 could cover the cost of a test to measure how drugs are working in people with MS
£20 could fund a test to better understand the mechanisms involved in MS disease progression
For more information on the cutting-edge work, and some of the tests conducted by our team, visit the BartsMS blog You can also follow us on YouTube and Twitter
Thank you for your support.
Neuroscience and Trauma
The Roy Goode Scholarship Fund
The Roy Goode Scholarship Fund helps talented prospective students to benefit from the opportunities that a year studying at CCLS brings, preparing them to become some of the very best young lawyers. Even a relatively modest contribution can help make a difference between a student being able to study in London or Paris, or not.
Currently, 46 students (around 5% of CCLS postgraduate students in a typical year) receive scholarship funding from £2,000 to a full fee waiver, to help pay for their education, which can be the difference between a pipedream and a reality. Some of this funding is through alumni support, and it is hoped that the wider CCLS community will help facilitate more students to benefit from one of the most prestigious commercial law masters programmes in the world, and in so doing, provide them with the skills to go back to their own countries to make a difference.
Barts Pathology Museum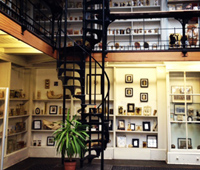 This beautiful Grade II listed , West Smithfield, houses over 5,000 medical specimens, including the skull of John Bellingham – the only person to assassinate a British Prime Minister. It welcomes visitors who are interested in its history, design and science, providing lectures, guided tours and other educational activities.
Santander partnership with Queen Mary
QMUL has renewed its partnership with Santander Universities for another three years until 2023. The partnership will build on previous years' work of providing opportunities to students and supporting local and global communities.