Leaving a gift in your will
Are you thinking about making a gift to your University in your will? Once you've taken care of those close to your heart, a gift in your will could make the difference of a lifetime to students here. If you want to make a lasting legacy, this is a perfect way to be here for young people when they need you the most.
Are you thinking about writing a will or adding to your existing one?
Get your free information pack here.
Reasons to make a will
1. Leaving your mark
Having a will means you can take care of the people and causes that matter to you the most.
2. Saving your tax
Having a will could reduce the amount of inheritance tax that will need to be paid on your estate.
3. Declaring your wishes
Without a will, your estate and possessions will be divided and distributed by law. Make a will and you can have power what happens to your money and possessions. It will also reassure your friends and family that they'll be acting on your behalf to carry out your wishes.
A gift in your will could be the most significant gift you ever make. But this doesn't mean that it has to be a large sum – gifts come in all shapes and sizes. That's the best part about it – you decide how you want to help – it could be with 1% or 100% of your assets, depending on what's right for you.
A legacy gift can truly impact students' lives, making the difference of a lifetime, whatever the amount. Please know that you can always change your mind if circumstances change in the future.
How your legacy will help tomorrow's students
Legacy gifts can have a truly transformative effect on students' futures. By making a gift now, you'll help our students succeed on their way to becoming tomorrow's leaders and teachers – all because of your support.
What's important to our students is that you care enough to give them opportunities they might not have had otherwise, whatever the size of your gift.
Beatrice's story - Beatrice Worthing
For Beatrice Worthing, coming to study at QMUL was a life-changing adventure, far removed from her upbringing in a mining village in 1920s South Wales.
Although she had a burning ambition to become a journalist, the outbreak of the Second World War meant that teaching became her first career priority. After the war, she did a PhD in Belgian literature. Travelling through war-torn Europe in pursuit of her research gave Beatrice the insight and determination to succeed in a long career, which included writing for Reuters and France Press, as well as publishing.
Sadly, Beatrice passed away recently and left a gift to help students in financial hardship. She told us: 'Queen Mary gave me everything. I want to give something back to help young people achieve their ambitions, as I did mine.'
Writing your will
You never have to be of a certain age, or have certain means, to write a will. Take Dola, who's just decided to leave a gift to students in his will.
'My overall experience at Queen Mary was enriched through the societies and activities I joined, and the lifelong friends I made as a result. I'm from a Black and Minority Ethnic (BME) background and I know how proportionally fewer BME students attend university due to rising fees and associated student costs. I want to ensure that financial hardship isn't an added burden to students who work extremely hard to attend such a prestigious Russell Group university.'
How your gift will change lives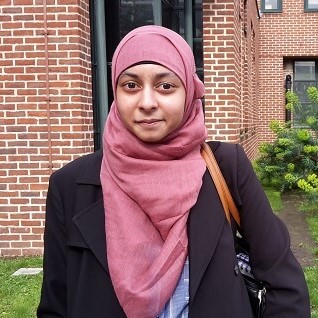 This is Papia. Thanks to a gift in someone's will, she was awarded a scholarship in History earlier this year for her academic achievements and to give the opportunities that will help her to excel in her education and career.
For Papia, this scholarship has been transformative. She says:
'Being a scholarship recipient helps my CV stand out because I was awarded this not only for financial aid, but because of my high attainment academically. I feel like this scholarship has given me substance and it's a good talking point in future interviews as it shows I'm hardworking and always strive to reach my potential.
'I can now start saving for my Graduate Diploma in Law which I hope to complete after my undergraduate degree. Most importantly, it means I no longer need to take out a maintenance loan in my second and third year to help fund my tube fares to and from university. This has been a stepping stone early on in my career and has given me the helping hand I wouldn't have had otherwise. I'm so thankful for it!'
Sally, whose kind gift made Papia's scholarship possible, was passionate about our local community, and the difference a good education can make to young people in the East End. She wanted more of them to be able to follow in her footsteps and study History, a subject she loved.
By leaving a legacy in your will, you can plan the kind of gift you want to make. If you let us know what your plans are, we can make sure the people and causes that matter to you will be looked after in the way you want.
Can we help you?
If you're thinking about leaving a gift in your will and you'd like to talk to us, you can contact us to:
Find out more about how your gift will help students and research at QMUL
Discuss how you'd like your gift to be used
Meet with us face to face or talk on the phone
Please email annualfund@qmul.ac.uk or telephone 020 7882 6429 and we'll be in touch.
Get your free information pack here
Suggested wording
If you are a resident of the UK, your solicitor may find the following wording helpful:
"I give to Queen Mary University of London (HMRC tax registration No. XN80515), [the residue] / [% of my residue] of my estate [or] [the sum of £x] for the general purposes [or your preferred area] of the University. I direct that the receipt of the duly authorised officer of the University shall be a full and sufficient discharge to my executors."
Other ways to support us