Sustainable Laboratories (LEAF)
Get Green Lab Certification with the Laboratory Efficiency Assessment Framework (LEAF)
What is LEAF?
The Laboratory Efficiency Assessment Framework (LEAF) is a certification scheme designed to enable staff and students to understand and improve the sustainability and efficiency of their laboratory areas.
The Framework criteria focus on areas like equipment, people, waste, sample and chemical management and research quality. Completion of the criteria by users allows them to achieve a sequential Bronze, Silver and Gold standard for their lab areas. One of the key features of LEAF is that it allows users to quantify both financial and carbon savings, so that each area can see first-hand how much of a difference their actions make.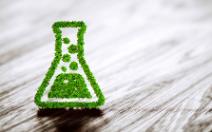 Who can take part?
LEAF teams are very flexible and are set up and organised by the local users. Anyone can initiate and lead a team from technical staff and lab managers to research staff and students. A team might be a research group, a group of staff and students working in a single lab area or technical staff working across a group of labs, it's designed to be flexible.
The type of Lab areas that can participate is broad and covers teaching, wet labs, IT labs, engineering labs, workshop and behaviour labs. LEAF isn't designed for implementation across whole buildings.
How to get started?
If you would like to take part in LEAF please register using this form.
Following registration, you will be set up on the online toolkit. Your team will be given a list of clear and easy to implement environmental actions that should be carried out over the year (you may well already be doing some of them them). These actions are subdivided into Bronze, Silver and Gold criteria which you progress through in turn. The actions are not time intensive and most teams should be able to achieve bronze level with 2 - 4 hours' worth or work.
The LEAF cycle for 2021 will run through to October 2021 and audits of submissions will be conducted in November/December 2021. After the audits, teams will be presented with their bronze, silver or gold certificates.
Want to find out more?
Attend our training
Green Lab Certification – An Introduction to LEAF (Laboratory Efficiency Assessment Framework) with Martin Farley, Sustainable Laboratory Specialist, UCL
12th April 2021 12pm – 12.45pm on MS Teams
Designed to give you an introduction into laboratory sustainability, the LEAF framework and how your lab can take part at Queen Mary.
Sign-up is available via the CPD Portal Code EAF004
Laboratory Sustainability SharePoint Site
Once registered with the online toolkit you will also be given access to the QMUL Green Labs SharePoint site, where you will find further information and resources to help your team on it's sustainability journey.
What are the benefits of implementing LEAF?
Environmental sustainability certification through a nationally recognised scheme.
Reduction in utility costs and environmental footprint
Enables a bottom-up sustainability movement
Aligns with Institutional sustainable development goals and Strategy 2030
Inter-lab and inter-departmental benchmarking and internal audit system
Creates a greater understanding within the Queen Mary community of our science operation and buildings and can help to integrate different lab areas and departments
Practice-based learning experiences can help to improve professional skills and employability for the staff/students working on the toolkit
Increases research efficiency by including criteria that focus on reproducibility and research quality
Funding bodies are moving towards including environmental criteria in funding calls and LEAF would contribute towards satisfying these
For any queries please email sustainability@qmul.ac.uk